Best of VMworld Europe User Awards 2012: Winners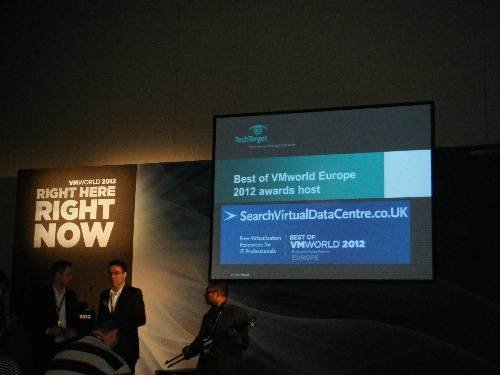 Project owner: Sascha Karbginski
Company name: DER Deutsches Reisebüro GmbH & Co. OHG
DER Deutsches Reisebüro has used desktop virtualisation across its 560 branch offices in Germany. The system is managed by just 3 IT staff.The project has resulted in  less helpdesk calls and zero downtime for hardware changes.
The project involved updating server memory from 96 to 144 GB RAM during business hours without downtime and  updated the RAM size from 1 GB to 1.5GB on the virtual desktops saving costs for service  providers in case of a hardware crash in a branch office.  
Products Used: VMware View 5.0.1, VMware vSphere 5.0, Teradici Management console 1.8.0, Windows Server 2008R2, Windows XP SP3, DELL Power Edge R710 Servers, DELL Optiplex and Lattitude series, Wyse P20 with Tera1 Chip, Cisco Nexus 5020 10 GBit datacenter switches, EMC VNX5300 systems.   
View All Photo Stories