weerapat1003 - stock.adobe.com
Top tips for avoiding and dealing with data breaches
Been hacked, lost a laptop or sent an email to the wrong address? Do you need to notify anyone and what should you do? Find out in this simple guide
You may know that sinking feeling if you've ever sent an important work email to the wrong person or that feeling of horror when you leave your work laptop on the commute home. When does an inconvenience become a reportable data breach by law? If your systems are hacked, would you know how quickly you need to act and what steps to take?
Where a business suffers a data breach affecting personal data – which is broadly defined and includes a security breach and unauthorised loss of data – there may be requirements to notify the Information Commissioner's Office (ICO) and the individuals affected as soon as possible.
The General Data Protection Regulation (GDPR) requires the ICO to be notified no more than 72 hours after having become aware of the breach, unless the breach is unlikely to result in a risk to the rights and freedoms of natural persons. An individual whose personal data is subject of a data breach must be notified where the breach is likely to result in a high risk to their rights and freedoms.
These notifications must include information on the nature of the data breach, likely consequences, measures taken or proposed to be taken, and other details.
Identifying what has happened quickly can help you decide whether notification is necessary and further steps are needed. The GDPR principle of accountability means that any business responsible for personal data should be able to demonstrate compliance and document reasons for the decisions taken.
We frequently advise on urgent and time-critical data breaches and have set out some actual examples of common data breaches and factors we have advised on when considering whether notification is required.
Content Continues Below

Download this free guide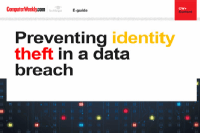 Preventing identity theft in a data breach
In this e-guide, we will explore the links between ransomware attacks, data breaches and identity theft. First, Nicholas Fearn investigates the phenomenon of the double extortion attack, and shares some insider advice on how to stop them, while we'll explore the top five ways data backups can protect against ransomware in the first place.
Read more on Data breach incident management and recovery