Getty Images
Lauri Love could face jail in detention centre condemned by US judges
Appeal court hears conditions in Metropolitan Detention Centre, where alleged hacker Lauri Love is likely to be sent if extradited to the US, described by US judges as 'unconscionably bad', and that Love would be at 'real risk'
Conditions in a US detention centre where alleged hacker Lauri Love could be sent are so bad that a judge refused to send a prisoner there, the High Court has heard.
Edward Fitzgerald QC said the facilities at the Metropolitan Detention Centre (MDC) were "unconscionable" and the judge said she was concerned by a report about the women's facilities there.
Fitzgerald told an appeal hearing against extraditing 32-year-old Love to the US that he could be detained in the same building.
Fitzgerald repeated evidence from experts that Love, who has Asperger's syndrome, is at real risk of suicide, even if he is placed on suicide watch, if he is sent to the US to face trial.
The case is seen as a test of the forum bar, which was brought in to provide extra protection against extradition following the case of alleged hacker Gary McKinnon, who also has Asperger's.
The then home secretary Theresa May stepped in at the last minute to quash any prospect of extraditing McKinnon.
Fitzgerald argued that connections to the UK – which is a key plank of the forum bar – includes citizenship, family support and treatment and care for health problems.
"That is really the natural order of connection," he said.
Fitzgerald rejected the argument put forward by the lawyer acting for the US, Peter Caldwell, that connections refer only to residence, nationality and the length of time a defendant has lived in the UK.
The forum bar brought in additional protection against extradition, he argued.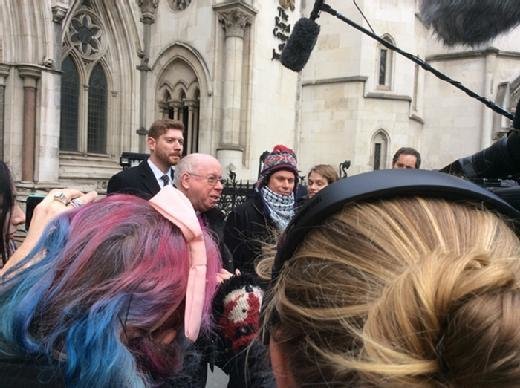 Yesterday, human rights group Liberty argued that no case has met the forum bar threshold since it was introduced four years ago. It said the bar was set too high and needed reform.
Fitzgerald said hacking cases had been prosecuted in the UK under the Computer Crime and Misuse Act although the victims were the Pentagon and the CIA.
He said this shows Love can be tried in the UK for any cyber crime alleged to have been committed against organisations in the US.
He rejected Caldwell's argument that because Love is currently fit, he would be able to stand trial in the US. Fitzgerald said expert evidence suggested there was "a real risk he will be unfit", and pointed out that district judge Nina Tempia had found there was a "very real risk of suicide" if Love was extradited.
"It is not in the interests of justice for him to be tried in the US," said Fitzgerald. "The alternative is not impunity, but trial here."
He told the Lord Chief Justice, Lord Burnett of Maldon, how US judges had described conditions in the New York detention centres where Love would be sent as "unconscionable", with detainees spending years or decades on segregation.
He said one judge had refused to send a prisoner to the MDC in June last year "because she described the conditions as those of a third-world country".
"We say those are extremely disturbing conditions," said Fitzgerald. "We say for this particular appeal there is a very real risk of deterioration or his death."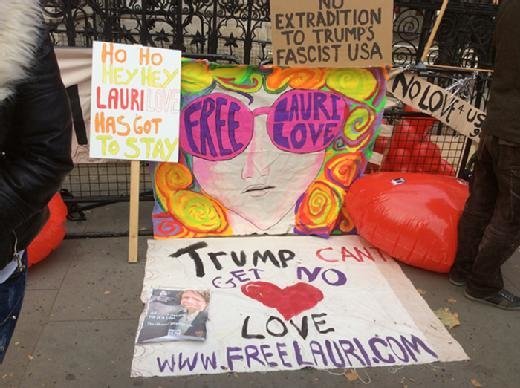 Fitzgerald said there was "extremely distressing" evidence of problems experienced by UK citizens extradition to the US.
He cited two cases of defendants who were sent to the MDC. One of them was put in isolation and "we do not accept that there have been no problems", said Fitzgerald.
Peter Caldwell QC, for the US and the Crown Prosecution Service, told the court that Shrien Dewani was extradited to stand trial in South Africa on murder charges, despite two hearings ruling him "unfit" to stand trial.
He said the US authorities had given an undertaking to ensure there is a smooth transfer if Love is extradited.
But Fitzgerald told the hearing: "If he is extradited, there is a certainty he will be separated from his parents and his home. He will go to Oklahoma and be isolated and then MDC or MCC. There is a high risk of suicide and he will almost certainly be segregated. There is a high risk his situation will deteriorate.
"We say he will be submitted to the unconscionable conditions that the women judges were concerned by. We say there is a high risk that he will commit suicide or be damaged."
Fitzgerald added: "We say it is unjust and oppressive because of the human cost and also because of the fact that he could be tried here. It is far more likely that he could be dealt with here speedily.
"We ask the court to give him the protection intended under the forum bar. This is an unjust and oppressive extradition."
Read more about Lauri Love's extradition case
The court heard that Love could face 15 years in prison if convicted, and the states of New York and New Jersey could impose 10 to 12-year sentences, and Virginia could sentence him to 15 years if he is convicted of hacking into government computers. The sentences might be concurrent, said Fitzgerald.
Previously, Love's legal team had calculated that he could face a prison sentence of up to 99 years.
The Lord Chief Justice said the decision would take some time.
More than 70 MPs have written to the attorney general, Jeremy Wright, and the prime minister, pressing them to support a UK trial for Love.
Speaking outside court after the hearing, Love thanked his supporters. His father Alexander Love, a Baptist minister, said he trusted in the judgment of the court.
"To be born in England is to win the lottery of life," he said. "We believe the justice system here will uphold the appeal and our confidence. We are trusting in the justice system, and we are trusting in God."
Polite supporters display posters and inflatable hearts
Around 50 people turned up to support Love, placing banners, large inflatable hearts outside, and politely handing out posters outside the high court in the London's Strand.
Jake Davis, who used to work with the notorious Lulzsec hacking group and now works as computer security specialist, said that Love was a good friend.
I think anyone outside of here, considers that the legal system has to be running into the realms of ridiculousness, he said of the case.
Ciaroan O'Reilly, described himself an activist Christian from Dublin, who had disabled a B52 bomber before the 1991 Gulf War and had served a prison sentence in the US.
"There are huge mental health issues in prison generally. This is exacerbated by US prisons using solitary confinement," he said
He said that Love was motivated by good reasons, such as peace and justice and the death of Aaron Swartz. "Solidarity is very important when you are facing the courts," he said.
After the hearing, the crowd outside the court joined in with the Beatles song, All You need is Love.
Contact Samaritans free 24 hours a day on 116 123. You do not have to be suicidal to call.
---
Reporting team: Bill Goodwin, Julia Gregory, Niels Ladefoged

Read more on IT governance