Rawpixel.com - stock.adobe.com
Computer Weekly announces the Most Influential Women in UK IT 2017
Computer Weekly has announced the list for Most Influential Women in UK IT 2017, including this year's winner Sherry Coutu
Computer Weekly has announced the winner of its list of Most Influential Women in UK IT 2017, and is showcasing 50 of the top women in UK's technology industry.
Now in its sixth year, Computer Weekly's annual list of the UK's great women in tech was originally introduced to shine a spotlight on the industry's role models.
As more women were nominated by Computer Weekly staff, judges and readers, the list expanded in 2015 from 25 to 50 women, and in 2017 the longlist was published for the first time to demonstrate how many women are making amazing contributions to the industry.
Top of the 2017 list is Sherry Coutu, angel investor and founder of Founders4Schools, who has 20 years of experience in using digital technology to bring people together and is a long-standing advocate for diversity in the technology industry.
The 50 women on this list serve as role models for others both in and outside of the technology industry; alongside Computer Weekly's Rising Stars, the Hall of Fame, attendees of Computer Weekly's annual diversity in tech event – this year partnered with Mortimer Spinks – and the countless women on this year's longlist.

Download this free guide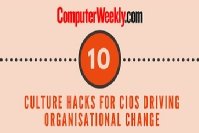 Infographic: 10 culture hacks for CIOs driving organisational change
Download this infographic and discover ten extremely simple culture hacks CIOs can use to drive organisational change and improve business outcomes. These tips were provided by Kristin Moyer, vice president and analyst at Gartner at the Gartner Symposium 2018.
Read more on CW500 and IT leadership skills