PTC
PTC stitches the digital thread for tomorrow's Industry 4.0 digital transformation
With the software-as-a-service genie well and truly out of the bottle, leading engineering design and manufacturing company outlines roadmap for next generation of digital transformation providing a more agile and collaborative environment of creativity
Welcoming back in-person delegates to its LiveWorx conference for the first time since the pre-pandemic days of 2019, and noting that the company finds itself in one of the greatest periods of change for industrial companies that it can recall, engineering design and manufacturing software provider PTC has set out the steps it intends to take to support customers through the demands of the next generation of digital transformation.
Kicking off the now fully restored user group event in Boston, PTC CEO Jim Heppelmann noted that back in 2019, digital transformation was fundamentally simpler than it is at this moment in time.
"It meant hitting the market faster, with lower costs and higher quality. But now, on top of that, there's a push to restore to make your products more intelligent, your factories more efficient, to build a more resilient supply chain, to make your companies and products more sustainable and compliant, and to accelerate growth by complementing your products and services," he explained. "Digital transformation is key to all of that… We've taken on a pioneering role to bring our industry to the software-as-a-service [SaaS] era."
Heppelmann noted that over the past year, the company had invested over $3bn in organic development and acquisitions, to help engineers and designers capitalise on the opportunities. He added that part of the company's broader SaaS strategy has seen the firm "double down in support of the rules, software plays and manufactured products".
Key among these has been the acquisition of Onshape, a provider of a cloud-native product development platform designed to deliver a more agile and collaborative experience with computer-aided design (CAD), simulation, built-in product data management (PDM) and connected product lifecycle management (PLM).
Such technologies are being integrated with the core design, manufacturing, data management and collaboration technologies as part of what is being referred to as the digital thread that binds together the next generation of digital transformation from concept to design, to manufacture, and to operation and service.
Heppelmann said PTC recognised how important service strategies were to many of its customers as a driver of revenue and profit, suggesting that, in many cases, a product can generate 10 times more revenue over its life than it did through its initial sale.
"Many companies have products installed all over the world and they might employ an order of magnitude more service technicians than engineers," he remarked. "The addition of service backs allows PTC to complete our vision for a closed-loop model-based digital thread across the full product lifecycle from initial idea through a lifetime of use in the field.
"When product models are reused in downstream processes, and versions and configurations linked together in a way that provides traceability and change control, we call it a model-based digital thread…[which connects] its way from the digital world to the physical world and back again, following the lifecycle of a company's products.
"It starts in the digital world with requirements planning and system engineering, which then leads to engineering design, simulation and validation of the product concept, and ultimately to the manufacturing process that converts the digital concept into a physical product… The concept of a model-based digital thread is powerful for every industrial company, but some of our customers are taking it to the next level by overlaying the digital thread concept on their product platform strategy."
"A whole 25% of our business is delivered [on SaaS], and this part has been outgrowing the on-premise part by a significant amount"

Jim Heppelmann, PTC
Bringing his introductory session to a close, Heppelmann said the technology industry passed the tipping point last year, when more business-to-business software was delivered on a SaaS basis than on-premise. Despite the fact that he accepted that, unlike the broader enterprise software industry, the CAD and PLM industry was not really known for SaaS, Heppelmann said there was no going back for PTC.
"The vast majority of CAD PLM software runs on-premise today. But that's changing and the pace of change is accelerating dramatically. At PTC, a whole 25% of our business is delivered [on SaaS], and this part has been outgrowing the on-premise part by a significant amount. If you want to transform your business and capitalise on the [new digital thread] strategies…you want to do it in the easiest, fastest and most efficient way. Then you'll ultimately want PTC's technology portfolio delivered to you as a service."
As part of this drive to SaaS, at the conference, PTC announced not only the release of the 10th version of its core Creo CAD software platform, but also the launch of the Creo+ SaaS CAD solution. Creo+ combines the functionality of Creo with new cloud-based tools to enhance design collaboration and simplify CAD administration.
Building on the capabilities of Creo for model-based definition, simulation-driven design and advanced manufacturing, Creo+ includes real-time design collaboration tools to enable multiple team members to review, explore and edit product designs. It also includes the PTC Control Center application, powered by the PTC Atlas SaaS platform, which is designed to enable simple deployment and management of software licences for cloud-based tools.
With Creo+, design teams can collaborate in real time to review, explore and edit product designs using a dedicated workspace with any number of people. This, said PTC, drives early design feedback from manufacturing, suppliers and other stakeholders, while promoting concurrent design rather than sequential design. Branching tools provide visibility to exploration activities, and when ready, these exploration branches can be merged back into the main design.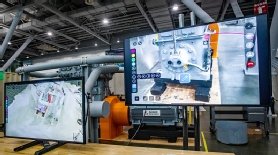 Using Creo 10, engineers can now design and simulate with composite materials for lighter products that maintain strength and durability. Additionally, Creo 10 introduces Ansys-powered thermal stress as well as non-linear materials and contact simulation, which is designed to broaden addressable simulation-driven design use cases in Creo.
To ensure the longevity of design lifecycle information, Creo+ includes all the capabilities of Creo 10 and is fully upwards compatible from on-premise versions of Creo and is built on the same core technology as Creo, so no data translation is needed.
Administrators can deploy and update Creo+ across the organisation from a single cloud-based interface, a capability intended to minimise time spent installing, configuring and updating the software. Creo+ is also said to enable users to be more efficient when assigning and deploying named licences and adjusting licences according to user requirements.
"With Creo+, our customers will be enabled to design faster, easier and more collaboratively than ever before," said Brian Thompson, general manager of Creo at PTC. "We've combined the market-leading design capabilities of Creo with productivity benefits that can only be achieved through the power of the cloud. Now, Creo+ users can collaborate on the same designs simultaneously with internal and external partners, which helps accelerate the development process and reduce redesign. The release of Creo+ is a significant milestone for our customers, for PTC, and for the entire CAD industry."
In addition to developing new products and services to address the next generation of digital transformation, at LiveWorx PTC also announced new initiatives as part of its environmental sustainability practice, signing a Science Based Targets initiative (SBTi) commitment letter, pledging both near-term emissions reductions and long-term net-zero targets. In addition, PTC said it was expanding its relationships with engineering solution firms Ansys and aPriori to support manufacturers' environmental sustainability goals in the areas of product dematerialisation and manufacturing efficiency.
In parallel with its SBTi commitments, PTC said it was also broadening the ways in which it supports manufacturers' efforts to reduce the environmental footprint of their products. It noted that most of a product's environmental footprint was determined at the design stage, where decisions are made about materials, manufacturability, potential for circularity, and more. PTC said it was enabling manufacturers to address these footprint considerations with its product design and lifecycle management software and through the new partner integrations.
Read more about design and manufacturing ICT
The new shape of design in the age of Industry 4.0: the modern manufacturing process has evolved over the last decades to the point where there are many interconnected disciplines taking place, often at the same time. With the advent of advanced comms technologies, interconnections are taking on a whole new paradigm for engineering.
Read more on Collaboration software and productivity software