prima91 - stock.adobe.com
Google services outage: Gmail, YouTube and Docs temporarily down
Google's services suffered unexpected downtime on 14 December 2020. Gmail, YouTube, Google Drive, the Android Play Store and its maps service all affected
Google's services suffered some unexpected downtime around midday today.
Gmail, YouTube, Google Drive, the Android Play Store and its maps service all took a tumble. The Google search engine itself continued to provide access to stories about the services outage.
The BBC reported that Google had been contacted for comment, but a spokesperson had said they were unable to access their email.
The website Down Detector registered 36,545 reports of Gmail being inaccessible by 11.52am GMT. By 1.03pm Gmail appeared to be back up and running in the UK, though users on the south coast, in Brighton and Southampton, were still reporting themselves Gmail-less.
This is not the first time Gmail has been knocked offline. In August 2020, Google's suite of cloud-based services experienced technical difficulties, with users across Europe unable to send emails or upload attachments.
News of that outage came shortly after research from datacentre resiliency think tank The Uptime Institute showed datacentre downtime incidents were continuing to occur with "disturbing frequency".
And in November 2019, cloud outages hit Google Cloud, Microsoft Azure and Amazon Web Services (AWS) in one horrific week for the public cloud providers.
In a press statement given to Computer Weekly at 16.01 on 14 December, a Google spokesperson said: "Today, at 3.47AM PT Google experienced an authentication system outage for approximately 45 minutes due to an internal storage quota issue. Services requiring users to log in experienced high error rates during this period. The authentication system issue was resolved at 4:32AM PT. All services are now restored. We apologise to everyone affected, and we will conduct a thorough follow up review to ensure this problem cannot recur in the future."
Focusing on the inaccessibility of Google Drive, Antony Edwards, chief operating officer at testing and monitoring supplier Eggplant, said, from his own perspective: "Work patterns have changed massively over the year and this is putting new demands and strains on infrastructure. Network operators are at the centre of this and overall have done an amazing job of keeping people connected and dealing with the increased demand, but today's Google Drive outage highlights just how difficult this is – even the biggest tech companies in the world are struggling to get this right. Companies need fast and reliable testing to be able to roll out changes at speed and ensure they work or risk losing customers to the competition."
Read more about cloud services outages
Content Continues Below

Download this free guide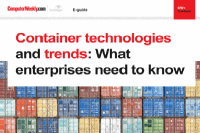 Container technologies and trends: What enterprises need to know
In this e-guide, we take a look at how and why enterprises are tapping into containers to bolster the business agility of their IT infrastructure and application estates, and some of the latest thinking about how best to utilise container technologies.