alotofpeople - stock.adobe.com
Iliad Group makes €2.2bn Play acquisition
In a move covering Poland, France and Italy, parent company of French operator Iliad announces public tender offer for leading Polish mobile provider
The board of directors of Iliad Group and the Strategy Committee of shareholder HoldCo have approved the launch of a public tender offer for all of the shares making up the capital of Polish operator Play Communications, for a cash amount of PLN 39 per share, representing a total of around €2.2bn for all of the firm's share capital and an enterprise value of approximately €3.5bn.
Iliad, the owner of French telco Free, has also signed a binding agreement to purchase a 40% controlling interest from Play's two reference shareholders for the same unit price (i.e. PLN 39 per share), which will give Iliad the majority of seats on Play's board of directors.
Currently employing some 2,800 people, Play is the most recent entrant in the Polish mobile market and currently has 15 million subscribers and a 29% market share, making it the leading mobile telephony operator in Poland.
Over the past 12 months, Play has generated €1.6bn in revenues, up 2.0% year-on-year at constant exchange rates, and €523m in EBITDA. The company boasts 15 million subscribers at present.
Setting out its rationale for acquisition, Iliad said it sees a number of key synergies between itself and Play regards, noting they had both been have both been "game-changers" in their active markets, opening up mobile usage by proposing accessible mass offerings in their respective territories.
It added that both groups are powerful brands that are highly respected and "convey the values of innovation, simplicity and value for money". Iliad sees its expertise and experience as being able to help Play grow in the mobile market and facilitate its entry into the fixed market. The French firm added that it would also help accelerate the digital distribution of Play's offerings.
Read more about mobile in Poland
Responding to the offer, Play's board of directors has already signalled its unanimously approved position regarding the tender offer to subscribe for the sale of the shares, noting that in its opinion, the price offered in the tender offer reflects the fair value of the company.
However, the deal remains subject to obtaining clearance from the relevant regulatory authorities and notification of the planned acquisition will be submitted to the European Commission.
Content Continues Below

Download this free guide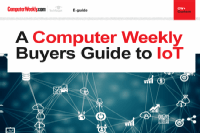 A Computer Weekly Buyers Guide to IoT
In these uncertain times, making solid predictions for the year ahead looks like a definition of a mug's game. While this has been the fuel for the fire for the boom in applications such as video conferencing as used to support remote working, the same really can be said for the internet of things (IoT). Download this E-Guide to find out what enterprises need to know about IoT.
Read more on Telecoms networks and broadband communications