dessauer - Fotolia
Netherlands schools harness Apple technology
Most Dutch schools use Windows computers, interactive whiteboards and Chromebooks, but there are a number of pioneers who choose Apple products
Apple iPads are already in regular use in Dutch secondary education, but Griftland College, in the municipality of Soest, which considers children's digital development of paramount importance, is extending the use of a wider range of Apple products after staff experimented with various technologies.
Chromebooks are still the most widely used devices in primary education in the Netherlands, but there are a few primary school boards that see the advantages of Apple products. Griftland College is one of these exceptions.
Kees Versteeg, head at Griftland, joined in early 2018 at a time when the college was carrying out a pilot with laptops. He put together a working group that decided, based on Griftland's educational ambitions, which devices would best suit that purpose. "I'm a huge Apple fan myself," said Versteeg. "But I wanted the team to try out different things for themselves, like a laptop, Chromebook and iPad, without imposing my personal preference."
The team eventually chose Apple technology. "The iPad is great for education, especially if you want more creativity in your school," said Versteeg. "It's possible to give other types of lesson – you can use an almost infinite number of educational apps."
For reasons of price, Dutch education often opts for the Chromebook, but according to Versteeg, such a device is extremely limited because web versions have to be used everywhere. "It's not just about the device," he said. "It should never be about technology as a goal. ICT can and should only be a means to move your education. We are an educational institute here, not an ICT training school. The development of the children is paramount at all times."
Versteeg sees that education in the Netherlands is struggling with the rapid changes brought about by the digital world. "Things are changing," he said. "I hardly ever write with a ballpoint any more. We all use our smartphones more and more, and that's a development that is also being more accepted. We have to take steps in this as an educational institute, but always with children's development as the highest priority."
Frauke Donners, director of the Noorderlicht primary school in Den Bosch, also saw the possibilities of technology in primary education early on. In 2011, the school bought several devices, including an Xbox Kinect, a Nyoyn, a Nintendo Game Boy, an iPad and another tablet. These devices were then tested extensively by the team. "We soon saw that the iPad was a favourite and that it was an opportunity in our education," said Donners.
The Noorderlicht school then bought a number of iPads and started working with them on a small scale. "After that, the growth went pretty fast and organic," said Donners.
It is now one of the few primary schools in the Netherlands that uses the Apple Pencil. "One of the challenges of education is that students are increasingly typing and recording messages," said Donners, "whereas we know that writing is an important process because it etches the acquired knowledge more thoroughly in the brain."
Read more about tech for teaching
As soon as the Pencil came onto the market, Donners saw the opportunities and realised that this could give writing education a new impetus. "We did a pilot and it worked out very well," he said. "Little research has been done into the difference between writing on paper and writing on a tablet, but what we are now experiencing in practice shows that children do not experience a significant difference."
Donners' ambition is for Noorderlicht to become the first paperless primary school in the Netherlands.
It is not only students who work with iPads, and both schools have implemented Apple devices as much as possible. Teachers and support staff work with a MacBook or an iPad Pro, and Apple TV is used instead of interactive whiteboards (IWBs). Donners added: "I often hear colleagues say their school can't afford Apple products, but they use expensive IWBs costing about €6,000 each. We don't have those – we opt for an ordinary screen in combination with Apple TV."
But then, said Donners, she almost always gets the comment that teachers can't write on such a normal screen, but can do on touchscreen IWBs. "But they don't have to, because our teachers write on their iPads and that appears directly on the screen," she said. "A big advantage of that is that they don't have to stand with their backs to the classroom."
Working with the new products requires some training for teachers, said both Versteeg and Donners. When someone is used to a Windows or Google environment, the switch to Apple is quite a jump. "That is why we have set up a training programme with our reseller, Amac," said Versteeg. "Teachers are continuously being trained in their own digital skills, but they also learn how to get maximum results from students' use of iPads."
Asked about any other wishes he has for his school, Versteeg said: "Children are now actually being held back by the speed of development of the school and its teachers. I would like us to be able to develop just as quickly as the children. We are working hard on that here at school. We're not there yet, but we're very much on our way."
Content Continues Below

Download this free guide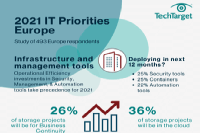 IT Priority Topics 2021 Infographic
This year, a survey was conducted quizzing nearly 500 European IT sector professionals to gather what topics they identified as being imperative for 2021. In this infographic see whether remote working is here to stay, if there will be shifts in information management trends and what infrastructure tools will be deployed by most in 2021. Download this PDF infographic to find out what the results showed.