Essential Guide: Technology readiness for the Covid-19 coronavirus crisis

Introduction
As the world reacts to the Covid-19 coronavirus pandemic, businesses and governments are becoming increasingly reliant on technology to support citizens and workers forced to self-isolate or quarantine to mitigate the spread of the virus. Remote working and collaboration tools have become essential systems, with new demands placed on networks and datacentre infrastructure. As corporate networks extend beyond the firewall, security remains an ever-present concern, especially as malicious actors look to exploit fears over the pandemic.
For every organisation involved in dealing with the crisis, digital systems have become an absolute lifeline - and for health services, the way they use tech can more than ever be the difference between life and death.
In this essential guide, we examine the best practice advice for IT leaders and IT departments to ensure readiness during the pandemic. We look at the challenges for IT infrastructure, and find out how companies and governments around the world are reacting.
1

Remote working

-
Remote working during the crisis
With restrictions on individual movement being introduced in countries affected by the coronavirus pandemic, staff are routinely working from home and need the right tools to support them
2

Security

-
Cyber security and the coronavirus crisis
As staff work remotely, corporate networks must extend security beyond the firewall - and protect from malicious actors looking to take advantage of pandemic fears

Download this free guide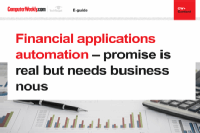 Financial applications automation – promise is real but needs business nous
The automation of the financial software that lies at the heart of any business & accountancy, budget management, general ledger, payroll, and so on & is a prize many organisations are eyeing up, with machine learning and robotic process automation close to mind. Find out everything you need to know by downloading this PDF E-Guide.
3

Infrastructure

-
Preparing IT infrastructure
The coronavirus pandemic is placing new demands on IT infrastructure, especially networks and datacentres, as business goes online and employees increasingly connect over the internet to corporate systems
4

Health service technology

-
Health service response
Health services - such as the NHS in the UK - are under greater pressure than ever before from the coronavirus pandemic. The technology they use is critical, and it often needs to be adapted to these extreme circumstances
5

Management response

-
Business and government respond to coronavirus
Governments and businesses are using technology to adapt the ways they work to respond to the coronavirus pandemic