Covid-19: NHS tackles coronavirus crisis with the help of tech
As the pandemic grows and creates enormous pressure on the health service, NHS organisations across the country are using technology to help cope
The NHS is facing an unprecedented crisis. The Covid-19 coronavirus pandemic is putting extreme pressure on a health service already stretched to its limits, with staff in both primary and secondary care struggling to cope with demands – and unfortunately it looks like it will only get worse.
This is where technology could make a difference. Using video appointments and consultations – telemedicine – ensuring that best practice, the latest research and data is shared across the NHS, could make it just that little bit easier for staff to do their job.
One NHS secondary care doctor told Computer Weekly that the pandemic has forced NHS staff to think creatively and use different ways of working, and that even those who may previously have been opposed to the introduction of technology can now see the benefits.
"Although the coronavirus pandemic is a terrible thing to happen, it might actually focus our efforts to find ways of providing safe, effective and timely care in a time of crisis, whether that's through video or phone consultations, using new data, and sharing with colleagues," said the doctor.
"The NHS was in crisis long before coronavirus, but now it's really come to light. We're being asked to provide more with less, so maybe what we're learning from this will put us in good stead to provide good and effective care in the future."
Content Continues Below

Download this free guide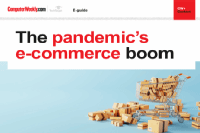 The pandemic's e-commerce boom
The pandemic appears to have solidified e-commerce's ascendancy against the highstreet. Coronavirus has accelerated technology adoption in many sectors, and people have been forced to stay at home, increasing their online shopping habits in a bid to avoid visiting shops.
Read more on Healthcare and NHS IT