IT Priorities 2020: UK business applications investment in AI gathers steam
Artificial intelligence intensifies as an investment area for UK IT buyers, while cloud delivery is coming to ERP as well as other applications
Artificial intelligence (AI) and machine learning activities have gained significant ground as areas of enterprise software investment for IT buyers in the UK, according to the Computer Weekly/TechTarget IT Priorities survey for 2020.
Some 30% of the survey's respondents plan to increase their spending on AI/machine learning technologies in 2020. And a quarter of the companies surveyed plan to spend more than $500,000 on AI this year, compared with only 12% two years ago in 2018.
This continues a trend announced for 2019. AI and blockchain then spiked as priority areas for investment. AI leapt, in the 2018 for 2019 survey, from 8% to 18% as a priority area in the UK, and from 8% to 16% in Europe, the Middle East and Africa (EMEA). Blockchain went from 3% to 6% as an investment priority area in the UK, and from 5% to 10% in the EMEA region as a whole.
Other enterprise software highlights in this year's survey, which was conducted among 210 UK IT professionals, were: "experience" – customer, digital and employee – was a broad theme; businesses are looking more to differentiate themselves competitively with internal application development; and robotic process automation (RPA) is being more deployed intensively.
Content Continues Below

Download this free guide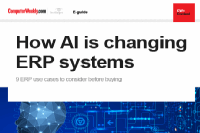 9 ERP use cases you should not miss
The rise of machine learning and AI in the workplace has been well documented over the past few years, and the growth of the machine is unquestionable. However, recent shifts in AI technology are now specifically having an impact on ERP software. Download this e-guide to read more.
Read more on Artificial intelligence, automation and robotics