IT Priorities 2019: UK investment intent for AI intensifies, SaaS applications mature beyond CRM
AI continues to strengthen as a focus for IT systems buyers in the UK, according to this year's Computer Weekly/TechTarget IT Priorities survey, while cloud applications are maturing beyond CRM
Artificial intelligence (AI) and machine learning (ML) initiatives have continued to strengthen as critical areas of enterprise software focus for IT systems buyers in the UK, and across Europe, the Middle East and Africa (EMEA), according to the Computer Weekly/TechTarget IT Priorities survey for 2019.
Last year, 18% of UK and Ireland respondents indicated AI/ML were priority initiatives for 2018. For 2019, the figure was 27% – an increase of 50%.
Another developing trend that emerged from the IT Priorities Survey is the growing sophistication of the range and depth of software-as-a-service (SaaS) deployments for enterprise applications.
Customer relationship management (CRM) still holds the top spot, at 35% of the UK and Ireland respondents, but that is down as a relative priority from 44% in 2018.
Cloud deployments of business intelligence (BI) and analytics (30%) and database software (27%) both emerged from the research as strong SaaS categories, specifically. Indeed, 17% of respondents are using the cloud for their data science platforms, which is at the sophisticated end of business intelligence and analytics.
Enterprise resource planning (ERP) – always the most central and strategically important of enterprise applications – edged up a little in interest, in a cloud mode, among respondents, from 17% to 18%.
The survey of 387 IT professionals in the UK, and 1,578 in the EMEA region as a whole, was carried out in the fourth quarter of 2018 and focused on buying decisions for 2019.
Across EMEA, business intelligence and analytics took the top spot for software as a service delivery, at 33% of respondents, edging out CRM. Moreover, 25% said they were likely to shift their ERP to the cloud, indicating that the region as a whole is looking to be more progressive than the UK.
Information management: data integration leads
Across EMEA, and even more so in the UK, SQL on the Hadoop family of big data technologies stood as the lowest priority – 9% and 4% respectively. SQL-on-Hadoop is a class of analytical application tools that combine SQL-style querying with Hadoop data framework elements.
Since SQL is a widely distributed skillset among IT professionals, this style of doing big data was tipped to advance Hadoop around four years ago, but Hadoop itself may be on the wane as a term synonymous with big data.
Top priority, by contrast, was data integration (41% in the UK and Ireland, 38% across EMEA). The overall pattern of priority across the entire information management discipline was similar, with, for example, interest in machine learning a priority area for investment, being in a band from 24% to 26%; so around one-quarter.
The UK and Ireland respondents put a higher value on data governance (39%) than in the EMEA region overall (33%), and the EMEA respondents put a stronger stress on big data lakes and data warehousing than did the UK and Ireland cohort (25%). This could indicate British data management initiatives are focusing more on getting big data under governance, while, across the region as a whole, big data lakes are still at a "filling up stage".
AI and blockchain continue to gain traction
In last year's survey, artificial intelligence and blockchain spiked as priority areas. AI leapt from 8% to 18% as a priority area in the UK, and from 8% to 16% in EMEA, from 2017 to 2018. Blockchain went from 3% to 6% as an investment priority area in the UK, and from 5% to 10% in the region as a whole, again from 2017 to 2018.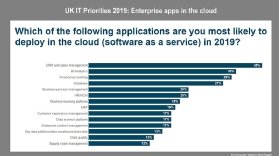 Blockchain, in this most recent survey, seems to be holding fast to this position. Some 10% of UK respondents put it as a broad initiative for 2019.
Also, the increased use of automation and artificial intelligence was cited as supportive of general digital transformation by 25% of respondents – less than the 42% of those surveyed who put forward the increased use of cloud services as similarly key, but a significant proportion, nonetheless. Breaking down data silos was also cited by 29% as important to digital transformation, and so having a "big picture" significance.
A similar picture obtains for the EMEA region as a whole. Some 14% declared blockchain to be a priority broad initiative – 24% said AI was key to their digital transformation programmes and 22% said busting data silos was similarly important for digital change in organisations.
Compare with last year: read results from the Computer Weekly/TechTarget annual IT Priorities survey for 2018
Read more on Artificial intelligence, automation and robotics