happystock - stock.adobe.com
Big three make big switch on for 5G in China
The largest 5G roll out to date takes place as China gives official authorisation to deploy services as China Mobile, China Unicom and China Telecom switch on offers at the same time
Showing just how seriously the country's operators and leading technology firms are taking the potential of 5G, China's leading telcos have switched on 5G services across the country.
The State Council of the People's Republic of China has confirmed the official authorisation of 5G services across the country, with the big three operators – China Mobile, China Unicom and China Telecom – switching on services at the same time.
China first granted licences to carriers for commercial 5G service in June 2019, and the roll-out sees more than 86,000 5G base stations enter service in China, covering 50 cities nationwide.
The government said that by the end of 2019, more than 130,000 5G base stations will be activated to support the network, resulting in one of the world's largest 5G deployments.
There will likely be no shortage devices available. Government think tank, the China Academy of Information and Communications Technology, calculates that in September 2019 alone, around 497,000 China-made 5G smartphones were purchased by retailers.
Research from Canalys has predicted that all leading phone suppliers in the country – and not just market leader Huawei – will hope to gain from 5G, given operators are already aggressively marketing heavily discounted 5G bundles. It estimates that as of the end of October 2019, there were already 10 million subscribers registering an interest to move to 5G.
In an unprecedented move for the market, the big three operators have chosen to price tariffs by internet speed rather than simply by data allowance alone. Monthly rates will now be variable and tied to speed and data.
Some of the offers are priced from just under $20 per month, and in general price per gigabyte for 5G is lower than for 4G services, though at a far higher absolute cost.
Even though it recognised China was not the first country to commercialise the 5G, the government said that the country would be the world's largest 5G market by 2025, with 460 million 5G users.
Quoting data from telecoms association the GSMA, Chen Zhaoxiong, China's vice-minister of industry and information technology, remarked that the country has been working hard to extend 5G coverage.
Wang Zhiqin, deputy director of the China Academy of Information and Communications Technology, added that the country would lead in terms of the scale and diversity of 5G services, with individual consumers and enterprises already showing "mounting enthusiasm" for the new technology.
"China will embark on large-scale 5G network construction next year. This will further the use of the cutting-edge technology in more traditional sectors and lay a sound digital infrastructure for manufacturing upgrades," Wang added.
Eyeing up huge potential business, Ding Yun, president of Huawei Technologies' carrier business group, said the company in Shenzhen, Guangdong province, stood ready to help China build the best 5G network possible.
The Chinese arm of US chip giant Qualcomm was also poised to take advantage of the 5G network, and chairman Frank Meng said that the company was pleased to join hands with industry partners to unveil the 5G era in China.
"Currently, we have worked with partners to launch multiple 5G smartphones and bring the 5G experience within reach," he said. "Moving forward, we will continue to join forces to bring diverse 5G-powered, innovative applications to more consumers and industries."
Read more about 5G networks
Content Continues Below

Download this free guide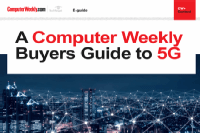 A Computer Weekly Buyers Guide to 5G
Despite the fears of many that rollouts of the next generation infrastructure would be delayed or just not be possible due mainly to the adverse economic conditions caused by Covid-19, the prospects are actually quite bright for the 5G industry in 2021. Download this EGuide to find out what enterprises need to know about 5G.
Read more on Telecoms networks and broadband communications