Claude Wangen - stock.adobe.com
London calling for Ding
Dublin-based top-up mobile services provider Ding expands operations with new office in the UK
Aiming to provide a boost to its global operations, global top-up mobile services provider Ding has expanded its operations with a new office in the UK.
The company, which launched in Dublin in 2006, claims to be the world leader in the pre-paid mobile market. It said the market is currently worth $400bn, driven by the fact that the pre-paid mobile phone universe is growing rapidly, and accounts for four-fifths of the world's five billion phones, or over 90% in developing markets, with a quarter offline and in need of top-up at any one time.
Ding said there is also strong growth in mobile data traffic, growing by a factor of 8.3 between 2015-2020, supporting the need for increasing top-ups for data plans, and that the recharge market is worth $20bn at present.
Ding currently has more than 500 mobile operators embedded on its digital platform across over 140 countries and a retail network partnership of more than 600,000 global outlets. Customers have sent 400 million top-ups globally since launch.
The London office is the company's eighth since launch, and its opening, Ding CEO and founder Mark Roden told Computer Weekly, is intended to plug a talent gap that the company had been experiencing at its headquarters.
"We are looking for senior roles in digital marketing, product, technology and innovation," he said. "Our Dublin location can be limiting and the UK gives us optionality on talent. In the roles [Ding requires] we can struggle in Dublin."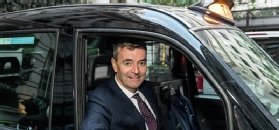 The firm is looking to recruit around 20 people in the key areas in its first six months, and to scale as the talent becomes available and according to demand.
Looking forward, Roden said the industry as a whole needed to change tack and introduce new services to complement core activities, and that a measure of success for the company would be for Ding's customers to become more creative in terms of what they are doing.
"You have to look at the industry unicorns which are constructing new ways to attract customers," he noted. Roden also indicated that the company would be looking to expand business in Africa in the future.