ra2 studio - stock.adobe.com
Citrix looks to grow APAC footprint with the intelligent workspace
Citrix is looking to expand its footprint in Asia-Pacific – particularly in Japan, where firms are starting to warm up to flexible work arrangements
In the global war for talent, offering flexible work arrangements is one of the key strategies employed by a growing number of organisations to attract and retain workers. This often starts with equipping employees with tools they need to work remotely from home or on the road.
Although virtual desktop infrastructure (VDI) has made it easier for workers to access their work applications and data on mobile devices while on the go, the employee experience is not always optimal, according to Colin Brookes, senior vice-president for sales and services at Citrix Asia-Pacific and Japan.
Brookes said many workers face distractions from a constant stream of notifications from business and personal applications, as well as co-workers who may drop by in person with work-related requests and discussions, so it could take some time before they get back to what they were working on.
"There's a survey from IDC which showed that 85% of the workforce are distracted and disengaged at some point during the day," Brookes said. "If your most expensive assets aren't fully productive, then it's something you need to look at."
The solution, Brookes said, is to improve the employee experience through what Citrix calls the intelligent workspace.
Rather than flood employees with notifications and have them click through an application to get to what they want, an intelligent workspace only surfaces business processes that matter to each employee.
Using machine learning and analytics, Brookes said, the intelligent workspace can, for example, present the final screen for a manager to approve an expense report, without having to navigate multiple layers of information in an expense application.
"It's a push methodology where the system figures out which parts of an application you normally use," Brookes said. "It's a step up from just delivering an application that you need to your workspace."
The technology behind this capability came from Citrix's acquisition of Sapho, a micro-app platform that makes line-of-business transactions available and actionable as a simple, unified and intelligent work feed.
Actions, tasks and data can be aggregated across applications to provide a consolidated place for initiating new micro workflows, such as approvals, proactive business intelligence, escalations and data requests, according to Citrix.
Brookes noted that the intelligent workspace will open new opportunities for Citrix, enabling the firm to expand beyond its VDI footprint among its customer base that comprises the top 5,000 companies in the world.
"So, we have the ability – even if we don't sell to a single new business ever again – to double or triple our revenues with our existing installed base, because we now have a platform for everybody within an organisation," Brookes said.
In the Asia-Pacific region, which has been contributing roughly 10% of Citrix's total revenues for the past few quarters, Japan, Australia and New Zealand (ANZ) have been the key sources of growth for the company, according to Brookes.
"ANZ is by far the largest cloud market for us at the moment," Brookes said. "I'm always struck by how much ANZ punches above its weight with 29 million people."
He added that Japan is next on the radar as more Japanese companies look towards enabling workers to work remotely in a gradual shift away from the country's dominant work culture – one where employees do not wish to be seen as the first to leave the office even if they are done for the day.
"Giving people the ability to not need to go into the office is something that's very high on the agenda for a lot of organisations," Brookes said. "That's why I see growth in Japan looking really exciting for us in the next one to three years."
Read more about employee experience in APAC
Content Continues Below

Download this free guide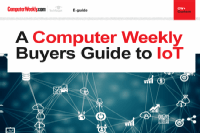 A Computer Weekly Buyers Guide to IoT
In these uncertain times, making solid predictions for the year ahead looks like a definition of a mug's game. While this has been the fuel for the fire for the boom in applications such as video conferencing as used to support remote working, the same really can be said for the internet of things (IoT). Download this E-Guide to find out what enterprises need to know about IoT.