semisatch - stock.adobe.com
Capgemini turns to tech startup to identify 'most engaged' teams
Technology and consulting services firm Capgemini is using technology from a startup company to poll its employees' views and provide feedback from managers every week. It is discovering what it takes to create "engaged teams"
Once a year, large employers give their workforce an opportunity to report back to managers on their careers, their managers, and the strengths and weaknesses of the organisation.
The annual staff survey is an opportunity for employers to troubleshoot problems, find out how to retain and motivate their employees better and identify why some teams may be performing well and others not so well.
For many companies, the results of the survey are a key strategic tool, but the survey takes effort and resources to compile and analyse.
But what would happen if employees could provide feedback to their managers every week, rather than once a year? Capgemini, the €13bn turnover technology services and consulting company, has begun a project to find out.
The lightbulb moment came when the company's HR leaders met in January 2017, says Maja Luckos, head of people analytics at Capgemini.

"Employees are meant to be our clients," she tells Computer Weekly. "We spend a big proportion of our time at work and yet we only ask what they think once a quarter or once a year. Is that right?"
In July last year, Capgemini's board agreed not to put the annual employee survey on hold and to use the savings to test technology that would allow employees to give monthly or weekly feedback. It set in motion a pilot project involving 10,000 employees – about 5% of its total workforce.
"We spend a big proportion of our time at work and yet we only ask what employees think once a quarter or once a year. Is that right?"

Maja Luckos, Capgemini
The company began looking for a technology provider to replace its existing employee survey service provider, ORC International.
Candidates included traditional survey providers, such as IBM Kenexa, which are redeveloping their technology to make it more flexible. Capgemini also looked at two companies that were developing natural language processing, Qlearsite and Workometry, and smaller startups. It chose a cloud service from Peakon.
"We decided to go with a smaller technology provider because of the flexibility," says Luckos. "They provide changes to the product very quickly."
The service, which can be accessed in the cloud, is simple enough for staff to use without an instruction manual, says Luckos, and there are short videos on the site that explain how to use the software.
Early results
Capgemini allowed each part of the business to decide how it wanted to use the feedback technology. Some decided to give access to all managers, others just to senior managers and HR. Some opted for weekly surveys, other for monthly, and each part of the business decided how many questions to ask.
The system sends out emails to employees containing questions chosen from a preselected pool. Weekly surveys typically contain just two questions; a monthly email might contain eight.
The software ensures that staff in the same group receive unique questions. "Because it's anonymous, people can be honest, or they can choose to reveal themselves if they want to talk about something," says Luckos.
Rapid feedback
The technology makes it possible for managers to receive and analyse feedback from large teams – often up to 200 people based on client sites – that it would be difficult to reach any other way.
It can aggregate and analyse employees' comments, identify trends and present managers with a dashboard summarising the answers given by employees.
In one case, feedback from a team alerted a practice leader that there were problems with a particular project. He was able to reprioritise his week and use the platform to talk to the people involved. "He was potentially able to save the project from becoming amber or red," says Luckos.
The trial has led to changes in how Capgemini's managers and employees work together.
In the past, the company used its annual employee survey to identify the most important strategic issues to address during the year, but it took time for staff to see the results. Now they receive feedback straight away.
The pilot has shown that employees will give feedback continuously if they feel they are being listened to. "If managers make a difference quickly, people praise that," says Luckos. "They can see the results quickly and they feel a sense of accomplishment that they have made a difference."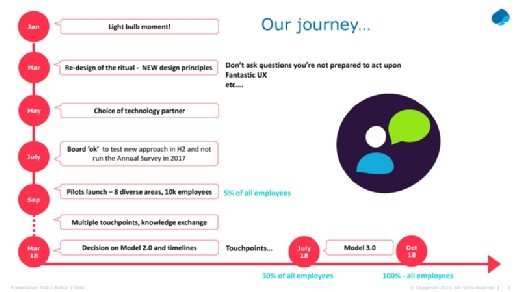 Managers have therefore had to make time to respond to feedback from their staff and to log the actions they intend to take.
"They are telling us it's great because we know what is wrong and can act on it, but it's not great because they have to do something about it," says Luckos.
The results come back to managers in real time, which means they can fix problems straight away. They can see a statistical analysis of the responses from their team, and can also view high-level themes from an aggregation of their team's comments, or drill down into the details.
"A lot of things that people raise are micro-actions that managers can fix," says Luckos.
Plans to extend the service
Capgemini plans to expand the project to cover 30% of its workforce by the end of July 2018. That will be followed by full deployment to all 200,000 employees in the group by October 2018.
The company now has business units queuing to sign up. "We have created demand, so there is no push from us," says Luckos.
The next iteration of the survey – known as Model 2.0 – incorporates lessons from the first pilot. This time, the package will include standard questions for staff, plus some flexibility for business units to decide their own local questions.
Capgemini has added anonymity thresholds, so managers cannot drill down into the data so deeply that they are at risk of being able to identify which comments were made by which individuals.
And business units have only three options on frequency of emails. The pilot has shown that employees prefer weekly surveys, in which they only need to answer two questions and can receive rapid feedback from managers
"We know much more than we knew in September, but we still don't know all the answers," says Luckos.
The system will show managers which areas of the business may need attention, because they score less well for employee engagement, or net promoter score.
It will also help managers to prioritise what actions they need to take and will recommend steps to solve particular problems. "It gives you focus every time you look at it," says Luckos. "You have one or two actions that are the most important."
For example, if people complain that they don't feel they have the freedom to speak up in their team, the software can offer simple solutions, such as allowing people to finish their sentences in meetings before they are interrupted, or creating a different forum where they can share ideas.
Identifying the most engaged teams
It is early days, but the trial has helped Capgemini to identify the teams that are the most engaged in their work.
"When we started looking under the surface [of these teams], we realised there were four things that people were reporting – their goals were clear, they had challenging work, they were being supported by managers, and they were given freedom to express their views," says Luckos.
The company plans to use those findings to help managers create build more effective teams and to assess whether the most engaged teams produce the best business results. "That would be very interesting for us," she says.
Lessons of working with a startup
Capgemini is used to working with mature technology suppliers, so working with a startup organisation proved challenging.
"You have to be very clear how to maintain control – all the project management, all the stakeholder management – and that is something we could have organised earlier," says Luckos.
The trade-off was that Capgemini got access to great technology, a partner that listens and makes changes, and lot of influence over how that technology develops, she adds.
Maja Luckos was a speaker at the at the Unleash Conference & Expo on the Future of Work and Technology in London.