Tierney - stock.adobe.com
Budding UK cyber strategists gear up for national competition 
Teams of UK university students are preparing to compete for the second time in analysing the threat of a simulated cyber attack to develop policies and strategies
Interdisciplinary teams from 17 UK universities are to compete in developing policies and strategies to deal with a simulated cyber attack on critical national infrastructure in London on 11 and 12 February.
The competition aims to identify and foster the next generation of leaders to deal with the cyber security challenges of the future.
In July 2018, a report by the UK parliament's Joint Committee on the National Security Strategy warned that the gap between the demand and supply of suitably skilled cyber security workers in the critical national infrastructure (CNI) sector was alarming.
The UK government has no real sense of the scale of the problem or how to address it effectively, according to the report by the committee created to monitor the implementation and development of the National Security Strategy.
Now entering its seventh year globally, the Cyber 9/12 Strategy Challenge is a designed to provide students across academic disciplines with a deeper understanding of the policy challenges associated with cyber crisis and conflict.
The competition is being held in the UK for the second year running and is designed as an interactive learning experience that challenges teams to respond to a realistic, evolving cyber attack by analysing the threat it poses to national, international and private sector interests.
The competition, hosted by the Atlantic Council and supported by the UK government in conjunction with sponsors and academic partners, is designed to give students an opportunity to interact with expert mentors and high-level cyber professionals while developing valuable skills in policy analysis and presentation.
The competition has already engaged more than 1,000 students from universities in the US, the UK, France, Australia, China, the United Arab Emirates, Poland, Switzerland, Hungary, Sweden, Finland and Estonia.
In this year's UK competition, budding cyber strategists and policy-makers will be tasked with responding to a cyber attack on critical national infrastructure.
Paul Chichester, National Cyber Security Centre (NCSC) director for operations, said it is vital for future cyber security professionals to be given every opportunity to develop their skills.
"Roleplays like this offer a unique insight into what happens during an attack," he said. "By taking part in this competition, the students will gain a deep understanding of the complex challenges we at the NCSC face when dealing with incidents in real life.
"The UK government's National Cyber Security Strategy is clear that more must be done for the UK to meet the future national demand. Much like the NCSC's CyberFirst courses, Cyber 9/12 is an effective way to nurture the next generation of cyber security experts."
In Cyber 9/12 UK, competitors must work together in their interdisciplinary teams to understand the cyber attack, develop policy and strategy options, and then verbally present their suggested solution to judging panels comprising experienced industry, academic and government cyber security experts.
Read more about the cyber security skills shortage
Semi-finalist teams will be selected from the original 17 and the teams that do not get through to the semi-final will be given a separate expert coaching session before rejoining the other teams to listen to the final round, as three finalist teams vie to be crowned champions.
Les Anderson, chief security officer at BT, which is one of the sponsors and is providing the competition venue at BT Tower, said the private and public sector have a duty to encourage the supply of future cyber security professionals.
"These experts will be crucial to securing our people, organisations and infrastructure from cyber attacks, and providing the security required for our businesses to thrive in a digital world," he said. "And this doesn't just mean technical experts – we need cyber professionals for many areas to be fully prepared for the future."
Pete Cooper, competition director and Atlantic Council fellow, said the cyber security challenges faced nationally and internationally are extraordinarily diverse.
"To meet these challenges, the skills of our cyber security workforce must be equally diverse," he said. "Developing the cyber strategists and policy-makers of the future is just as critical as building technical talent. We need both, working together to keep us, our national infrastructure and the international community secure and resilient.
"Tapping into this significantly undervalued talent pool also allows us to quickly increase gender diversity because we are drawing from a wider range of disciplines. It is hugely rewarding that through the Atlantic Council Cyber 9/12 UK strategy competition, we give these amazing students a glimpse of how valuable their skills are, nurture them and create links with potential employers.
"This is the next generation of cyber security leaders and thinkers – and they're here."
The competition is part of the Atlantic Council's Cyber Statecraft Initiative to examine the nexus of geopolitics and national security with cyber space, to build cyber safety in the internet of things (IoT), and to help build the next generation of cyber security and cyber space policy professionals.
Content Continues Below

Download this free guide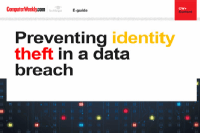 Preventing identity theft in a data breach
In this e-guide, we will explore the links between ransomware attacks, data breaches and identity theft. First, Nicholas Fearn investigates the phenomenon of the double extortion attack, and shares some insider advice on how to stop them, while we'll explore the top five ways data backups can protect against ransomware in the first place.
Read more on Hackers and cybercrime prevention