bluebay2014 - Fotolia
Davos: World leaders need to grasp future technological risks
Technological advancement is both a benefit and risk to society, but often the risks are not identified until they are exploited
Technology continues to play a key role in shaping the global risk landscape, the World Economic Forum's (WEF) Global Risks Report 2019 has found.
Speaking at an event in London ahead of the annual summit in Davos, WEF president Borge Brende said: "We are seeing complex and interconnected risks increasing globally."
According to Brende, technology represents a blind spot risk. "It is hard to overstate how reliant we are on technology. Our networked societies are very vulnerable. The iPhone was launched in 2008, and there are now two billion iPhones, which shows how connected we are," he said.
One of the challenges faced by society is that new technology can have unexpected consequences, said Brende. As an example, he pointed to the disruption caused by drone sightings at Gatwick Airport before Christmas. "Is the global community prepared to fight misuse of these technologies?" Brende asked.
He said the WEF had begun to recognise this risk, claiming "we are entering uncharted territory". To start exploring the risks posed by technological advancement, Brende said the WEF had opened a centre of cyber security, which will aim to agree on a set of standards.
The WEF Global Risk Report 2019 rated extreme weather, climate change and natural disasters as the top three risks, with data fraud and theft in fourth place, and cyber attacks fifth.
The study found, however, that there was a lack of collaboration between countries to mitigate these risks. As an example, Brende referred to how world leaders came to a consensus in 2008 to cope with the global banking crisis: "How do we deal with a new recession? Do we have willingness as world leaders to come together as we did in G20 in October 2008?"
Aengus Collins, the WEF's head of global risks and geopolitical agenda, and author of the report, discussed how the pace of technology change was not being matched by the ability of society to draw out a risk trajectory for new technological innovations.
One of the areas of technological advancement where Collins believes an understanding of future risk will be needed is in affective artificial intelligence (AI), where machines can recognise, respond to and manipulate human emotions.
Another area of concern is fake news, and how such content could be presented using virtual reality. Two-thirds of the respondents surveyed for the report said they expect the risk associated with fake news and identity theft to increase in 2019.
"Inevitably, companies will have cyber attacks. Rather than expend energy on preventing them, more should focus on how to respond," said John Drzik, president of global risk and digital at insurance and risk management company Marsh.
Drzik, who was also speaking at the London event, warned that cyber security was linked to physical infrastructure, where there has been a shortfall in investment. "We are underinvesting in infrastructure. There is an $18tn gap," he said.
For Drzik, this lack of investment amplifies the risks associated with climate change and cyber attacks. "Allocating resources to infrastructure investment, in part through new incentives for public-private partnerships, is vital for building and strengthening the physical foundations and digital networks that will enable societies to grow and thrive."
Read more about cyber security collaboration
Content Continues Below

Download this free guide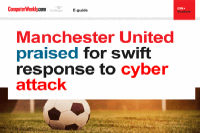 Manchester United praised for swift response to cyber attack
The Theatre of Dreams briefly turned into The Theatre of Nightmares as Manchester United Football Club suffered a cyber-attack on their systems on Friday 20th November. This e-Guide dives into more depth about how the attack happened and what Manchester United's cyber security team did, in order to prevent a loss of data and keep a clean sheet.
Read more on Security policy and user awareness