denisismagilov - stock.adobe.com
IT profession to get one of the biggest pay rises this year
IT workers are set to receive one of the highest pay rises of all professions in the UK this year as competition for their skills increases
Advertised pay rates for IT professionals in the UK increased by 4.3% last year and job vacancies were up by almost 20%, according to a report from online job site CV Library.
The increasing influence of IT on all sectors of the economy as businesses are disrupted by digital business models is driving demand for experienced IT professionals, and the competition for them is pushing up pay rates.
IT professionals received the fifth-highest pay rise, with the average salary £44,100.
Lee Biggins, founder and CEO of CV-Library, said there was competition for businesses to attract and secure the most talented IT professionals last year, which lead to the jump in pay.
"As such, if you're looking to secure a pay rise in the year ahead, there's plenty of opportunity for you to do so in this influential industry."
The legal profession (7.6%), marketing (7.1%), hospitality (7.1%) and customer services (4.4%) were the sectors that gave bigger pay rises last year, according to CV library.
CV Library also found the number of IT job vacancies increased by 19.7 in 2018, with another increase expected this year. It saw the fourth-biggest increase of all sectors, with only the agriculture, retail and legal professions increasing vacancies by more.
Read more about IT professionals
IT is becoming a more desirable profession as it becomes critical for companies to be competitive. Biggins said: "January is always a great time to look for a new job, as many employers look to strengthen their existing workforce.
"If you're considering a new role or perhaps even thinking about a career change, the IT sector has lots to offer – especially when it comes to exciting job opportunities."
Content Continues Below

Download this free guide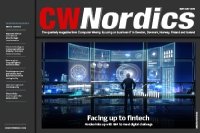 CW Nordics: Nordea links up with IBM to meet fintech challenge
Discover how IBM's €473m managed services contract with Nordea reflects an increasing trend among Nordic banks to outsource more of their IT to help meet the challenge of fintechs.