Rawpixel - Fotolia
Almost 40% of IT professionals say firms aren't addressing diversity
A large number of people working in IT are not aware of any diversity topics currently being addressed in their organisations
Almost 40% of IT professionals say firms are not currently addressing any diversity issues, Computer Weekly has found.
The 2018 annual Computer Weekly salary survey, which asked readers in the UK and Ireland about their careers in the tech sector, found 37% of respondents don't know of any diversity topics currently being addressed in their organisations.
Out of the diversity topics that are being addressed, talks around the gender equality gap in firms was the most popular, followed by ethnicity and age.
Overall, 40% of companies believe they have plans in place to help improve the balance of men and women in the IT remit.
Larger organisations are more likely to be addressing topics related to diversity, with 47% of those in enterprises of more than 1,000 employees either agreeing or strongly agreeing that they have plans in place to help improve the gender balance in their organisations.
Many industry experts believe that if the diversity gap in the technology industry closes, the skills gap in the technology industry will start to close too.
Almost 60% of those who answered the survey think that recruiting more women into the technology industry could help to close the long-standing IT skills gap.
This is especially true of smaller businesses with fewer than 100 employees, where 62% agree or strongly agree that more women in the industry would help to close the skills gap, as do 77% of those in an executive vice-president, senior vice-president, vice-president or associate vice-president role across all business sizes.
Cyber security is an example of where experts think women are an "untapped resource" and that encouraging more women into the specialism could work towards closing the skills gap.
To begin closing the diversity gap in the technology industry, those at all levels of organisations think that men, who are predominantly in higher-up positions in organisations, should be doing their best to help and support women to enter the industry and rise up the ranks.
Out of those asked as part of Computer Weekly's survey, 57% agreed that men should be more involved in trying to help women to into the technology industry, and not a single respondent in an executive vice-president, senior vice-president, vice-president or associate vice-president role job role disagreed.
But a majority of people at all levels in organisations believe that women have similar opportunities to men in their organisations, and 57% of women who were asked as part of the survey agreed.
Almost 60% of respondents believe that men and women who have the same level of qualification are paid equally.
But it has previously been found that in the UK technology industry women can expect to earn an average of 9% less than their male counterparts. In Computer Weekly's 2017 salary survey, it was found that women in the technology industry are paid less than their male counterparts, regardless of the role they are in or how much experience they have.
A number of women said they wanted to move to a bigger company, while others said they wanted to continue their current role but earn more money.
On average, Computer Weekly's survey found IT teams are made up of 20% women. Small businesses had the highest percentage overall, with 34% of small businesses saying women make up 40% or more of their IT teams.
However, the number of women responding to Computer Weekly's survey has dropped for the third year in a row – from 18% in 2016, to 17% in 2017, to 14% in 2018.
Although many claim the number of women in the technology industry was higher in the 1980s, the same cannot be said of recent years, and many initiatives exist to encourage women of all ages into the technology industry to address this decline.
Read more about diversity in the tech industry
More than £1m is being put aside to increase the amount of diversity in technology, and to teach disabled people digital skills.
This in-depth e-guide focuses on diversity in the workplace and discusses how it can help to contribute to better business outcomes.
Content Continues Below

Download this free guide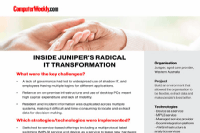 Project Brief: Inside Juniper's radical IT transformation
Western Australian aged care provider Juniper embarked on an aggressive strategy to completely transform its IT operations in just two years. This 1-page brief summarises how this overhaul has helped free up the resources needed to provide better quality of care for residents.
Read more on Diversity in IT