iStock
UK contactless card fraud surges
Fraudsters stole £1.18m from contactless users in 2018, with the average theft size also increasing
The amount of money stolen from UK citizens using contactless payment cards surged last year.
The huge rise comes as contactless payments overtake chip and PIN payments in the country.
According to figures from Action Fraud, the UK's national fraud reporting service, a total of £1.18m was stolen by fraudsters from contactless users in 2018. This compared with £711,000 in 2017.
Criminals steal cards and make purchases before the cards are reported missing and blocked, or use devices to intercept messages sent by cards to steal data, enabling them to commit fraud.
Unlike chip and PIN transactions, contactless payments can be made without additional authentication, such as a PIN. Under current rules, payments of up to £30 can be made using the technology.
Contactless is overtaking chip and PIN as the most popular way of paying for goods and service because of its convenience. According to recent figures from payment processing firm Worldpay, more card payments were made using contactless technology than chip and PIN in the UK over the 12 months from June 2017 to June 2018.
It revealed that, after increasing by 30% on the previous year, contactless payments were the most used card payments in shops.
Read more about contactless payments
More card payments were made using contactless technology than chip and PIN in the UK over the 12 months from June 2017.
Despite the popularity of contactless payments ahead of cash, Britons are worried about the security of tap and go.
Paymentsense survey confirms rapid growth of contactless payments, but £30 limit is preventing further dominance.
Action Fraud figures revealed that the average theft through contactless fraud was £657 last year, compared with £493 in 2017. Many thefts involve small amounts, so users may not notice them immediately.
According to the Evening Standard, an Action Fraud spokeswoman said: "Fraudsters will do all they can to steal your card and account details and take money from your account. If you've seen unusual activity on your bank statements, such as purchases you don't remember making or cash withdrawals from places you don't remember visiting, tell your bank immediately."
In September last year, MoneySuperMarket research revealed security concerns about contactless technology. The comparison website surveyed more than 2,000 people and 55% of them were concerned about the security of tap-and-go technology.
UK Finance, which represents hundreds of banks, said in a statement: "Contactless fraud is low with robust security features in place in every card, and no contactless fraud has been recorded on cards still in the possession of the original owner. Customers are fully protected against any losses and will never be left out of pocket in the unlikely event they are the victim of this type of fraud, unlike if they lose cash."
Content Continues Below

Download this free guide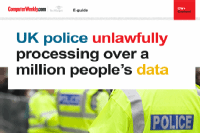 Police unlawfully process over a million people's data
The roll-out of Microsoft 365 to dozens of UK police forces may be unlawful, because many have failed to conduct data protection checks before deployment and hold no information on their contracts. Download this E-Guide to find out everything you need to know about the story.