Fortinet to lead cyber security discussion at WEF annual summit
The head of cyber security firm Fortinet has been named as a discussion leader at the upcoming World Economic Forum annual meeting in Davos, Switzerland
Ken Xie, chairman of the board, CEO and founder of Fortinet, will be a discussion leader for the Centre for Cybersecurity's cyber workforce session at this month's World Economic Forum (WEF) summit.
Fortinet, Accenture and Sberbank were announced as the founding partners of the WEF's new Centre for Cybersecurity at the first annual gathering of the centre in Geneva in November.
"We are proud to be the first cyber security company named as a founding partner of the WEF Centre for Cybersecurity and look forward to collaborating with global leaders from the private and public sectors through our shared commitment to deliver a response to the growing global cyber security threat," said Xie, who is a member of the centre's advisory board.
"The centre is important for global multi-stakeholder collaboration, and serving as a founding partner is yet another step forward in our own mission to secure the largest enterprise, service provider and government organisations in the world."
According to the WEF, digital connectivity plays a pivotal role in unlocking innovation and prosperity around the world, but increasing cyber threats present a major obstacle to progress.
The organisation estimates that economic loss caused by cyber crime will reach $3tn by 2020, and 74% of the world's businesses can expect to be hacked in the coming year.
The WEF believes that while current efforts to contain cyber crime are important, they remain largely insufficient as the global impact of cyber threats continues to grow.
Read more about cyber security
Based in Geneva, the Centre for Cybersecurity will operate as an independent organisation under the auspices of the WEF. It will have Interpol as a strategic partner, and support from UK telecoms provider BT.
As part of its charter, the centre is committed to establishing, activating and coordinating global public-private partnerships to encourage intelligence sharing and the development of cyber norms.
It is also committed to:
Collectively developing, testing and implementing cutting-edge knowledge and tools to foresee and protect against cyber attacks, current and future.
Implementing global capacity-building and training programmes to produce the next generation of cyber security professionals.
Establishing, coordinating and facilitating a global rapid-reaction cyber security task force comprising experts from the WEF's partner community to help mitigate the negative impact of severe global cyber attacks.
Fortinet said it is committed to helping lead the centre's initiatives to build trust across international borders, to create new opportunities in the digital economy, to address the cyber skills gap, to protect critical infrastructure, and to establish norms of behaviour in cyber space.
Content Continues Below

Download this free guide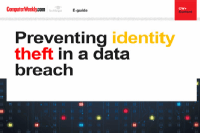 Preventing identity theft in a data breach
In this e-guide, we will explore the links between ransomware attacks, data breaches and identity theft. First, Nicholas Fearn investigates the phenomenon of the double extortion attack, and shares some insider advice on how to stop them, while we'll explore the top five ways data backups can protect against ransomware in the first place.
Read more on Regulatory compliance and standard requirements