The Gym Group
The Gym Group flexes its muscles with data analytics
No-frills fitness company The Gym Group is using analytics technology to find insights from its financial, HR and membership data, as it limbers up for rapid expansion in the UK
The Gym Group, which runs a chain of low-cost gyms, is turning to data analytics technology to support its expansion plans.
Operating from 160 sites, the company relies heavily on information technology to keep its overheads low, allowing it to offer gym membership for an average of £18 a month.
The small cap listed company has replaced its finance and human resources (HR) systems with cloud-based services, giving it the ability to analyse business performance.
The technology is critical to The Gym Group's plans to expand its services by hiring part-time personal trainers to work with clients, in what it describes as a significant change to its business model.
Growing pains
Emma Castledine, group reporting manager at The Gym Group, said last year the company reached the point where it was no longer able to expand due to the limitations of its existing finance and human resources software.
"We got to the state of being a very rapid growth business, so our current finance platforms were going to restrain our business strategy. We needed something not only suitable for our business today, but something that would also be suitable in five years plus," she told Computer Weekly.
The Gym Group has grown rapidly since it was founded in 2007, by building no-frills gyms in former shops and office buildings and offering low-cost membership and 24/7 access.
The company grew by 140% in 2017 when it took over 13 gyms from competitor easyGym in a £25m deal. It aims to add a further 15 to 20 gyms each year.
The Gym Group had relied on Sage200 accounting software to run its accounts, but the software, designed for small companies, was limited in scope and did not offer the data analysis capabilities The Gym Group was looking for, said Castledine.
It used iTrent payroll and HR software, provided by MHR in Nottingham, to manage its database of employees. "It is a good product, but internally we were not extracting the most from it," she said.
Heavyweight analytics
The Gym Group set out to replace its financial software, but saw it made sense to bring finance and HR together in a single cloud service, said Castledine.
After evaluating a range of software, the company began deploying Workday's cloud HR and financial software in January 2018.
Castledine hired Deloitte as an implementation partner to manage the project. Deloitte used a team of developers in India, which carried out the programming in a series of sprints using agile development methodology.
"Deloitte's methodology in terms of test planning was very good and robust," she said.
"For most significant implementations, a major change so close to go-live would spell disaster and panic, but we were able to fully integrate new sites and employees in the Workday platform in days"
Emma Castledine, The Gym Group
The company acquired its portfolio of gyms from easyGym just a week before the Workday go-live date.
"For most significant implementations, a major change so close to go-live would spell disaster and panic, but we were able to fully integrate new sites and employees in the Workday platform in days," she said.
The project went live, on schedule, in July 2018.
Without the new software in place, Castledine said the former easyGym staff would have had to fill in time sheets on a different IT system, which would not be great for employees or the business.
One important part of the project was integrating The Gym Group's membership database into Workday.
The group originally started with custom-designed software to store its membership data, which includes details such as members' access PINs, the gym they use and how often they use it.
Two years ago, it switched to Clubware, software developed by an Australian company for fitness centres to manage billing, class booking and to provide detailed reports about how members use the gym.
The company is using Workday's Studio software, which is capable of pulling data from diverse applications into Workday software, to merge and analyse data about its members from its Clubware membership management system and financial data provided by its direct debit collection agencies.
"For the first time we are able to generate revenue on a member-by-member basis. It's very smart from an accounting point of view. We can see revenues member by member and gym by gym," said Castledine.
"For a high-growth business like ours, it's not about reducing heads. It's about being able to deliver on strategy and be as flexible as we can"

Emma Castledine, The Gym Group
For example, the company's HR team has used the software to create a dashboard that allows managers to analyse and model their team's expenses.
"We are only just starting to generate this rich source of data," said Castledine. "Reports are easy to put together. I can pick a gym and create a chart on it very quickly."
The business case for the project was not about reducing costs, but about enabling the company to respond more quickly and to continue to grow.
"For a high-growth business like ours, it's not about reducing heads. It's about being able to deliver on strategy and be as flexible as we can," she said.
Personal training
The project will make it possible for the gym chain to hire a larger number of part-time trainers – a key part of its strategy to introduce a new business model – without increasing administration overheads.
The company has held trials of the new model at nine sites and recently tested the administrative processing associated with Workday at a further four sites.
"This is a significant change to our business model, but we are confident that it will be a key part of our operations for the next 10 years," the company reported.
It plans to introduce the new model in the fourth quarter of 2018.
The Gym Group also plans to introduce an app that will offer members digital services such as instructional videos, fitness challenges and the ability to track workouts.
It also plans to introduce artificial intelligence (AI) software in areas where it can increase operational efficiency, along with advanced data modelling and analytics to support decision-making in a number of areas of the business.
Castledine advises businesses embarking on transformation projects not to be afraid to go for easy wins.
"Where it is a big transformation, it's about not being afraid to acknowledge some of the basics. For finance, it can approve financial entries much more efficiently, which means our system of financial control is much better," she said.
Read more about data analytics
Content Continues Below

Download this free guide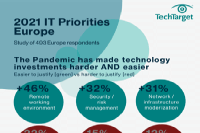 IT Priority Budgets 2021 Infographic
After surveying near 500 European IT sector professionals, the jury is out on what companies across the continent will be spending on in 2021. We dive into what spend will be easier to justify, if budgets for IT companies are on the rise or fall and what the 2021 project rankings are for most in the new year. Download this PDF infographic to find out what the results showed.