CIO interview: Barry Libenson, global CIO, Experian
Experian's global CIO has worked to change the company's IT set-up from a "free for all", taking a standardised approach to development, infrastructure and platforms
Barry Libenson, global CIO at Experian, is a well-travelled executive. Before joining Experian in June 2015, he was CIO of US retail giant Safeway.
Libenson has also held CIO positions at food production specialist Land O'Lakes and manufacturing firm Ingersoll Rand. Even further back, he was employee number 190 at Oracle – the software behemoth had revenues below $20m a year when he joined it.
So, unlike other CIOs, Libenson has avoided becoming pigeon-holed in a sector. He has taken pride in his ability to jump between industries during his career, and moving between sectors also helps to boost his interest in the IT leadership role. Yet what he has learnt since joining Experian is that his current industry suits him well.
"I wish I'd found financial services sooner," he says. "This is the fastest-paced and fastest-moving industry I've worked in. We deal with data and information at scale. It's all about working with that insight and delivering products to customers – and that's what makes this job a lot of fun."
When Libenson left Safeway, he was in no rush to find a new position. He already had two offers from major firms on the table when he agreed to talk with Experian. A recruiter contacted him about the opportunity. He wasn't expecting to take the role, but met the executives running the firm and was eager to find out more.
"I took a plane and met the chief operating officer [COO] in the Costa Mesa office in California," he says. "I was really impressed with the people and the vision they outlined in terms of where they wanted to take the organisation and how they knew they needed fundamental change on the technology side. They wanted to move towards a centralised governance model for technology."
"This is the fastest-paced and fastest-moving industry I've worked in"

Barry Libenson, Experian
Libenson left the meeting with the COO and was asked whether he could to fly to London the next day to meet the CEO and chief financial officer (CFO). He got on another plane and was, once again, impressed by what he found. "These were passionate people," says Libenson. "Their desire to change the company, despite it already being successful, meant there was a lot of opportunity."
He describes Experian's IT set-up at the time as "a bit of a free-for-all". Libenson says this decentralised model had worked well to this point, but the C-suite team also understood that if the firm was going to continue to grow at the same pace, there needed to be some changes.
"That really impressed me," he says. "Leadership teams, if they're not familiar with technology, would not necessarily recognise that it was a big problem if different parts of the organisation used different methodologies and systems. They, however, knew that this decentralised approach would prevent the firm being able to deliver new services quickly and at scale. By the end of the week, they'd offered me a job and I'd accepted."
Content Continues Below

Download this free guide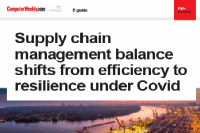 Supply chain management balance shifts from efficiency to resilience under Covid
This e-guide explores these matters, beginning with a comprehensive article that ranges over supply chain management, from a macro level through how trading platforms have been flexed to switch suppliers rapidly down to how robots have been quickly deployed to solve problems of scale.