Nicolas delafraye - stock.adobe.
Access to full-fibre broadband continues to expand under Vodafone-CityFibre partnership
Customers in three more towns and cities will soon be able to access ultrafast fibre-to-the-premises broadband service
A further three towns and cities – Cambridge, Leeds and Southend-on-Sea – are to gain access to CityFibre and Vodafone's ultrafast full-fibre broadband service.
The partnership began in November 2017, when the two firms signed an agreement giving Vodafone exclusive rights to run CityFibre's consumer broadband network.
The ultrafast service is being rolled out to Coventry, Edinburgh, Huddersfield and Stirling as of April 2019, joining Aberdeen, Milton Keynes and Peterborough, where the construction of the broadband infrastructure is already underway.
This brings the total number of towns and cities confirmed to receive the fibre-to-the-premises (FTTP) broadband service to 10, representing over £465m of committed infrastructure investment.
Prior to the CityFibre-Vodafone partnership, CityFibre's network was only open to business and public sector customers, but together they plan to bring the full-fibre service to one million UK homes and businesses by 2021.
"Our roll-out is gathering pace," said CityFibre CEO Greg Mesch. "We have made investment commitments that will transform the digital capabilities of 10 towns and cities forever. The full-fibre age is taking hold across the UK, and CityFibre is leading the charge. Britain should prepare for a copper-to-fibre switchover as this ageing technology cannot keep up with the UK's connectivity needs."
As of May 2018, only 5% of UK households had access to full-fibre broadband, but this has been increasing rapidly – in June 2017 just over 800,000 households had access, but by January 2018 this had risen to 1.2 million.
"Overhauling the nation's broadband is a vital undertaking that we're proud to be a part of," said Vodafone UK chief executive Nick Jeffrey. "By bringing the benefits of full-fibre to more and more cities and towns, from Stirling to Southend-on-Sea, one million homes across the country can benefit from this world-class technology."
The partners have been working closely with local authorities, which welcome the expansion of the service to their area.
"This inward investment will help us attract business, help develop our emerging creative and tech sector, and encourage hundreds of business startups," said Southend-on-Sea's cabinet member for infrastructure, Andrew Moring. "With this extension of the project, the full benefits will soon be felt by everyone who lives and works here."
Leader of Cambridge City Council, Lewis Herbert, added: "CityFibre has made a major difference to cities by similar investment across the UK, and we welcome them to Cambridge and the major extra investment they are bringing."
Read more about full-fibre broadband
Content Continues Below

Download this free guide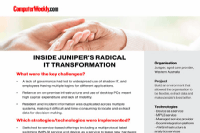 Project Brief: Inside Juniper's radical IT transformation
Western Australian aged care provider Juniper embarked on an aggressive strategy to completely transform its IT operations in just two years. This 1-page brief summarises how this overhaul has helped free up the resources needed to provide better quality of care for residents.