Andy Dean - Fotolia
High Court blocks Google iPhone privacy lawsuit
The UK High Court has thrown out a group action lawsuit against Google for tracking iPhone browsing data, but campaign group Google You Owe Us, which brought the litigation, will appeal the decision
The High Court has blocked a class action lawsuit against Google for tracking millions of UK iPhone users' browsing data.
The legal action on behalf of 4.4 million UK iPhone users was led by former Which? consumer group director Richard Lloyd through a privacy group called Google You Owe Us.
The lawsuit accused Google of unlawfully collecting personal information for profiling purposes for advertising by bypassing the default privacy settings that block user tracking on the iPhone's Safari browser between August 2011 and February 2012, which contravenes data protection laws by taking personal information without consent, and sought compensation for up to £3.2bn.
During the court hearing in May, lawyers for Google You Owe Us told the court that information collected by Google included race, physical and mental health, political leanings, sexuality, social class, financial, shopping habits, and location data
However, Justice Warby, who presided over the case, said today (8 October) in the judgment document, that he would not let the claim proceed because Lloyd, who led the claim, could not prove that himself "or any of those whom he represents have suffered "damage" within the meaning of the Data Protection Act".
However, he added in a press summary that there was "no dispute that it is arguable that Google's alleged role in the collection, collation and use of data obtained via the Safari Workaround was wrongful, and a breach of duty".
Read more about data protection
Commenting on the ruling, Lloyd said the judgment was disappointing and that Google You Owe Us will seek permission to appeal.
"Today's judgment is extremely disappointing and effectively leaves millions of people without any practical way to seek redress and compensation when their personal data has been misused," he said.
"Google's business model is based on using personal data to target adverts to consumers and they must ask permission before using this data. The court accepted that people did not give permission in this case, yet slammed the door shut on holding Google to account.
"People are only now beginning to realise the implications of losing control of their personal data in this way," said Lloyd. "Closing this route to redress puts consumers in the UK at risk and sends a signal to the world's largest tech companies that they can continue to get away with treating our information irresponsibly."
He added that this is an "analogue decision in a digital age".
Commenting on the ruling, a Google spokesperson said: "The privacy and security of our users is extremely important to us. This claim is without merit, and we're pleased the court has dismissed it."
Content Continues Below

Download this free guide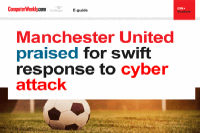 Manchester United praised for swift response to cyber attack
The Theatre of Dreams briefly turned into The Theatre of Nightmares as Manchester United Football Club suffered a cyber-attack on their systems on Friday 20th November. This e-Guide dives into more depth about how the attack happened and what Manchester United's cyber security team did, in order to prevent a loss of data and keep a clean sheet.