vege - Fotolia
London tech startups awarded £15,000 as part of Mayor's 'smart city' initiative
Eight London tech startups have been awarded £15,000 each to help Mayor of London realise vision of the capital as a world-leading smart city
Eight tech startups have been awarded £15,000 each to help develop innovative technologies to combat some of London's most pressing social and environmental issues, as part of Sadiq Khan's efforts to position the capital as one the world's leading "smart cities".

Download this free guide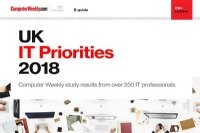 The future of UK tech: Cloudy with a chance of Artificial Intelligence
The forecast for the future is in and, in typical British fashion, it looks like it's going to be cloudy. Our IT Priorities survey has revealed that organisations are planning on making the most of the cloud in the future. Download our IT Priorities results for more insights into where the IT industry is going.
The Mayor's Civic Innovation Challenge (CIC), launched in June 2018 to spur innovation from the tech sector, set seven challenges ranging from Active Travel and Electric Cars to Affordable Housing and Dementia Services.
Some 14 companies were then shortlisted from over 100 applicants, before pitching their concepts to the Greater London Authority and its delivery partner Bethnal Green Ventures, an early stage investor focused on using technology for radical change.
Each CIC winner will use the money to further test and refine their ideas with a group of both public and private sector partners.
BuddyHub, for example, will partner with Hackney Council to tackle loneliness and isolation by creating a "friendship club" that offers the chance to make new social circles by carefully matching seniors with three "buddies" who share their interests – all of which will be done through a state-of-the-art befriending system.
The final eight are now working with their partners to get ready for a demonstration day in December 2018, where their technologies will be shared with an audience of potential customers, supporters and further investors.
Read more about tech startups
Jessica Stacey, a Partner at Bethnal Green Ventures, said: "This competition has been a blueprint for getting these big institutions to collaborate with startups and tackle some of London's major challenges."
These include partners such as Transport for London, Lloyds Banking Group, Shell, and the South East London Sustainability and Transformation Plan.
Read more on Technology startups