alexlmx - Fotolia
Government and businesses won't be ready for no deal Brexit, says IfG
The Institute for Government says progress on Brexit systems implementations hasn't been fast enough, and businesses haven't been given enough time to prepare for a no deal scenario
The Institute for Government (IfG) has published a stark warning to the country, saying the government has left no-deal Brexit preparations too late.
In its report, entitled Brexit: Six months to go, the think tank said there is still a long way to go before both government and businesses have implemented the systems, infrastructure and processes needed, regardless of deal or no deal.
It said prime minister Theresa May "must accept that everything will not be ready" by the end of the Transition period in December 2020.
The IfG highlighted the changes required to IT systems in particular as a challenge. A well-run large government IT project can take years to complete, and the government has often struggled with these types of projects. With Brexit, the short timescale is proving difficult.
"Large government projects – from automatic pension enrolment to the Olympics – can take over a decade," the report said.
"If the UK leaves without a deal in March 2019, just a fraction of the processes and systems required for life outside the EU will be in place.
"There is insufficient time for much more than temporary sticking plasters, attempting to limit disruption where possible, with work needing to continue long beyond Brexit."
Even with a deal, it's unlikely government systems will be ready by the end of the December 2020 transition period, the report said. A new migration system, for instance, is unlikely to be ready for mid-2021 "as per current plans", the report said.
"The last change, which was modest in comparison to ending the free movement of people, took four years from design until implementation," it said. "New regulators can take around three years to put in place, but the UK could have only months.
"It is simply not possible to replace the functions currently delivered at an EU level in that time, or at least not to the standard the UK is used to."
Another example is the Department for Transport, which needs to create nee databases and infrastructure for cross-border travel, and has "not yet begun implementing a number of new IT systems and databases it will need to issue permits", the report said.
Businesses will struggle
For businesses having to implement changes, it's even more difficult. "Avoiding disruption is not just about a government department being ready – it is about all of those who need to interact with a service or process knowing what to do," the report said.
Large government IT projects often take a long time to progress, it said, drawing comparisons to other digital government projects, such as HM Revenue & Customs' (HMRC) Making Tax Digital project, which began in 2015 and isn't due to be completed until 2020, as more time is being given to small businesses needing to make the changes.
With Brexit, businesses are not being given such allowances. The Customs Declaration Service (CDS), for instance, only went live with its first phase last month, and the third and final phase of the roll out, covering the export functionality of the system, will not be released until December 2018, meaning traders who export goods will have only one month to complete the migration, as the entire process of migrating users from the old system to CDS by the end of January 2019.
"It is not just the government that needs to be ready "Unlike negotiation and legislation, where the task falls squarely on the government to deliver, Brexit implementation depends on a wide-ranging web of external organisations," the report said.
"There are more than 140,000 different businesses that will need to be ready for changes at the border alone, for instance. If a few critical ones are not prepared, it does not matter how ready the government is."
The report also added that, as there is no current clarity on what's going to happen and many details won't be agreed until the last minute at best – along with the need to manage the Brexit negotiations and a challenging legislative task at the same time – implementing the kind of Brexit proposed by the UK Government in the transition period looks "completely unfeasible".
Content Continues Below

Download this free guide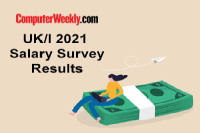 2021 UKI Salary Survey - Pandemic Infographic
We take a look at our 2021 Salary Survey results from over 300 respondents who work in the UKI IT sector. We will be breaking down which job functions get paid what, what areas of IT companies will be investing in in 2021, the current diversity landscape residing in the UK tech sector and how the pandemic has effected IT staff.
Read more on IT for government and public sector