chanpipat - Fotolia
Digital projects failing because of poor databases
Legacy databases are unsuitable to run modern digitisation initiatives. Teams risk losing their jobs if their projects fail, warns Couchbase
Businesses are failing to make the most of digitisation initiatives because their legacy databases are unable to cope, a study from Couchbase has shown.
The study found that organisations often identify their database as a barrier to successful digital projects – in particular, a reliance on legacy databases that cannot support more modern demands, such as the ability to process masses of potentially unstructured data in real time, according to Couchbase.
It found that 86% of digital leaders say their ambitions to use data for new digital services are being held back.
The research, based on a Vanson Bourne survey of 450 heads of digital transformation in organisations with 1,000 employees or more in the US, the UK, France and Germany, reported that half of digital leaders have seen a digital project fail.
A quarter said they had experienced a reduction in the scope of digital projects, and 13% said they had suffered significant delays because their legacy database technology could not support their needs.
The most common factor cited (43%) was the complexity of using multiple technologies. Other common answers included a reliance on legacy database technology (37%), a lack of resources (36%) and a lack of skills (33%).
The research found that 87% of the businesses taking part in the survey said they needed to to scale back their ambitions for new applications in order to work with internet of things (IoT) or mobile devices.
As a result, potentially revolutionary services cannot achieve their full potential because of limitations such as the amount of data a mobile device can process, or the need for an always-on connection, said Couchbase.
Read more about digitisation
Maintaining access to data stuck in legacy systems is costly and limits IT's ability to work on digital transformation initiatives.
Organisations often cannot take advantage of advances in digital technology due to the lack of interoperability in their IT systems in different facilities, but open standards promise a way forward.
The survey also found that a digital project failure had a negative impact on the IT teams involved. More than 90% of respondents said they would be fired, or suffer other consequences, as a result of a digital project either failing or suffering other setbacks.
Couchbase CEO Matt Cain said: "The revolutionary potential of digital transformation will have a hugely positive impact for those organisations that can do it well. However, the pressure to transform at speed means organisations have a higher risk of taking a rushed, reactive approach, driven by the fear that the organisation will lose relevance, that results in substandard experiences and wasted investments.
"Transformation is not a destination. It is a continuous process that, at its best, is proactive, driven by the needs of the business as a whole, and underpinned by the right data infrastructure."
Content Continues Below

Download this free guide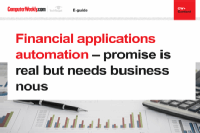 Financial applications automation – promise is real but needs business nous
The automation of the financial software that lies at the heart of any business & accountancy, budget management, general ledger, payroll, and so on & is a prize many organisations are eyeing up, with machine learning and robotic process automation close to mind. Find out everything you need to know by downloading this PDF E-Guide.