ktsdesign - Fotolia
Druva maintains cloud course with AWS cloud-to-cloud backup plans
Backup product supplier Druva plans cloud-to-cloud backup to Amazon Web Services and other public cloud services as demand arises, in a future firmly fixed on hybrid operations
Backup product supplier Druva plans to support native cloud-to-cloud backup in Amazon Web Services (AWS) this year, with plans to extend that to Microsoft Azure and other platforms thereafter.

Download this free guide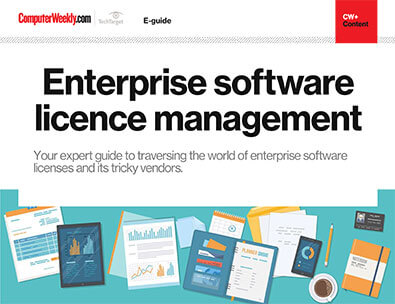 How to achieve a healthy, balanced relationship with your ERP provider
Download this e-guide to discover how the pendulum of power is swinging towards to the consumer and why many CIOs are prepared to walk away and re-implement a system using another provider's software rather than put up with aggressive licensing stances.
The move comes as part of a general swing towards cloud for the company.
"The use of the public cloud is no longer a question for most organisations," said Druva chief technical architect W Curtis Preston. "It's just a question of which workloads it is most appropriate to put in the cloud."
Druva originally arose as a specialist in endpoint backup for mobile and laptop hardware. Subsequently, it added Phoenix data protection with public cloud as a target.
Later, disaster recovery-as-a-service (DRaaS) was added to Phoenix, with customers able to run datacentre workloads in the cloud as Amazon Machine Images (AMIs).
Druva also added CloudCache, which allows customers that need rapid recovery time objectives (RTOs) to cache data to local hardware.
Next on the roadmap is to protect cloud workloads natively. Initially, AWS will be supported, sometime in 2018, with Microsoft Azure and other cloud support added according to demand, said Preston.
The drive towards the cloud is a key one for Druva, and appears to be part of a wider trend evident recently.
"We're seeing a lot more use of the public cloud. I've not talked to a single company that's not thinking of moving something to the cloud"

W Curtis Preston, Druva
In data protection we have seen the rise of cloud-to-cloud backup, which has sought to add advanced backup capabilities for customers that don't want to rely on the basic offerings that come with the likes of Microsoft 365.
Elsewhere, we have seen the emergence of storage technologies built for hybrid cloud use with a single namespace accessible on-site and off-site, such as Qumulo's QF2 file system and Cloudian's Hyperstore 7, which allow file and object storage in hybrid cloud operations, and Microsoft's purchase of Avere, which also has a unified on-premise/cloud file storage capability in its C2N product.
Read more about cloud and backup
Applications that run in the cloud are protected, but only so much. For full protection of data generated by cloud-based apps, you need cloud-to-cloud backup.
Disaster recovery methods: Legacy DR vs. the cloud. Cost, RTO and expertise are important factors in selecting the right disaster recovery method.
"I don't know if it's a watershed year, but we're seeing a lot more use of the public cloud. I've not talked to a single company that's not thinking of moving something to the cloud," said Preston.
"Backup and disaster recovery – if done properly – are the best workloads to move to the cloud as soon as possible," he said. "The idea that I can do DRaaS and have an image ready to go and that I don't have to pay for the compute for it until I move it to the cloud is perfect."
Read more on Cloud applications