IT sector outdoing rest of economy despite rise in IT supplier insolvencies
Insolvencies among information and communication suppliers increase by a fifth as the economy continues to pull out of recession
Insolvencies among information and communication companies have increased year-on-year by just over a fifth in the last quarter of 2014, research has revealed.
The Exaro Insolvency Index showed 765 businesses in the sector filed one or more insolvency notices during the quarter, up by 22.4% from 625 in the same period of 2013.
Although insolvencies are on the up for IT companies, the sector did not suffer as big an increase in the rate of company failures as the UK economy overall, which saw a rise of 30.4%.
IT consultancies continue to be plagued by a rising level of insolvencies. The number of businesses in this sub-sector that filed for insolvency rose by 26.1% in the final quarter to 222, up from 176 in the same period for the previous year. It comes after poor year-on-year figures for IT consultancies earlier in 2014.
Software developers also saw a rise in company failures, up by 13.6% to 50 in the final quarter from 44 a year earlier.
KPMG partner and head of restructuring Mark Firmin said he expects trading conditions to improve in 2015, but warned IT companies to still be cautious.
"After a broadly flat market during the past couple of years, the challenge ahead for the sector is to avoid the potentially fatal perils of over-trading as growth opportunities come calling again," he said.
"One might think that managing growth is a nice problem to have, but the historic rise in insolvencies as an economy exits recession highlights the severity of the risk posed by running out of cash during a high-growth period.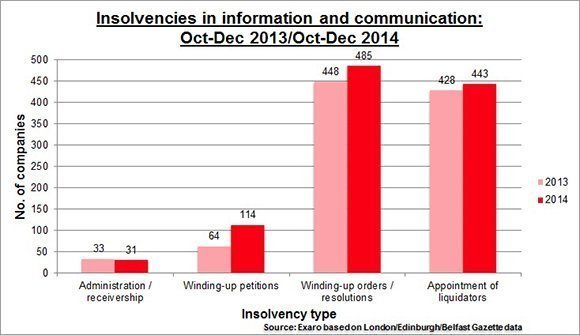 "Those running the businesses should be particularly vigilant about the risks of over-trading, specifically negative cashflow, to ensure that they do not inadvertently trip themselves up while servicing a growing order book."
The Exaro Insolvency Index – the most comprehensive survey of company failures in the UK – showed the number of information and communication companies that entered the early stages of insolvency fell slightly year-on-year from 33 to 31 in the final quarter of 2014.
As the graphic shows, winding-up petitions rose sharply from 64 to 114. There were also rises in orders or resolutions to wind up and appointments of liquidators.
"I cannot overstate the importance to boards of ensuring that they have sight of forward-looking cashflow models that accurately predict their cash requirements, with sensitivity to positive as well as a negative change," said Firmin.
"In recent years, the focus has rightly been on forecasting with a view to the impact of managing flat or shrinking trading conditions, but now their business needs to ensure that it understands the equally serious consequences for cashflow of a swift uptick."
But Giles Frampton, president of R3 – also known as the Association of Business Recovery Professionals – pointed to signs that insolvencies across the UK's economy may continue to rise, as figures from the Office for National Statistics show growth in the country is losing steam.
"Recent R3 research found that 154,000 businesses, up from 103,000 in November 2013, were only able to pay the interest on their debts," he told Exaro.
"We may start to see a change in the make-up of the landscape of corporate insolvencies in the next year as reforms, lobbied for by the insolvency profession, begin to take effect.
"The Enterprise and Regulatory Reform Act will make it easier to put companies into a business-rescue procedure by preventing key suppliers, such as IT providers, from changing their terms of supply to struggling businesses. This will save more viable companies."
---
The Exaro Insolvency Index draws on insolvency notices in the London, Belfast and Edinburgh Gazettes, along with information from Companies House. In the source data, a small proportion of the insolvencies is not ascribed to a specific sector.