IT sector sees sharper rise in insolvencies than overall economy
Information and communications companies in the UK are suffering a rising number of insolvencies
There is a rising number of insolvencies among information and communications companies in the UK, according to research.
The Exaro Insolvency Index shows a slight increase in company failures across the UK economy, after many months of an improving picture.
But the number of information and communications companies entering administration or receivership has risen more sharply.
The turmoil facing information and communications companies was highlighted by Sony's announcement earlier this month that it would stop making personal computers to concentrate on tablets and smartphones.
Ranjit Atwal, devices analyst at IT analyst group Gartner, said that as the PC market shrinks, smaller hardware manufacturers are suffering.
The PC market is dominated by five big companies – Lenovo of China, HP, Dell, and Taiwan's Acer and Asus. Together they ship 60% of the PCs sold globally each year. Apple has just over 5% of the market.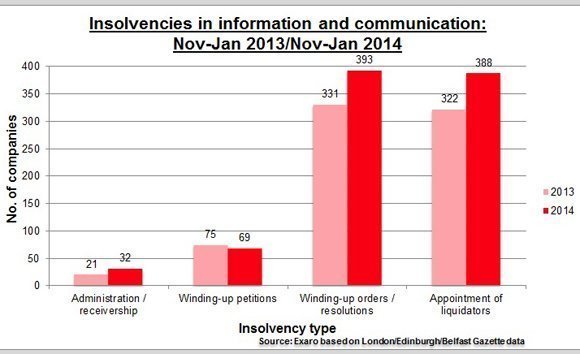 "That leaves about a third of the market for the smaller players – and far less of the profits," said Atwal. "Scale is everything in this market – if you do not have economies of scale, then the underlying costs of reaching the market are too great to be profitable."
The number of information and communications companies that entered administration or receivership in the quarter to 31 January rose by more than half compared with the same period the previous year, rising from 21 to 32, according to the research by investigative website Exaro.
The number of winding-up petitions fell by 8%, from 75 to 69, but orders or resolutions to wind up were up by nearly 19%, from 331 to 393. Appointments of liquidators rose from 322 to 388, an increase of 20.5%.
Many of the failed companies in the sector are consultancies or specialists in designing bespoke software.
January 2014 saw rises in all categories of insolvencies on January 2013, with the exception of winding-up petitions, which fell from 33 to 30. The number of administrations or receiverships rose from four to nine, orders or resolutions to wind up from 90 to 100, and appointments of liquidators rose from 91 to 99.