FULL DETAILS: EMC's new VNX and VNXe ranges
EMC will next week launch unified storage devices under the VNX name, but also a range of low-end storage systems dubbed VNXe.
EMC will next week unveil its long-rumored unified storage systems, but will also surprise the market with a pair of new arrays for smaller businesses and remote offices that replicate to their larger cousins.
EMC has made it known that January 18th (Jan 19th in Australia) will see it launch new products it says will break performance records.
SearchStorage ANZ has been shown an EMC Education Services Sales Training document, titled "Q1 2011 EMC VNX Family Launch" that outlines the new products in detail. As expected, the new products replace and combine EMC's CLARiiON and Celerra products. Indeed, the document sighted by SearchStorage ANZ dubs the new products a "Next generation platform that converges CLARiiON and Celerra."
EMC will not necessarily sell the new arrays as unified storage, as the presentation we've seen suggests customers can "Start with file or block and EASILY upgrade to unified" (EMC's emphasis).
Here's a look at the new products.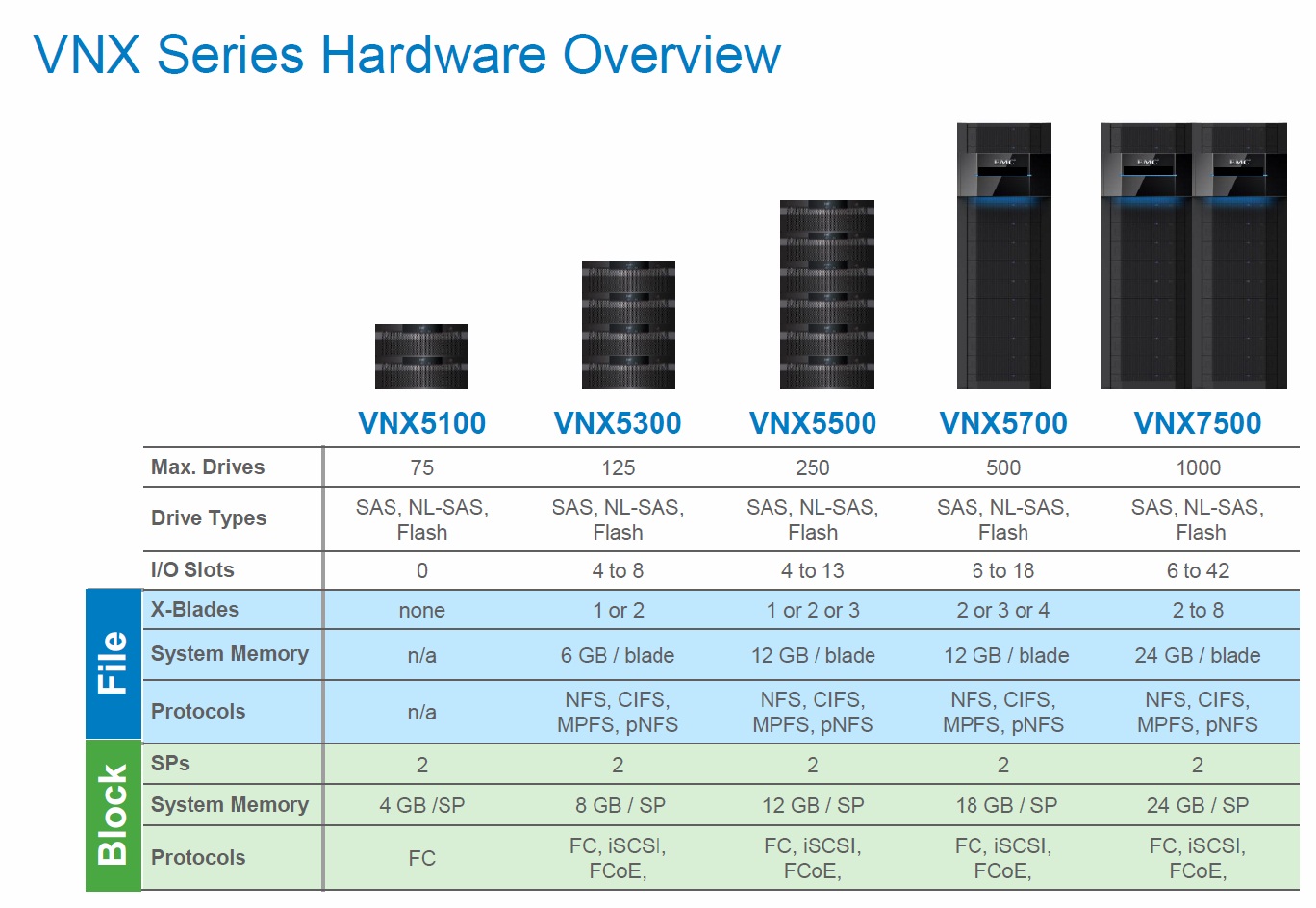 (click on the image to see a larger version)
No rip and replace
Intriguingly, the document we have seen says "CLARiiON and Celerra platforms will continue to be offered" and that "Service and support will continue for years" for these products. Upgrades will remain on sale for the two older platforms as well.
"Investments in all scripts and CLI's will be preserved," is another message in the document that should reassure current EMC customers.
The appliances will be sold with bundles of software, named the "Total Efficiency Pack" and the "Total Protection Pack". Software in these collections has been renamed the "VNX Series Software" but comprises familiar EMC products.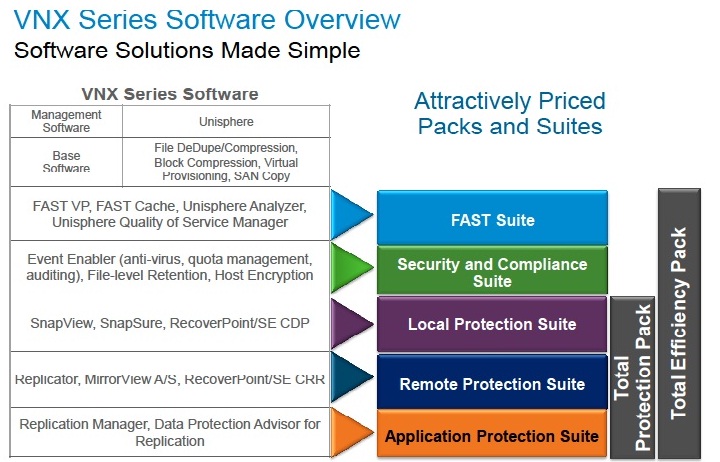 (click on the image to see a larger version)
The document we've seen makes no mention of speed, but does offer some hints about how the new devices boost performance.
Fiber Channel over Ethernet connectivity is included, and several mentions are made of increased use of solid state disks and practises that resemble tiering, hierarchical storage management and information lifecycle management (the latter topics have been EMC staples for nearly a decade).
Many mentions are made of Atmos, which EMC currently bills as a tool to create storage systems at petabyte scale, as the technology enabling the unification of file, block and object storage.
On the disk side, the new systems support SAS and NL-SAS, but fibre channel drives have been shown the door.
VNXe series
While the market expected an announcement of a CLARiiON and Celerra replacement, the release of the VNXe will come as a surprise to many.
The range starts at less than $US10,000 and comprises two devices.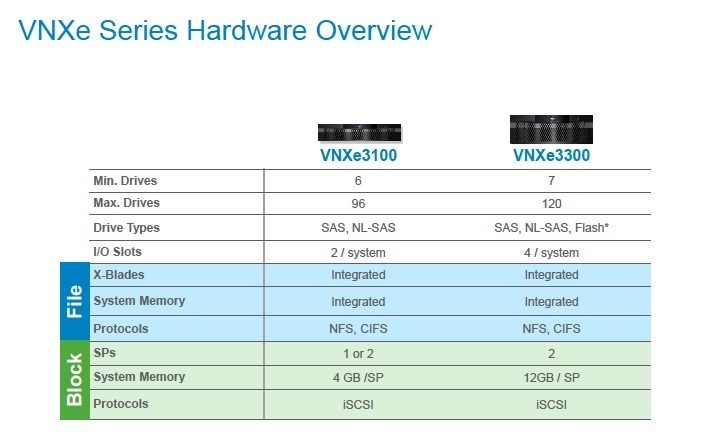 (click on the image to see a larger version)
Competitive positioning
EMC believes its new products line up well against competitors, but the document we have seen is at pains to compare the VNX range with NetApp's FAS 3000 and 6000 series, IBM's XIV and HP's recently-acquired 3Par range. The VNXe is compared to Dell's EqualLogic, HP's MSA P2000 and NetApp's FAS 2000.
For what it's worth, here's how EMC sees the new products' places in the market.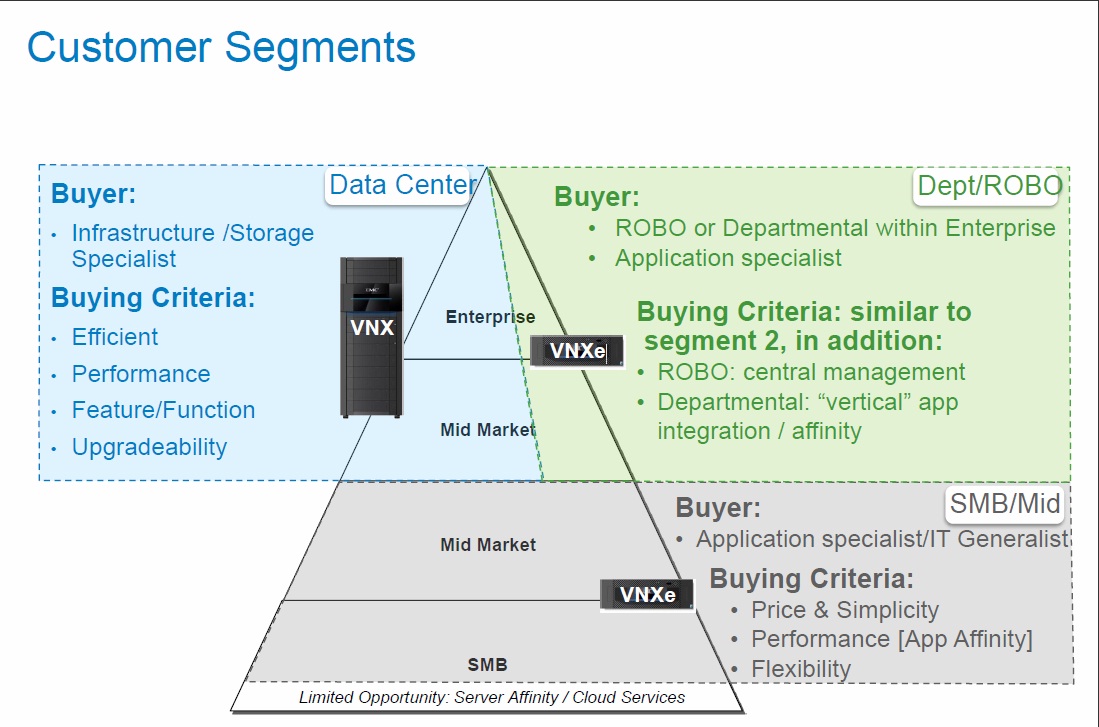 (click on the image to see a larger version)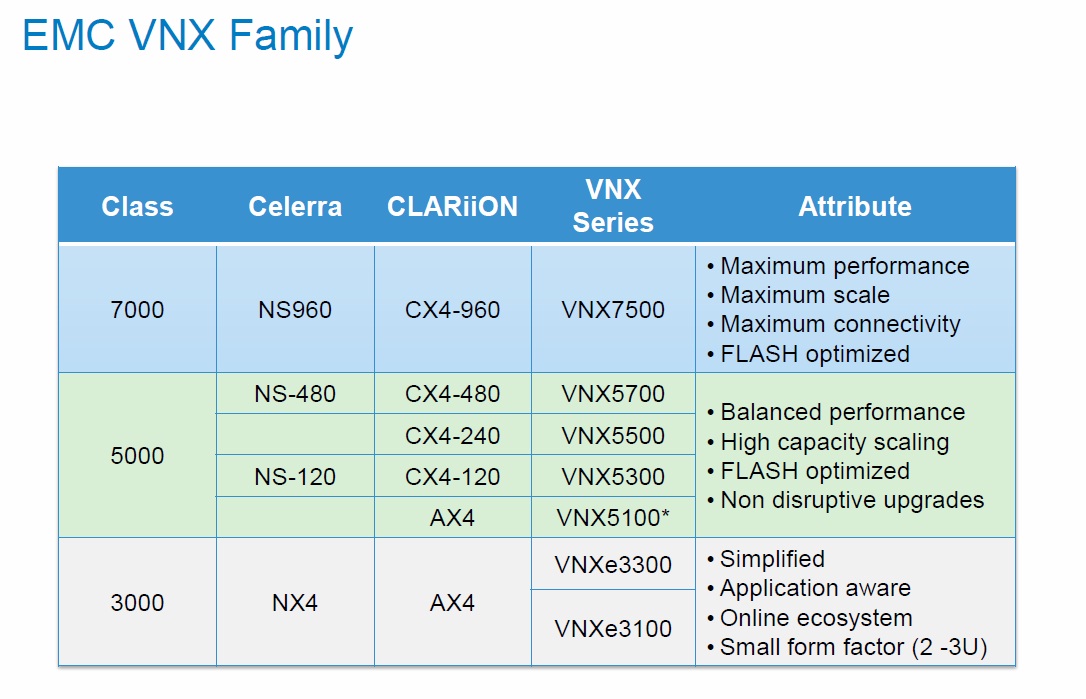 (click on the image to see a larger version)
EMC is running an effort called "operation MOJO" to take the new products to market, and has adopted the slogan "refuse to lose". The company says that at launch it will need to quickly convert current CLARiiON and Celerra prospects to the new VNX and VNXe range.
Virtualisation
Virtualisation is a big focus for the launch, as the new products have been tuned to support VMware and to be easy to use in virtual environments.
The documents we've seen mention three scenarios as very likely uses for the VNX range. Those scenarios are:
• Virtualizing Microsoft Applications with VMware vSphere;
• Implementing Oracle in a VMware Environment;
• Implementing Virtual Desktops with VMware View.
The VNXe range is also said to be useful in virtual environments, for two reasons:
• Virtualizing Microsoft Applications with VMware Essentials
• Virtualizing Microsoft Applications with Hyper-V
SearchStorage ANZ will bring you more news of the new products as it becomes available.