Getty Images/iStockphoto
How artificial intelligence is fuelling engine maintenance innovation at Rolls-Royce
The engine maker has established an innovation centre to enable the company to deliver analytics and artificial intelligence-powered services to airlines using Rolls-Royce engines
Engine manufacturer Rolls-Royce has been steadily building up the intelligence capabilities in its aero engines.
Continue Reading This Article
Enjoy this article as well as all of our content, including E-Guides, news, tips and more.
In April 2018, Rolls-Royce was one of the companies whose artificial intelligence (AI) initiatives were highlighted by the Department for Digital, Culture, Media and Sport (DCMS). Rolls-Royce also announced it has signed a memorandum of understanding with the Alan Turing Institute to work together on developing next-generation AI, specifically for use in industrial applications.
Artificial intelligence plays a major role in the company's strategic vision.
In February 2018, at the Singapore Airshow, the company unveiled its IntelligentEngine vision powered by AI and advanced data analytics.
To support greater numbers of airline passengers, the IntelligentEngine strategy wraps a service around the engine, supported by intelligent sensors. Rolls-Royce says this offers a wealth of opportunities to improve the way it provides power to its customers.
Smart engines
In addition to designing, testing and maintaining engines in the digital realm, the IntelligentEngine vision sets out a future where an engine will be increasingly connected, contextually aware and comprehending, helping to deliver greater reliability and efficiency.
Specifically, engines will connect with other engines and will be contextually aware, allowing them to respond to the environment around them without human intervention. Through the IntelligentEngine initiative, an aero engine will be able to learn from its own experiences and from its network of peers, and will adjust its behaviour to achieve best performance, according to Rolls-Royce.
The initiative is supported by Rolls-Royce's R2 Data Labs, an acceleration hub for data innovation launched in December 2017. The lab provides a centre for advanced data analytics, industrial AI and machine learning research, along with product development.
The lab currently provides four main products: design optimisation, integrated lifing, fleet planning and MRO insight.
The design optimisation tool uses operational and environmental data to simulate how different component designs would perform and last in service. Integrated lifing is a methodology that uses "digital twins" to predict the remaining life of engines and their components, based on the detailed conditions they are expected to experience in service.
R2 Data also offers a fleet planning application that explores over 25 years of in-service data to understand how changes to customer fleet operations could deliver improved aircraft efficiency and availability. The MRO insight tool is said to close the learning loop by capturing the condition of used parts to inform improvements to design, manufacture and usage.
Andrew Hutson-Smith is chief business officer for R2 Data Labs, responsible for business development and strategy. His role at Rolls-Royce is to focus on using technology such as AI to enhance existing services and create new ones for customers in all of the sectors Rolls-Royce operates in.
Read more about AI in manufacturing
Speaking to Computer Weekly, Hutson-Smith says: "R2 Data Labs is a central group in Rolls-Royce, which is used to accelerate the use of AI and analytics in the business and investigate ways for the company to become more digital."
It is divided into four main areas: the AI hub (see box below), a disruptive companies' portfolio, a strategy and business development arm, and an operations unit for deploying technologies from R2 Data Labs out to business units.
Understanding telemetry
Rolls-Royce has a 20-year history of working with telemetry data from its engines. In the past, it operated as an internal service, but Hutson-Smith says R2 Data Labs is trying to extend its central role with self-service for business users.
"We have a highly capable central group," he says. "We are looking at the best ways to deploy groups of people out to the business units. Everyone learns from the exercise. Everyone becomes an analytics expert."
One of the drivers for the company is to use automation to reduce the amount of human intervention necessary to keep its engines running optimally.
"We are always looking at the performance of assets. There is often a human in the loop, but we are trying to get to a heightened level of automation," says Hutson-Smith.
Given the sheer level of data that can be accessed, including contextual data such as the effect of weather, routing and congestion, the complexity of decision-making is growing exponentially. "You need a level of automation so you can focus on the right decision," he says.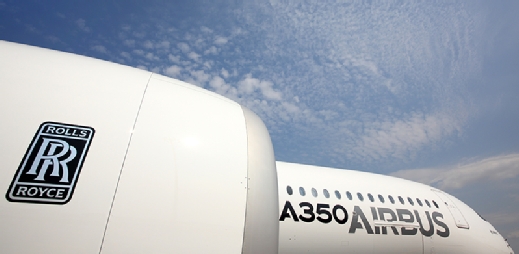 Machine learning helps to improve data models, according to Hutson-Smith. "We have technology on the aircraft which can be adapted." Engine telemetry data can be downloaded from the aircraft. "We can look at both individual assets and the whole fleet's data," says Hutson-Smith.
The company makes use of simulation models called digital twins – a term used by industrial companies like Rolls-Royce and GE to describe a simulation of a real machine using live operational data.
Hutson-Smith says Rolls-Royce runs many digital twins and carries out peer-to-peer analysis, through which it is able to analyse data from aircraft running in similar operating environments to understand where they differ.
The amount of data collected is not necessarily substantial. Typically, a long-haul flight generates around 500MB of data, since most of the time the telemetry data is stable. But if an event occurs, the onboard systems are able to capture far higher data rates.
This data, while not huge, can be highly informative when analysed across a whole flight, and can be used to verify that the digital twin is performing as expected.
Rolls-Royce also buys in data from external providers to enhance its data models. "There is an increasing amount of data in the market, such as weather data and environmental data. We may buy in flight aspects such as flight times and even baggage data," says Hutson-Smith.
Computing powers data-driven services
Rolls-Royce operates cloud computing server farms where terabytes of data can be processed. This enables Rolls-Royce to run simulations to help it develop new designs. For instance, it can run a design model simulation alongside an operational model using real data downloaded onto one of its digital twins. "This requires a huge amount of computing power, which would not have been economical previously," says Hutson-Smith.
When asked if Rolls-Royce sees an opportunity to sell data, Hutson-Smith says: "We are extremely respectful of customer data. The vast amount of our data is our customers' data and we add value back to them. There may be aggregation opportunities, such as datasets on fleets, to make data clean, useful and meaningful." But he says any opportunities to aggregate datasets will need to be done in partnership with Rolls-Royce customers.
As R2 Data Labs evolves, Hutson-Smith sees an opportunity to improve how the business consumes data. "As we bring in more analytics, we need to do more work to help people consume information, and how they get the AI to do its work," he says.
The role of Rolls-Royce's AI hub
Rolls-Royce's AI hub is run by Nigel Jackson. Previously called the Capability Lab, the AI hub is used to make new technology available to the business. "We are trying to de-risk new technology," says Jackson.
Application areas being investigated at the AI hub include equipment health monitoring services and the acquisition of data in aerospace, ground-based transport and ships. Data from equipment operated by Rolls-Royce is transmitted back to base, decoded and analysed, to understand the condition of the equipment and how it is being used.
"We can take appropriate action based on the analysis of this data," says Jackson. "We can predict with accuracy what maintenance has to be done and we can optimise our workshop capacity and ensure our [parts] supply chain is ready."
Various aspects of artificial intelligence are being using at the AI hub, including machine learning. "Some of the analytics is self-learning," says Jackson. Previously, improving an engine's performance would need people to understand the impact of optimisations. But now, with machine learning, the analytics models can train themselves, but these are augmented by experts. "We use a lot of automation and use the experts to supervise, which means we get a much higher level of quality," says Jackson.
The heart of the system used at Rolls-Royce is a mathematical model of an engine, or digital twin, which is compared with the real engine. This model is updated with real operational data. "We fly the model forward and see what is going to happen. This is then used to make decisions," says Jackson.
For instance, in R2 Data's design optimisation tool, the digital twin model can be used as part of the process to certify engine fan blades. "The certification involves releasing a fan blade at full power to ensure the engine casing will retain debris. We do a lot of stress-test modelling and thermodynamics tests to prove a design digitally," says Jackson. The final test is a real validation of a blade failure.
In the event of a real-world component failure, Jackson says Rolls-Royce is able to capture high-frequency data for analysis. Using the digital twin, he says it can re-run the model to develop an understanding of the problem.
Telemetry data that is collected continually updates the mathematical model of an engine, enabling Rolls-Royce to improve the accuracy of the tools to support maintenance, repair and optimisation (MRO) and the "integrated lifing" services.
Read more on Artificial intelligence, automation and robotics