IT set to gain the most from AI and automation
IT administrators anticipate that artificial intelligence and automation will only affect mundane tasks, freeing up 19% of their workload
In the next 12 months, 40% of large businesses expect to implement one or more intelligent assistants, according to a survey from Spiceworks.
IT could be a main beneficiary of artificial intelligence (AI) and intelligent automation, with IT professionals estimating that almost a fifth of their current daily tasks could be automated by AI and intelligent automation.

Download this free guide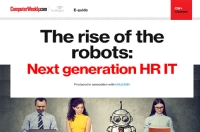 Robots are coming for your jobs
It's happening, the robots are finally taking over. Will the rise of the robots mark the end of humanity? Download this e-guide to discover how big companies are turning to AI and machine learning to make their human resources a little less human.
However, only 20% of IT professionals believe their organisation has the proper skills, talent and resources to implement and support AI technology, according to the Spiceworks survey of 529 people in its network.
"Many companies aren't thinking about the tools and expertise they'll need to support artificial intelligence. However, AI is rapidly advancing and becoming a more integral part of our software, devices and lives," said Peter Tsai, senior technology analyst at Spiceworks.
"As a result, companies should start putting policies and procedures in place so they can take full advantage of and manage this technology in the future," he added.
Cortana, built into Microsoft Windows, was found to be the most popular intelligent assistant technology being used, while the survey found that dictation was the main application.
Among organisations that have implemented intelligent assistants or chatbots on company-owned devices and services, 49% are currently using Microsoft Cortana for work-related tasks, followed closely by Apple's Siri at 47%. Additionally, 23% of organisations said they use Google Assistant and 13% said they were using Amazon Alexa.
Voice to text dictation was the main application area for AI assistant technology (46%), while 24% said they were using AI devices for employee calendar management. Some 14% said they are using AI chatbots and assistants for customer service, and 13% said they are using them for IT help desk management.
Read more about IT automation
In terms of which departments are supported by AI chatbots and assistants, the results show 53% of organisations use them in their IT department, 23% use them to support their administrative department, and 20% use them to support the customer service department. Only 16% of organisations said they were also using AI chatbots and assistants in their sales and marketing departments.
According to the survey, IT professionals believe AI will help automate mundane tasks rather than replace jobs. However, 40% said AI could replace entry-level jobs that do not require human creativity and so feel relatively secure when it comes to their own jobs. Only 17% of IT professionals believe AI will put IT jobs at risk.
As Computer Weekly previously reported, IT administrators will need a different set of skills over time to the ones they currently have due to the automation of more IT tasks.
Read more on IT operations management and IT support