Ericsson reveals plans for 5G, IoT – and self-driving buses
World's third biggest maker of telecommunication equipment reveals its plans for new technologies including 5G, the internet of things and automation
Welcome to Sweden's Silicon Valley, says the taxi driver as we pull into the headquarters of Ericsson, in Stockholm, Sweden.
5G – as well as artificial intelligence (AI), automation and big data − is widely seen as one of the most important new technologies for the next decade. In 2019, telecom equipment makers and telecom operators began to introduce 5G networks in Asia, Australia, Europe, the Middle East and the US. This year, according to research company Gartner, the global market for 5G wireless network infrastructure will be worth $4.2bn (£3.2bn), a year-on-year increase of 89%.
One way to ease the roll-out is through spectrum-sharing technology – which allows telecom operators to run 4G and 5G simultaneously, via a software upgrade. It can limit costs and technical challenges.
South Korea and China are at the forefront of 5G use. And when asked about how it will compete with leading telecoms network company Huawei, an Ericsson spokesperson gives the classic corporate "non answer" about welcoming any competition. You sense that Ericsson is tired of being asked about Huawei.
5G is still very new, but there are some early adopters in business. For example, Ericsson is working with global telecoms operator Telefónica's 5G network for Mercedes. The private 5G network in the car maker's Sindelfingen plant in southern Germany will connect assembly lines and machines.
Also in that country, Ericsson has built a 5G network for MTU Aero Engines to improve the manufacture of blades for jet engines, helping to spot manufacturing faults in real time and reduce the time taken for "process design".
Ericsson's tech predictions
Brain-computer interfaces, digital worlds indistinguishable from the real one and a plunge in the price of products and services thanks to automation and other digital technologies – these are some of the consumer technologies that will be common in 2030, according to global research by Ericsson.
Its researchers questioned more than 7,000 consumers who are already using technologies such as virtual or augmented reality. Ericsson's predictions included:
Mindreading and augmented reality: Using the brain as an interface could mean the end of keyboards, a computer mouse, or any type of user interface. If a person wearing augmented reality glasses thinks "show map", the glasses could display a map. If the person thinks of a destination, the glasses could search for a route.
Merged reality: When the internet began, it divided the world into two – our physical existence and its digital replication. By 2030, half of those surveyed believe that the difference between physical and digital will be almost completely gone.
Sensational services: By 2030, digital sound and vision and touch, taste and smell will change screen-based experiences into multisensory ones, the survey predicts.
More than two-fifths of respondents said they wanted a digital workstation that allows them to be virtually present at work or school from anywhere.
In a partnership with Italian industrial automation company Comau, Ericsson is developing a 5G network to be used with the internet of things (IoT) and big data to improve competitiveness and efficiency. In another example, Ericsson and China Unicom are working on a 5G "smart harbour" in the port of Qingdao, China. By using a 5G network, labour costs at the new harbour can be 70% lower than in a traditional harbour, says Ericsson.
Communication in factories using 5G will be on a "millisecond" basis, says Fredrik Jejdling, Ericsson's executive vice-president and head of business area networks. He adds that it will also help to improve communication in manufacturing supply chains, and predicts that some companies may run their enterprise resource planning (ERP) software on 5G.
To make the most of technologies such as 5G, automation and big data, telecom equipment makers are trying to encourage the creative culture of startups.
In one of Ericsson's no-fills, garage-like labs, students are developing technology to allow a human operator to control remotely the steering wheel and pedals of a self-driving vehicle in order to prevent an accident.
The technology, which is in its early stages, relies on a reliable 5G network, with low latency and capable of processing a high amount of data messages with minimal delay.
Yet there are a number of challenges. Vehicles will need to know when to ask for external help and another challenge is protecting the self-driving vehicles from cyber attacks, especially given that, eventually, vehicles could be run online from the cloud.
Another area where 5G can bring benefits is the environment. Will the expansion in data and power of telecom networks exacerbate climate change by increasing carbon emissions? In fact, the ICT industry's carbon footprint has begun to fall in the last couple of years and now accounts for about 1.5% of greenhouse gases globally, says Mats Pellback Scharp, Ericsson's head of sustainability.
The company wants its 5G technology to be 10 times more energy-efficient than 4G by 2022. Achieving this will break the upward "energy curve" – an increase in ICT's energy consumption when releasing a new mobile network standard, for example from 3G to 4G, says Scharp.
"5G is much more energy-efficient than 4G," he says. "A network signals to [for example] mobile devices to show that it's ready. It can transmit much more data far more quickly – AI, big data and predictive analytics – and may be able to help achieve some of the UN's sustainable development goals, such as quality education, good health and wellbeing and sustainable cities and communities."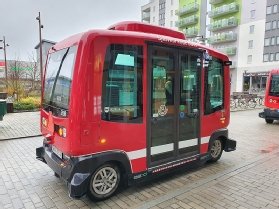 Self-driving buses and connected cities
In a new town in the suburbs of Stockholm, a driverless bus (pictured above) awaits its passengers. The six-seat buses can drive themselves, although an "operator" is on board in case a human needs to take control in an emergency.
The small, squat, single-decker electric buses, which travel at below 20km per hour, are steered using laser radar and a satellite positioning system to navigate.
If anyone or anything is at risk of colliding with the buses, they stop, alerted by sensors.
Ericsson is a technology partner for the buses, which are run by Nobina, the largest public transport service provider in the Nordic region.
They are part of a plan to persuade more residents to use public transport rather than their car. Journeys on the bus are short, such as from someone's home to the subway and from the subway to their office.
Over the next few years, there are plans for an Uber-style service, with passengers using an app to order a bus from outside their home, or wherever they are.
Eventually, the buses may be connected to traffic lights, other buses and cars using a 5G network and internet-connected sensors.