Greg Blomberg - Fotolia
Storage area network basics: Guide to the latest in SAN implementation
In this guide, learn about storage area network basics, including considerations in buying and implementing a SAN, SAN switch configuration, and deploying an FC SAN for virtual server environments.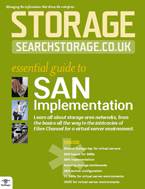 If you haven't needed a SAN up until now, that's likely to change, with shared storage enabling the full range of capabilities in a server virtualisation environment. To get a grasp of storage area network basics, download this free Essential Guide to SAN implementation for the latest tips and best practices, and find out more about future trends.
Server virtualisation has changed a lot of things in the data centre, and it has certainly had quite an effect on storage.
On the one hand, it has created greater demands on storage capacity. As development and application teams have gained the freedom to develop new servers at will, so new virtual machines have been created ever more frequently.
On the other hand, the proliferation of virtual machines and their inherent flexibility have made providing storage in a virtual server world more complex than it used to be. Once upon a time, servers were not born so frequently and one server meant one app. So, you provisioned the storage to a server and that was pretty much how it stayed.
That's not the case anymore. Numerous virtual servers on one physical machine can mean throughput bottlenecks, which can affect application performance. And the movement of VMs from one physical machine to another means storage provisioning needs to keep track of such shifts.
At the same time, the demands of server virtualisation have made shared storage an almost essential requirement. OK, so it's not absolutely essential, but the flexibility inherent in a shared pool of storage makes life a lot easier in the expanding, fluid world of virtual servers.
Consequently, while virtualised servers have become almost ubiquitous so has shared storage, and the subject of SAN implementation in virtual server environments figures heavily in this Essential Guide.
In it you will find the storage area network basics of SAN array deployment, such as determining business drivers, sizing SAN requirements, planning for service levels and backup, and developing standard naming and operating procedures.
There is also solid information on deploying storage networking, with advice on initial switch configuration, which network topology to choose, SAN zoning and masking, and the basic facts on fan-in and fan-out ratios.
Beyond these fundamentals there are also articles on deploying iSCSI and Fibre Channel SANs in virtual server environments. We cover the advantages of Fibre Channel, such as its performance and security, but also discuss drawbacks such as its cost and complexity.
In the article on iSCSI for virtual server environments, you'll find not just a run-through of its benefits and drawbacks but also some good tips about whether to use software initiators inside virtual machines, being aware of potentially wiping iSCSI SAN provisioning data during server rebuilds, servers pointing to LUNs that they shouldn't, and why you should segregate iSCSI traffic on a separate VLAN.
Assuming you've gone through the implementation process, we also have a piece on SAN performance tuning that covers configuration of inter-switch links, tweaking bandwidth and traffic flow, monitoring specific VM demands, and setting NPIVs and HBA queue depths.
There's no doubt server virtualisation has made storage more complex. Luckily, you'll find all the basics here to get you started in getting on top of it. – Antony Adshead, Bureau Chief, TechTarget's SearchStorage.co.UK
Here's a look inside the guide:
SAN basics you need to know before you buy a SAN
There are many benefits to implementing a SAN, including the ability to pool disk storage resources and the sharing of storage at the block level instead of file or directory level. However, it's important to have an understanding of what a SAN is and whether it will meet requirements. Before you buy a SAN, it's important to review these storage area network basics first.
SAN implementation: Key steps in SAN deployment
Before deploying your first SAN technology, be sure to consider these key steps and considerations associated with SAN implementation. Learn about the critical stages to SAN deployment, SAN fabrics, how to properly size a SAN, how data is backed up on a SAN and questions concerning SAN growth and administration.
SAN performance best practices: More ways to avoid bottlenecks
SAN performance and efficiency improve with a combination of transparency, testing and greater understanding of the impact your data storage can have on the rest of your system. To fine-tune and improve your storage area network, check out these tips on how to use ISLs, use NPIV for VMs, understand HBA queue depth, conduct multipath verification, and improve replication and backup to help avoid storage bottlenecks.
SAN switching: How to configure a SAN switch
Whether you're starting a new SAN fabric or adding a switch to an existing one, it's important to understand what's involved in configuring a SAN switch. Learn the basics of SAN switch configuration, including how decide what fabric topology to implement, the importance of zoning and masking, and how to figure out fan-in and fan-out ratios.
Implementing Fibre Channel SANs in a virtual server environment
While Fibre Channel SANs are a popular choice for storage managers because of good performance and security, they're not right for everyone's virtual server platforms. They are more costly and require skilled staff to administer them. In this interview, VMware expert Eric Siebert talks about the pros and cons of implementing FC SANs in a virtual server environment, the steps needed to set up an FC SAN correctly and things to consider before choosing an FC SAN.
Using iSCSI for virtual server environments
iSCSI SANs offer many advantages, including their straightforward implementation, the benefits of a file system, and the fact that it can work well in many virtual server environments. But users should also consider the IP-related issues that can come with iSCSI SAN implementation. In this interview, Mike Laverick, a VMware expert, discusses the pros and cons of using iSCSI for virtual server environments, how to implement and configure iSCSI, how to configure iSCSI in vSphere and more.