VoIP, unified communications prompt new technologies, threats
Wireless voice servers and handsets, VoIP and unified communications threats, and licensing agreements constitute recent changes in the VoIP market.
Polycom introduces new wireless server, handset
Keeping in line with the developing trend of wireless, mobile voice, Polycom has announced the availability of the Kirk Wireless Server 600v3 for the North American market.

Download this free guide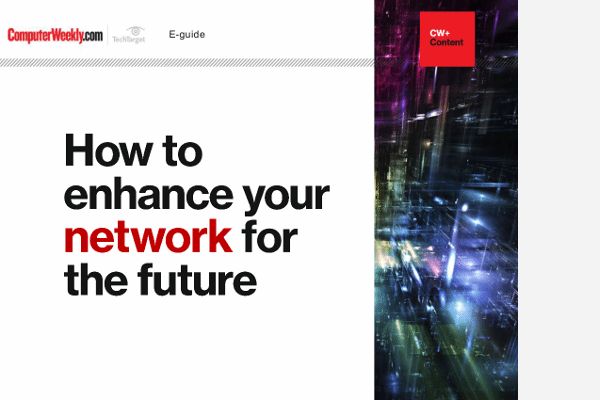 How to enhance your network for the future
Latest on networking developments and directions: NFV, self-optimising networks and IoT enabled smart cities
By submitting your email address, you agree to receive emails regarding relevant topic offers from TechTarget and its partners. You can withdraw your consent at any time. Contact TechTarget at 275 Grove Street, Newton, MA.
You also agree that your personal information may be transferred and processed in the United States, and that you have read and agree to the Terms of Use and the Privacy Policy.

"As widespread as the technology is in Europe, Dect technology has just recently seen traction in the North American market. Businesses are now realising the cost savings associated with wireless technologies," said Richard Webb, directing analyst of wireless at Infonetics Research. "As a standalone voice platform that increases mobility in the workplace, Dect provides highly secure telephony that benefits not only vertical markets such as retail and warehousing, but also the general office."
Able to support up to 35 users on a single server, with expansion capabilities, the Kirk Wireless Server 600v3 offers primarily small and medium-sized businesses (SMBs) highly secure mobile voice that connects to Sip-based IP PBX systems. Utilising existing wired IP networks for IP PBX connectivity, the Kirk 600v3 can provide cost-effective deployment with secure communications over a 1.9GHz wireless signal. Additional benefits include Digium/Asterisk IP telephony system certification for Sip support.
In coordination with the announcement of the Kirk Wireless Server 600v3, Polycom also introduced its Kirk 5020 wireless telephone, the newest in its line of Kirk handsets.
Sipera launches Viper services for VoIP/unified communications security
VoIP and unified communications threats continue to create a demand for security analysis that many enterprises and service providers often do not have the resources to satisfy. Sipera Systems has announced the availability of its Viper services to enterprises, service providers and suppliers. Companies can now employ Sipera's Viper services to analyse, assess and test their VoIP and unified communications networks. Enterprises can actively test their networks and devices to identify weaknesses.
Based on the vulnerability research conducted by Sipera Viper Lab, which identifies security threats against Sip, IMS and UMA networks, Sipera Viper services also include the Sipera Load Analysis and Vulnerability Assessment tool, which analyses deployments to identify known or suspected attacks. Viper services also comprise its vulnerability-analysis tool, which determines the robustness of VoIP and unified communications devices; the risk-assessment tool, which creates a colour-coded risk assessment report; and the penetration-testing tool, which launches ethical hacks on a controlled environment to determine network weaknesses.
Siemens agrees to license Openscape to IBM
IBM has announced the expansion of its Lotus Unified Telephony through an original equipment manufacturer (OEM) agreement with Siemens for elements of its Openscape open unified communications.
"In today's global and fast-paced economy, companies need more responsive and smarter ways of communicating, making decisions and eliminating delays," said Jonathan B. Spira, CEO and chief analyst at Basex, an information technology research and analysis firm.
IBM said adding the Openscape technology to its own Sametime technology lets users benefit from easy-to-use communications tools within the framework of applications they already use.
In addition, users will be able to decouple their unified communications investments from their PBX infrastructure, minimising the need for IT departments to manage a range of varied and supplier-dependent unified communications systems. This means that IT departments will be free to make application integration decisions based on business needs and not on their PBX capabilities.