Sergey Nivens - stock.adobe.com
Podcast: The Computer Weekly Downtime Upload – Episode 40
In this week's episode of the Computer Weekly Downtime Upload podcast, Clare McDonald and Brian McKenna range over the Waltham Forest Tech Camp, the opening of the Ohana floor at Salesforce's London HQ, the UK & Ireland SAP User Group Conference in Birmingham, and the General Election
With Caroline Donnelly absent in the wake of her trip to Las Vegas with AWS for the cloud supplier's Re:Invent conference, Clare and Brian talk about events they have been to in recent weeks – the Waltham Forest Tech Camp, the grand opening of the Salesforce Ohana floor by London mayor Sadiq Khan, and the SAP user group conference in Birmingham. They also touch on the General Election, as they highlight Sebastian Klovig Skelton's bumper analysis of all the main UK parties' manifestos.

Download this free guide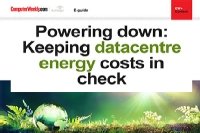 How to keep your datacentre energy costs down
Take a look at some of the outside influences that could potentially impact on datacentre power and management costs in the years to come, also discover some of the latest thinking and best practices around datacentre energy efficiency and cooling today.