Sergey Nivens - stock.adobe.com
Podcast: The Computer Weekly Downtime Upload – episode 34
In this week's episode of the Computer Weekly Downtime Upload podcast, the team discusses BBC conspiracy thriller, The Capture, and its focus on video surveillance and facial recognition technology
In this episode of the Computer Weekly Downtime Upload podcast, Caroline Donnelly, Clare McDonald and Brian McKenna are joined by Computer Weekly's security editor Alex Scroxton to discuss the BBC TV mini-series The Capture.
The Capture's sixth and final episode aired on Tuesday 8 October 2019, and the team met to discuss the social and political issues raised in this technology-driven drama.
A conspiracy thriller written by Ben Chanan, The Capture brings together video surveillance technology, its doctoring, and facial recognition systems.
Its two broad protagonists are the security services and a group opposed to them – the Pilgrims of Justice. The UK and US security services are depicted as organising a programme they call "Correction", which turns "intelligence into evidence" admissible in court, in order to jail terrorists – evidence in the form of doctored CCTV footage.
Caught in the middle are Shaun Emery (Callum Turner), a British Army soldier, and DI Rachel Carey (Holliday Granger), an SO15 counter-terrorism officer.
We meet Shaun at the start of the first episode as his conviction for unlawfully killing a Taliban soldier in Afghanistan is quashed on appeal because of a technical fault with video footage from head cameras, as revealed by video expert Marcus Levy (Paul Ritter) – a firm favourite with Caroline and Clare.
Rachel Carey, when we first meet her, has been seconded to the former home of Computer Weekly – Sutton – to learn to lead "ordinary" policy officers. As such, she gets landed with what seems to be the abduction by Shaun of his barrister, one Hannah Roberts.
Other major characters include US intelligence officer Frank Napier (Ron Perlman), MI5 officer Gemma Garland (Lia Williams), and Rachel's former boss and silver-fox lover, Commander Danny Hart (Ben Miles).
Brian kicks off the Computer Weekly team's discussion by posting the question: who's in the right? And later he asks: should we, as journalists, call for a ban on real-time facial recognition? He also asks Alex how realistic is the technology depicted in The Capture.
Along the way, and dancing around The Capture (so, no spoilers here):
Clare and Caroline draw a comparison between The Capture and Netflix docu-drama The Making of a Murderer. In that, Caroline explains, among other things, a man with learning difficulties is brow-beaten into having false memories: an example of manipulating people, not just data.
Clare mentions how in Rogue One: a Star Wars Story (2016), Carrie Fisher was CGI'd in to recreate her as young Princess Leia.
Alex tells us about deep fakes and shallow fakes, and how, for now, the latter pose more of a security risk. And he tells us about his own experience of facial recognition technology in China.
Brian mentions the SAS Loughgall ambush of an IRA unit in 1987. According to a recent BBC documentary, this could be said to be an example of a security strategy whereby a state breaks the law in order (putatively) to support the law.
He also mentions China's Xue Lian – Sharp Eyes – programme, whereby facial recognition could be coming together with a social credit system which rewards good behaviour and punishes anti-social behaviour.
And he picks out a recent Computer Weekly news story that speaks of the UK government's investment in biometric technology.
Facial recognition technology has been enabled by machine learning, big data and cloud computing. Caroline tells us about her two latest cloud conference trips – to the NetEvents Global IT Summit in San Jose and OVHCloud's event in Paris. From the former, she brought the message that users should be wary of getting too caught up in the industry hype surrounding artificial intelligence (AI) – at least according to Stanford professor and tech investor David Sheriton. She also told the team how a trend evident at both events was a new-found wariness of the idea of moving everything to the public cloud.
The team closes out the podcast by presaging a forthcoming discussion of Channel 4's The Circle. The viewing continues…
Content Continues Below

Download this free guide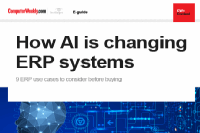 9 ERP use cases you should not miss
The rise of machine learning and AI in the workplace has been well documented over the past few years, and the growth of the machine is unquestionable. However, recent shifts in AI technology are now specifically having an impact on ERP software. Download this e-guide to read more.
Read more on Artificial intelligence, automation and robotics