Sergey Nivens - stock.adobe.com
Podcast: The Computer Weekly Downtime Upload – Episode 37
In this week's episode of the Computer Weekly Downtime Upload podcast, the team talks about the Labour Party's "free fibre broadband for all" pre-election pledge, HMRC's controversial loan charge policy, big data and catches up on what went on at the most recent CW500 Club event
In this week's episode of the Computer Weekly Downtime Upload podcast, Brian McKenna, Caroline Donnelly and Clare McDonald pick over their favourite tech stories from the past week, including the Labour Party's pre-election pledge to offer free full-fibre broadband to the whole of the UK.
That is the story the team kicks off with this week, while poring over the tech industry's reaction to what the political party is proposing to do, with trade bodies TechUK and the Internet Service Providers' Association (ISPA) both united in their scorn at the plans, which includes part-nationalising BT. Their criticisms focus on the costings Labour has shared around the plan and its intention to tax the tech giants to fund the "full-fibre broadband for all" plan, but it could have economic benefits by helping to close the digital divide and tackle the pockets of digital exclusion that exist across the UK, the team argues.
With the autumn/winter IT conference season well underway, Brian shares details of several events he attended over successive days in London, focused on big data, analytics and HR tech. They include the Open Data Institute (ODI) Summit, where he caught up with its co-founder Nigel Shadbolt, who talked about how the organisation has retained its non-partisan stance in the face of the UK's ever-changing political landscape. Brian then popped into Big Data London, where he embarked on five back-to-back interviews with users and suppliers, including the chief digital officer at Experian, Jonathan Westley, who talked about how the organisation is using technology to help address the plight of so-called "credit invisibles". These are people who experience problems trying to access credit, including immigrants, young people, and older people too. He also caught up with Jonathan Ellis, chief technology officer at NoSQL database provider DataStax, who talked about how the firm champions a staff recruitment strategy that is focused on recruiting "the best minds they can find, wherever they are", and how that ensures it can tap into a much larger pool of tech talent. Lastly, he talks about an interview he had at HR tech event Cornerstone Convergence with Cornerstone OnDemand's chief technology officer, Mark Goldin, who shared his observations about the learning styles of millennials, and how they need to be catered for in the workplace.
Caroline shares details of the ongoing investigative work she has been doing on IT contractor tax issues, focused – specifically – this time around on the government's controversial loan charge policy, which forms part of a disguised remuneration by HM Revenue & Customs (HMRC). As a result of the policy coming into force in April 2019, thousands of IT contractors are facing life-changing tax bills relating to work they did up to 20 years ago after opting to be remunerated for this work through loan-based schemes, typically operated by off-shore employee benefit trusts (EBTs). The team then goes on to discuss the stories IT contractors have told Caroline about the impact living with these monumental tax bills hanging over them has had on their lives, and the efforts that are underway to lobby the government to scrap the policy.
Clare rounds out the conversation this week by talking about the most recent gathering of the CW500 Club, Computer Weekly's quarterly flagship networking event for IT professionals, which was all about IT security.
Content Continues Below

Download this free guide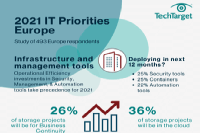 IT Priority Topics 2021 Infographic
This year, a survey was conducted quizzing nearly 500 European IT sector professionals to gather what topics they identified as being imperative for 2021. In this infographic see whether remote working is here to stay, if there will be shifts in information management trends and what infrastructure tools will be deployed by most in 2021. Download this PDF infographic to find out what the results showed.
Read more on Cloud applications