Windows 10 Technical Preview: Installing and test drive Build 9841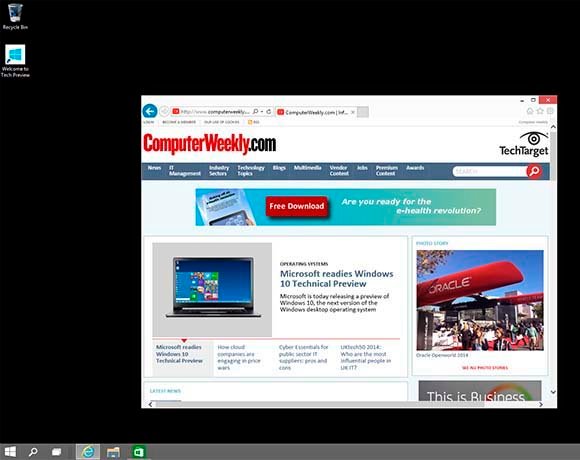 Windows 10 Technical Preview Build 9841 includes Internet Explorer 11.00.9841.0. Given that it is preview software, my initial thoughts are that the browser seems remarkably stable. Here is a screenshot of the browser rendering the Computer Weekly website.
I've only booted up Windows 10 Technical Preview a few times so far. As a die-hard Windows 7 user, the user experience is quite similar, but with some of the somewhat better elements of Windows 8 - like OneDrive. It is nice to see that in this release Microsoft has included a couple of useful third-party apps such as DropBox, so you aren't restricted to OneDrve for cloud storage.
While it is only a preview release, the PC settings option is still not linked to Control Panel, which is something that annoyed me with Windows 8 because the user isn't quite sure where to go  and unlike Windows 7, Control Panel isn't directly available from the Start menu.
But that's a minor point.  My initial thoughts are: "If you are a Windows 7 user, yes, download it and try out Windows 10 Technical Preview."
From a hardware perspective, Windows 10 Technical Preview seems to have a small footprint, taking about 10 Gbytes of space on the VMware player virtual disc. Given that I configured the VM to use 8 GB of memory, performance is certainly acceptable on my workstation PC which uses an AMD FX- 6100 3.3 GHz 6-core CPU with 16 GB memory and Nvidia GTX 570 GPU running Windows 7 Ultimate as the host OS.
Download Windows 10 Technical Preview here >>
View All Photo Stories