Review of LiveCode 6.0 cross platform software development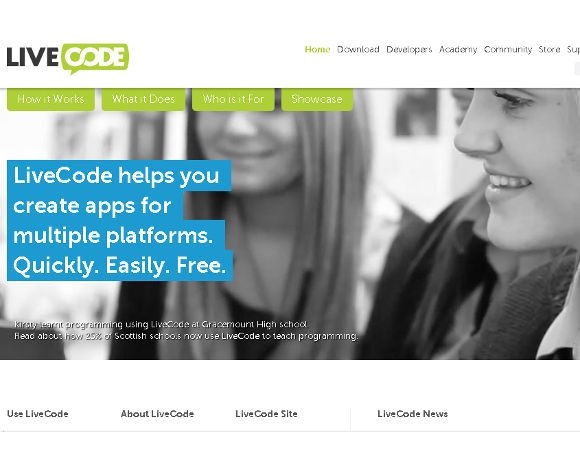 Scottish cross-platform programming specialist RunRev released its LiveCode 6.0 software recently, with a promise of drag and drop programming that anyone can use. Now available in a free of charge, open source community edition, the software is presented to the user through a graphical user interface (GUI) with an English-style programming language.
LiveCode apps can be deployed across all popular platforms for mobile, desktop and server on Windows, Mac OS, Linux, iOS and Android. Its maker cites examples of apps already developed, from ebooks to games and onward to apps for business automation, entertainment, medical, health, sports and nature.
Developed via a successful Kickstarter campaign which raised £500,000 in funding, LiveCode is said to draw inspiration from the HyperTalk programming language that used to ship with Apple's line of computers way back when they were known as the Macintosh.
Free under the under the GPL3 licence, the LiveCode 6.0 Community Edition's liberty comes with the stipulation that users must also release their app source code for public access. The high-level language used by LiveCode is purposely abstracted to present an English-like syntax for programming.
Application functions can be built with support for scrolling, use of graphics and tablet-centric capabilities, such as accelerometers, multi-touch gestures and motion detection. Users create applications based around "stacks" of cards and then select which UI elements to add to each card, such as forms, buttons, menus, text boxes and media items.
LiveCode maker RunRev says LiveCode puts programming in the hands of students, business professionals and novice developers, regardless of their familiarity with programming. The visual development environment is easy enough to learn and is intended to let users write software as they learn the basic techniques behind computer programming teaching and logical thinking.
To make the open source version of LiveCode possible, RunRev has reorganised some 500,000 lines of C++ code running on the six supported platforms of Windows, Mac, Linux, iOS, Android and Windows Server. In doing so, it has also engineered a new feature called Open Language that allows anyone to create a new command or function without having to touch the core. The firm claims this is a first for an open source programming language.
View All Photo Stories