relif - stock.adobe.com
Time to rethink business continuity and cyber security
Business continuity and cyber security remain largely in separate silos, but changes in the IT and cyber threat landscapes mean there is an urgent need for organisations to alter their approach
Business continuity has come into sharp focus in recent months as organisations have had to find ways of keeping things going under the unprecedented circumstances presented by the Covid-19 pandemic.
Business continuity is about maintaining critical business functions, not only during a disaster or crises, but afterwards as well. Traditional business continuity plans consider potential disruptions such as natural disasters, fires, disease outbreaks and cyber attacks.
However, the trend towards digital transformation and an increasing reliance of organisations on IT for critical business functions and data means that cyber attacks are the most likely threat to business continuity, and cyber threats also tend to feed off of such crises, as we have seen with the Covid-19 pandemic, with cyber attackers attempting to capitalise on all the opportunities it has presented.
As cyber attacks continue to increase in number and ability to cause significant damage to IT infrastructure, organisations must ensure that efforts to secure IT operations are closely aligned with efforts to maintain/restore IT operations in the event of a cyber attack, with a focus on risk management, resilience to maintain system and data availability, recovery of systems if they go down, and contingency planning for varying degrees of IT failure, up to and including total IT failure.
Content Continues Below

Download this free guide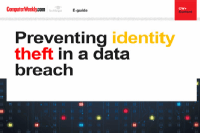 Preventing identity theft in a data breach
In this e-guide, we will explore the links between ransomware attacks, data breaches and identity theft. First, Nicholas Fearn investigates the phenomenon of the double extortion attack, and shares some insider advice on how to stop them, while we'll explore the top five ways data backups can protect against ransomware in the first place.