Robots will transform, not replace, human work
Claims that robots will steal our jobs are commonplace – but humans will find themselves working side by side with robots, rather than being replaced by them
There's a lot of talk these days about the bleak future of employment: Claims that robots will steal all the jobs are commonplace in the media and in academia, writes J.P. Gownder. These concerns are driven by a host of emerging technologies that automate physical tasks (robotics); intellectual tasks (cognitive computing); and customer service tasks (everything from self-help kiosks to grocery store scanners).
While these technologies are both real and important – and some jobs will disappear because of them – the future of jobs overall isn't nearly as gloomy as many believe. In reality, automation will spur the growth of many new jobs — including some entirely new job categories. But the largest effect will be job transformation: Humans will find themselves working side by side with robots.
To make accurate predictions about what will happen to the nature of jobs and work by 2025, we need to look at the division of labor, which Adam Smith defined as a system in which co-operating individuals specialise in particular tasks, gain skill and process efficiencies, and produce more than would otherwise have been possible. Forrester sees a new division of labour emerging between 2015 and 2025, between robots (physical robots, intelligent software, and related autonomous and semi-autonomous mechanical and digital entities), customers using automated self-service and employees. This will lead to a significant reshaping of the US workforce.
Jobs lost: 22.7 million
Automation will displace 22.7 million US jobs by 2025. This equates to a job loss of 16% between 2015 and 2025.
Learn more about robotics
The Robots are Coming: an in-depth report
To create this forecast, we used the top-level job categories tracked by the US Bureau of Labor Statistics. In our model, we built on the expert consensus that 2020 is the year when driverless cars will begin to take off — accelerating the cannibalisation of job categories with high physical task components, such as construction, production, office support and sales.
Jobs created: 13.6 million
On the flip side, automation will create 13.6 million new jobs in the next decade. Automation will create jobs equivalent to 9% of the workforce in 2025. Those are new jobs that wouldn't exist otherwise. For every 10 jobs cannibalised by automation, one new job is created in software, engineering, design, maintenance, support, training or other work area.
Jobs transformed: at least 25%
By 2019, automation will change every job category by at least 25%. Here's what we mean by transformation: A finance director in the 1960s spent a great deal of time doing arithmetic with simple calculators and paper ledgers to produce departmental budgets. When spreadsheets automated much of that task away, the job shifted to higher-order work l, such as financial strategy and investment.
How to succeed with automation:
focus on customers, not cost
Success depends on creating a customer experience superior to that of your competition. An example of one such company advancing with its customer experience, Delta Air Lines, implements best practice that business technology leaders can learn from. Delta sees its self-service kiosks – which it has used for decades – as part of a larger omnichannel strategy for engaging with customers, to build trust, long-lasting relationships and customer loyalty.
Rather than thinking of kiosks in isolation, they're part of a broader engagement strategy that allows customers to use mobile apps and the web, while working with human customer service agents to solve problems. In the end, the goal is not to serve customers as cheaply as possible. Instead, Delta is delivering a customer experience that instantly meets expectations, while embracing the technologies available. Here are three main factors of how Delta delivers a positive customer experience.
Focus on customer problems, not technologies
Delta designs its cross-channel strategies to solve specific problems. For example, reducing wait times is critical to customer satisfaction. Delta uses its kiosks as part of a larger ecosystem that includes its smartphone app, website and the option to print boarding passes from home. The combination of all of these automated approaches allows 90% of passengers to check in before they arrive at the airport, making customers' travel experiences that much easier from the start.
Map customer journeys to optimise experiences
Delta Airlines looks at the finer details of its customers' journeys to best use automation technologies. For example, kiosks now take into account bag-checking options, with two slightly different processes for customers who do and don't check bags.
Integrate automation into the overall digital engagement strategy
When coming up with strategies to improve the customer experience – such as speeding up the journey from check-in to gate – Delta considers a wide array of automation technologies, not just kiosks. In this regard,

Digital signage is

growing area of investment. Path-finding applications can guide passengers to their destinations without requiring them to find a member of the Delta staff to ask for help.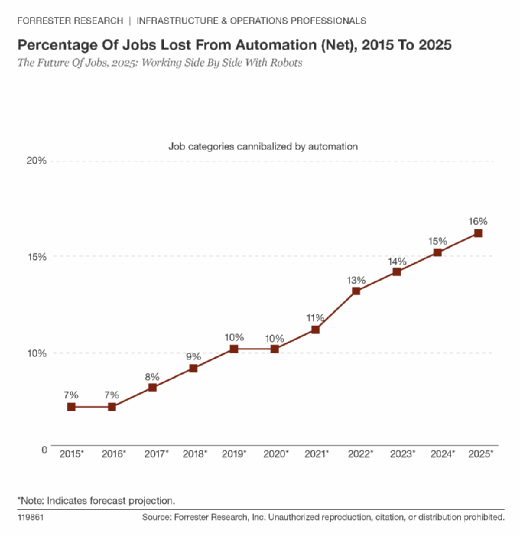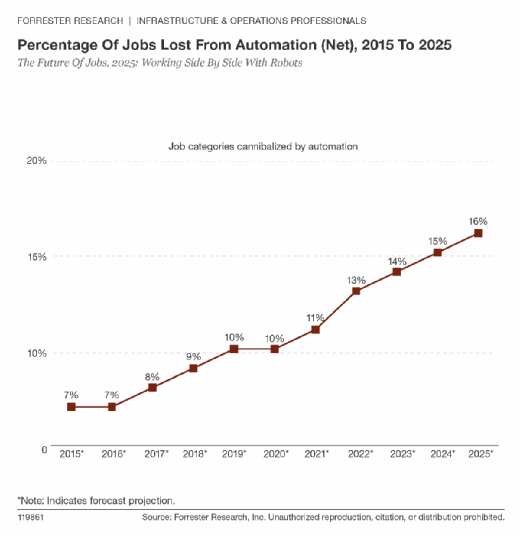 Robots will drive a social revolution — but not the one we fear
While many observers dread a drastic contraction in overall employment because of the advent of robot labour – and a concomitant increase in social tensions – Forrester predicts a more nuanced future, in which automation creates jobs to offset the human jobs it eliminates – and one in which job transformation is the most compelling element. Yet an economy in which humans and robots work together will still represent a revolution – albeit not the one many fear.
---
J.P. Gownder is vice-president and principal analyst at Forrester Research.
Read more on Business intelligence and analytics