Formula E
Abu Dhabi uses surveillance tech to protect Grand Prix
Police use surveillance technology and monitoring software to ensure public safety when Formula One visits the UAE each year
Abu Dhabi is traditionally security-conscious, but its protection strategies are ramped up when its Formula One Grand Prix takes place.
The annual race transforms the UAE's capital emirate for just under a week every autumn as thousands of spectators from all over the world visit its state-of-the-art Yas Marina circuit.
The city's police force is in charge of the logistics for protecting both the circuit and the emirate's general civic surroundings during the event.
It is a huge operation that involves vast manpower and tailored technology, according to Khalfan Al Hassani, ICT Director, Abu Dhabi monitoring and control centre. "Year on year, security is enhanced by the introduction of new technologies, features and accessibility," he said. "The Monitoring and Control Centre (MCC) looks to incorporate the right solutions to meet growing security demands."
The MCC was established by the Abu Dhabi government to manage and regulate the use of monitoring and control devices in public and private facilities. It analyses the data provided by the devices to help prevent crime and maintain public security in the emirate.
Al Hassani said the open-architecture platform enabled Abu Dhabi to integrate thousands of cameras around the city and provide data to multiple operations areas during the Grand Prix.
"In today's world, cities face unrelenting pressure to preempt and respond faster to security threats," said Al Hassani. "The ability to not only collect data, but to extract actionable intelligence from data – often from diverse sources, such as video surveillance, sensors, access control, IT systems and even social media – can deliver a game-changing advantage."
During last year's race in November 2016, the Abu Dhabi MCC was able to merge unconnected technologies of different types, such as cameras, sensors and registration plate recognition. It pulled in data from various sensors around the city, such as heavily trafficked pedestrian areas, public transportation sites and major intersections around the Grand Prix circuit before and during the event to ensure public safety and heighten situational awareness.
Al Hassani said a 3D model of the circuit was created, which enhanced visibility of security operations and staff 24/7 throughout the event. "However, security for the Formula One race should not distract or interfere with the enjoyment and excitement of the event, and we will take appropriate measures to ensure this continues," he said. "We aspire to ensure every spectator feels secure and enjoys their experience to the full."
Data gathering is key
Al Hassani said the MCC was consistently looking for innovation to enhance its services and provide a deeper level of investigation and data analysis. "Data gathering is key in all aspects of security," he added.
"The MCC provides the platform, tools and data to ensure any crisis is averted, or dealt with by the appropriate authorities. The 2016 Grand Prix was a huge success for the winning driver, the winning manufacturer, the Formula One event itself and Abu Dhabi as a whole."
In March 2016, the Abu Dhabi government decided to deploy real-time situation management software from US firm Vidsys for security operations during the Grand Prix. Vidsys software collects, analyses, verifies, resolves and tracks information from multiple disparate subsystems using open architecture standards that enable numerous organisations to manage situations in real time.
Philip Stockham, vice-president of operations at Vidsys EMEA, said that although Abu Dhabi is regarded as one of the safest cities on the planet, "surveillance is a key tenet of the state's security approach".
Vidsys supports the UAE's security across key locations, such malls and hotels, as well as other government security authorities. Stockham said the security programme was continuing as the partners worked towards the goal of improving overall public safety.
Stockham said there is heightened security for the Abu Dhabi Grand Prix because it is the final race of the Formula One championship and the largest public gathering on the UAE calendar. "The race draws a large crowd that creates logistical challenges for public safety and transportation initiatives," he said. "Special events require the mobilisation of multiple departments and organisations within a city, as well as a system that can manage and oversee all aspects of the operations."
Stockham said Vidsys's software works directly with special response groups and connects command-and-control centre communications and video footage, enabling authorised users at any location to view and manage situations in real time.

Download this free guide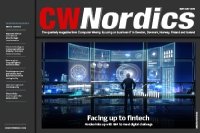 CW Nordics: Nordea links up with IBM to meet fintech challenge
Discover how IBM's €473m managed services contract with Nordea reflects an increasing trend among Nordic banks to outsource more of their IT to help meet the challenge of fintechs.
Read more on Information technology (IT) in the Middle East