Rawpixel.com - Fotolia
HR technology essential to cutting-edge customer service, say big businesses
If you can't get your internal HR systems right, the business will suffer – Jaguar Land Rover, Lufthansa and Russia's Sberbank explain why
HR technology promises huge breakthroughs in how organisations manage their workforce, identify the skills they have and the gaps they need to fill, and organise pay and rewards.
But the reality is that many organisations are still struggling with basic problems, including how to integrate their human resources data across multiple businesses, geographies and IT systems.
Persuading employees and managers, who are used to having the HR department update staff records for them, to manage their own HR requests through the cloud rarely happens overnight.
But businesses argue that they have no alternative but to make their HR systems as intuitive to use as the consumer technology that young people who are joining the workforce expect.
For Yulia Chupina, deputy chairman of the executive board at Russia's Sberbank, getting the HR technology right for the bank's 300,000 employees is a prerequisite to getting customer service right.
"I truly believe you can't provide a good customer experience if you can't provide good employee experience," she told the SuccessConnect London conference. "Unfortunately, we are lagging behind. If you look at where banks are investing, it is for external customers, not for the employees."
Sberbank is belatedly catching up with the latest HR technology. The company's workforce data is messy, and it does not understand how to perform analytics. But it is embarking on a project to roll out SAP's SuccessFactors technology.
Gaps in SuccessFactors
The bank's IT team identified 40 gaps between its requirements and SuccessFactors' capabilities, which made for some difficult conversations with the supplier, said Chupina.
"In HR, mobile is very important, and as far as I understand, SuccessFactors is lagging behind the web experience," she said. There were also issues with the ability to interconnect and synchronise between some applications, she added.
Getting Sberbank's internal HR technology right will help it to improve its customer service as the banking industry faces an existential threat from newer fintech (financial technology) companies, said Chupina.
"People don't really need banks," she said. "When they come in asking for a mortgage, what they really want is a home."
That gives banks an opportunity to offer services that meet customers' real needs – helping them to find the right home or to register their property, for example.
"If we want to stay in the game, we have to provide a frictionless service, saving customers time and money," she said.
Lufthansa: HR tech improves service
Like Sberbank, Julian Simee, senior manager for corporate HR strategy at Lufthansa, said he believed that investing in HR technology would ultimately improve the airline's service to passengers.
"If, at the end of the day, our employees are not happy with the internal processes and are not able to get their HR dealt with easily, at some point it is going to translate to our customers," he said.
Cloud HR means a move to self-service HR, said Simee, and if the company gets it wrong, that will breed resentment among its workforce.
"We don't just want managers to deal with HR, we want them to deal with our customers, and create digital business," he said. "If we don't get the experience right, they are going to be spending their time doing HR."
Lufthansa found that out to its cost a couple of years ago, when it first tried to update its HR technology.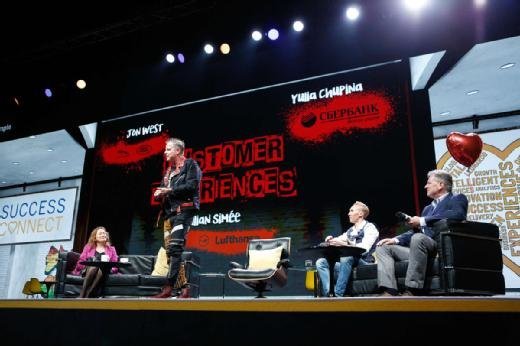 Managers rebelled by printing out the electronic forms and posting them back to the HR department, rather than using the system as it was designed.
This time, Lufthansa has taken time to build support from its employees and to get business leaders and the works council on board. "If we don't get it right, we will end up having a boycott of the transformation," said Simee.
The company has rethought and simplified its HR processes, ensuring that the same procedures are followed across all parts of the business.
"If you have poor process and make it digital, you just end up with poor digital process," said Simee.
Lufthansa, which started life as a government agency, was privatised and has gone through numerous mergers, gathering employee data in systems covering 140 countries.
In some cases, something as simple as whether an employee is male or female is recorded in completely different ways in different HR systems.
The company's priority is now to make sure its pool of HR data is accurate. In the past, it has used a "pick up and drop" approach, but this didn't really work, said Simee.
"We are now thinking about whether to have every employee enter their new data one time [on SuccessFactors]," he said.
Mobile and robotics
The airline has plans to allow its HR staff and employees to access the company's HR systems remotely. "We hope that SAP will catch up on the mobile element," said Simee. "We do have a large mobile workforce, and they want to do their HR matters when they are sitting on the couch at home."
Lufthansa is in the early stages of introducing "bots" that will be able to answer employees' HR questions without human intervention.
"We are doing some initial testing this year on a few bot questions," said Simee. "Most of the regular HR questions will go on bot technology and we are looking at all the commonly asked questions."
The airline does not expect its investment in HR technology to bring significant savings, but it will make the HR processes more efficient and more transparent.
"We did the performance module very early on," said Simee. "HR now has much better transparency because it is not in someone's booklet or drawer, it is open."
He said it would transform HR from an administrative function into a function that adds value to the business. "That is something HR has not been able to do before. We have been dealing with admin fires."
Jaguar Land Rover: keeping up to speed
Jaguar Land Rover is now 15 months into its deployment of SuccessFactors. The company was driven to update its HR systems partly to keep its internal systems up to speed with the rapid developments in automotive technology, and changes in the way people own and use cars.
The company has experienced rapid growth over the past five to seven years, tripling its revenues and its workforce. In fact, it ran short of space for its staff and had to use mobile devices to allow more flexible ways of working.
"We looked at how we centralise our HR and how we map our technology, to make it scalable and effective," said Jon West, HR director, manufacturing for Jaguar Land Rover.
The key to the project was having good communication with employees and managers, listening to their feedback, and being willing to recognise problems when they arose to fix them, he said.
"I think we were lucky because we had a relatively young HR team that could see the possibilities," said West. "There were some people who were worried about the transformation that we had to take on the journey."
Read more on HR technology
Parts of the project worked out better than the implementation team had expected, but not everything went smoothly. For example, some of the HR processes proved too complicated and had to be reworked from scratch.
"As an HR organisation, you have to lead a bit and know when something is right," he said.
One of the challenges has been to ensure that the company – now owned by Tata Motors – has a single, "clean" set of HR data about its workforce.
"We have been doing quite a few data-cleansing exercises, asking people to update their data," said West. "We are now at the inflection point."
It is still early days, but West says surveys and data from the HR helpdesk show that satisfaction with HR has improved.
It is significantly easier to carry out performance management of employees using the new technology, he said. "You are probably saving 10 hours per manager across 4,000 or 5000 managers."
That is important because it improves managers' and employees' acceptance of the HR technology, making it a "no-brainer", he said.
Until the company introduced SuccessFactors, its HR department was growing in line with the workforce. Now, Jaguar Land Rover can employ fewer HR staff relative to the size of the workforce and they have more time to focus on added-value work.