Gajus - Fotolia
Serco uses HR technology to cut recruitment bill
International outsourced services supplier Serco is investing in HR recruitment technology to help it hire 15,000 to 20,000 people a year
Serco, the £3.1bn services company, aims to save millions in recruitment costs each year after deploying human resources (HR) technology that will reduce its need to use recruitment agencies and to pay to advertise vacancies.
The company, which provides services to governments around the world, including management of prisons and hospitals, needs to recruit 15,000 to 20,000 people a year to fulfil its contracts.
One of its challenges is to recruit staff for jobs in out-of-the-way places, such as Christmas Island, a five-hour flight from Australia, where it won a contract to provide immigration detention services for the Australian government.
Serco also needs to recruit people with a wide range of skills, from nuclear engineers to netball coaches. Past recruits have included pigeon chasers and the person who clears up cow manure on Hebrides ferries in Scotland, says Phil Clarke, global recruitment director.
But until this year, the company was relying on 15-year-old HR technology, which was created when the business was one-third of its current size and operated solely from the UK. "It was very old and creaky," he says.
For Serco's recruiters, there was a clear business need to replace the outdated technology, but it was not easy to convince the HR team and the business to make the investment, says Clarke.
"Serco is essentially 500 contracts flying in a loose formation, so building any level of central investment is very hard. It's not like I could take an investment case to one body – you have to get all the businesses over the line."
The company was also short of money, having just emerged from a financial crisis. Serco's share price collapsed in 2013 and the company plunged into losses of nearly £1bn in 2014, when it became embroiled in a scandal over the cost of electronic tagging.
It took two years for Clarke to build the business case and secure the investment for company-wide recruitment software.
Pilot project convinced CEO
The company was already a big user of German software supplier SAP's enterprise resource planning (ERP) technology, so it made sense to choose SAP's SuccessFactors HR software for managing both internal and external recruitment, says Clarke.
Serco tested the technology at a major government project in Australia, the Fiona Stanley Hospital in Perth, to demonstrate its business case. It had won a contract to hire 1,000 people for non-clinical posts at the hospital to a 90-day deadline.
The company used a cloud-based version of SuccessFactors Recruiting Management and Recruiting Marketing software. The technology enabled recruiters to build up a pool of candidates and gather expressions of interests in particular roles.
"We wanted to prove that SuccessFactors recruitment would make us better at hiring and deploying individuals"

Phil Clarke, Serco
"We wanted to prove that SuccessFactors recruitment would make us better at hiring and deploying individuals," says Clarke. "And we wanted to prove it would work for volume hiring. A lot of what we do is bulk hiring."
The project helped Serco to cut the time taken to hire workers from months down to three weeks.
It showed that Serco could hire staff within deadline and at lower cost than its traditional hiring process. The programme won the backing of Serco's group chief executive officer, Rupert Soames, and the rest of the board, and crucially, from Serco's businesses around the world.
By late 2015, Serco, which operates in 20 countries, had approved a budget for deploying the technology across its operations in the UK, the Middle East and Africa, and Asia Pacific.
Rapid technology roll-out
Clarke and his team worked to a tight 20-week deadline to roll out the technology, which went live in March 2016. "Serco is not a natural investor in centralised systems or projects," says Clarke. "So the implementation was very tight – the time to do it and the budget."
Serco hired Indian systems integrator HCL as an implementation partner, but decided to use its own 60 recruiters to assist with the implementation alongside their day jobs in order to meet the tough deadline.
Recruiters often worked until 3am to ensure the project came in on time and on budget, says Clarke. "We did it in 20 weeks, which is incredible, holding meetings across three different time zones. We are talking about working at 3 o'clock in morning, as we were not flying people out."
Out-of-the-box HR processes
A key part of the project was to ensure each of the group's three regions adopted the same standard HR processes, which was a difficult challenge given the diversity of Serco's operations in each country.
"You standardise as much as you can and you have hard conversations," says Clarke. "But how the Middle East get people on board is very different from the UK. How you security-check Australians working in immigration centres in Australia is very different from in the UK."
The technology has helped Serco's recruitment team move from "fire-fighting" to being able to plan for recruitment much further in advance for each contract, says Clarke. And, for the first time, it has given the company an overall picture of the number of vacancies in each of its business sectors.
"We have dashboards on HR directors' computers and we know where we have vacancies, what is working and what is not working," he says.
As a result, Serco is spending significantly less on recruitment than it would have otherwise. "We had target figures in the first 12 months to make seven-figure savings," says Clarke. "We reached them in six months."
Recruiters can use the technology to build up pools of talent by collecting details of external candidates and reviewing the skills of Serco's existing employees.
Read more about HR and learning technology
Energy and services company Centrica is claiming major savings in its technology costs after replacing its outdated SAP human resources systems with cloud-based technology.
Airline KLM is using a virtual reality computer game to train 300 engineers how to safely evacuate an aircraft maintenance hangar in the event of a fire or other emergency.
Why businesses need a more enlightened approach to phishing attacks.
Managers are more involved in hiring, recruiters are doing their jobs better and the candidates' experience is better, says Clarke.
"My ability to lead the recruiting organisation is not based on conversations and inaccurate information – it is based on data," he says. "It allows myself and the recruitment teams to build credible relationships with HR and business because we can talk about planning."
The recruitment teams are now looking to start recruitment planning 120 days before the start of a contract, and to begin the recruitment process 60 days before.
"That has created interesting conversations – when do you start recruiting, is it when you win the bid or before you win the bid?" says Clarke.
Over time, this will see the role of recruiters change, so they act more like recruitment advisers to other people in the business and more like workforce planners.
SuccessFactors for major projects
Serco is using the SuccessFactors technology to manage the recruitment for Barts Health NHS Trust, the UK's biggest health trust, where it has won a £600m contract to provide cleaning services, porters, reception and other non-clinical staff in a 10-year deal.
The technology is also expected to underpin Serco's role in a £1.6bn project to build the New Grafton Correctional Centre in New South Wales, Australia, where Serco has been named as preferred supplier.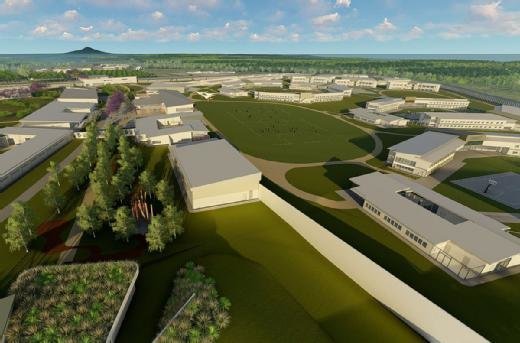 But there is still work to be done to improve workforce planning, particularly in making it easier to redeploy existing workers to new projects, says Clarke. "I still feel it is easier for recruitment teams to hire externally than internally," he says. "I want to flip that."
For example, employees that provide catering or cleaning services in a prison could provide similar services in a hospital, and staff working in one country might be willing to take up contracts in another.
Middle East contracts
Serco is bidding for some big contracts in the Middle East, which will require recruiting around the world to fill vacancies to meet strict deadlines.
"This is the first time we are looking at recruitment on a global basis," says Clarke. "The systems can allow us to share data between different regions."
The project will eventually allow recruiters in different regions to pool their resources to work on hiring 24 hours a day, in what Clarke calls a "follow-the-sun approach to recruitment".
There are still some problems to solve to integrate SuccessFactors into the various recruitment processes Serco uses in its international operations.
Serco in numbers
Service contracts: 600-plus in over 20 countries
Revenue: £3.1bn
Profit: £138m
Regions: Americas, APAC, Middle East, UK and Europe
The company does not yet have workforce planning software in place, and recruiters use different systems to approve hiring and to plan for future demands.
There are also plans to simplify the way new employees are brought on board, to ensure they know where to go, how to get a car, and security clearance.
Future developments depend on Serco winning more contracts and budgets becoming available, but one priority is to roll out the ability for people to apply for jobs using mobile phone applications, says Clarke.
"We have to go mobile," he says. "About 80% of hiring is blue collar. They are not sat in front of computers – they are on their phones."
Serco's five areas of work
Health
Defence
Justice and immigration
Transport
Citizen services (local government)
Clarke is also looking to introduce video interviews and automatic screening of CVs that could identify 50 quality CVs from every 500 submitted.
The company plans to roll out SuccessFactors recruitment to North America within two years, which will provide a single recruitment platform across the whole company. That region is currently using SAP's e-recruitment system, an older technology that was rolled out in 2011.
Learning lessons
Clarke says that if he were to undertake a similar project again, he would spend more time studying the company's worldwide recruitment processes. The recruitment team ran a two-day workshop to gather the information, but it should have been at least three or four days longer, he says.
"I would put a lot more time up front, before implementation, on understanding the process map in every region, understanding what blockers there are, and making sure we have plans to mitigate the risks," he says.
Although the project came in on time and on budget, it meant long nights and high stress levels for the recruitment team. "We would have created far less pain for the implementation process, for those people who had to stay up to 3am," he says. "We rushed at it. We had the funding and said 'way-hay, let's get on with it'."
Clarke advises other HR executives not to underestimate the amount of money and time needed to communicate with staff to encourage them to change their working practices and use the new technology. "We did a huge number of web conferences to explain what we are doing, why and when," he says. "We used that to talk to them about what good recruitment looks like. That is the thing we need to continue."
---
Phil Clarke was a speaker at HR Tech World in London on 21-22 March 2017.