Halfpoint - Fotolia
Virtual reality simulation helps KLM engineers escape in an emergency
Dutch airline KLM develops virtual reality simulation to show engineers what to do if a maintenance hangar catches fire
Airline KLM is using a virtual reality computer game to train 300 engineers how to safely evacuate an aircraft maintenance hangar in the event of a fire or other emergency.
The project is part of an experiment by the airline to find a more effective way than traditional MicroSoft PowerPoint presentations and online courses of training large numbers of employees.
KLM has developed a virtual reality (VR) simulation of one of its large aircraft hangars, which allows its engineers to take part in a simulated fire evacuation, choose how they respond at each stage and experience the impact of their decisions.
Employees take part by wearing Samsung virtual reality headsets, through which they view a three-dimensional video of the hangar they work in and their colleagues.
"The experience is completely immersive," says Guido Helmerhorst, social, business and technology architect at Air France-KLM, adding that it makes the learning an emotional and memorable experience.
There are no distractions from colleagues wandering around the office or from ringing phones. "Whatever thoughts you have, such as your to-do list or grocery list, your brain does not have space to think about it," he says.
Virtual reality training programmes are expensive, but the investment pays off when companies need to train large numbers of people.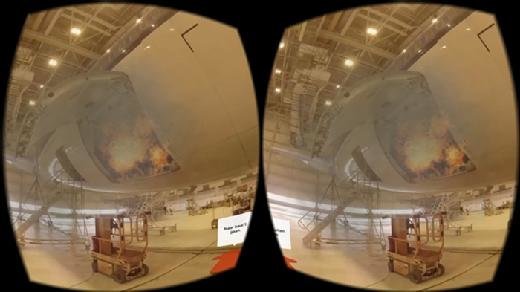 Helmerhorst calculates the project will save half a day's training, equivalent to €50,000 to €75,000 for 300 engineers. Using conventional training techniques, it would take a year to find gaps in the schedule to train all 300 engineers – now it can be done in a morning.
KLM's engineers can request the virtual reality headsets from the parts store, and spend 10 minutes going through the simulation when they have dead time, such as when a plane is delayed on the way to the hangar. This allows them to keep their skills constantly up to date.
"Compare that with current training, when there is a spike in learning and you forget what you have learned," says Helmerhorst, speaking ahead of an HR technology conference.
Games without frontiers
The project started when Helmerhorst began evaluating the potential of computer games techniques for learning at KLM around three years ago.
He worked with Dutch startup Warp Industries to try out the techniques. In one team-building exercise, the trainees were asked to run around the building, against the clock, to recruit members for their team from departments they would not normally work with.
The project helped the company identify talented employees who had previously been overlooked, says Thijs de Vries, designer and gamification expert at Warp Industries.
"People who were previously sitting in their corner were able to show their skills and talent," he says.
Helmerhorst and de Vries began developing the idea of virtual reality training after the manager at KLM Engineering and Maintenance asked them if there was a better way to train engineers on how to evacuate the maintenance hangar safely.
"He said, 'I have 300 maintenance engineers wandering around. When there is a fire drill, they just go outside, talk for an hour, smoke and come back in. They don't learn anything'," says Helmerhorst, who will describe the project at the HR Tech World conference in London.
The team developed a pilot virtual reality training programme in which people had to find the safety equipment, including the water sprinklers, fire extinguishers and fire alarms in their workplace.
"We learned that we could do a lot with a limited amount of resources. We used video instead of a computer-rendered environment and we learned we could create VR video games without disturbing the work going on in the hangar, and we can do it fairly quickly," says de Vries.
Towering inferno
The finished training programme allows engineers to choose their exit path from the building once a computer-simulated fire starts.
Engineers can decide to fight the fire, but they must first find the fire extinguishers and choose which one of the six types of extinguishers to use, depending on the type of fire – not an easy task when the room is filled with fire and smoke.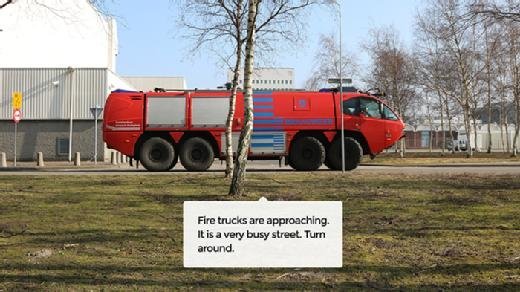 "You get a flight or freeze mechanism, your blood goes to your heart, so you can't think so clearly," says Helmerhorst.
Engineers can also decide to make their way to the nearest exit. Those who choose to make a quick exit in the lift are in for a surprise, however, when smoke starts pouring in and their colleagues start screaming and panicking.
The programme awards the engineers up to five stars, depending on how well they complete the simulated evacuation. Walking under a plane to reach the exit more quickly – a major health and safety risk – is a sure way to lose points.
"We had some subjective feedback from employees and we did a questionnaire. They said the experience with VR is pretty emotional because they are going into situations they would normally not see," says de Vries.
How to make a virtual movie
KLM's first step was to create a "scenario tree" that shows the different routes and actions that engineers could take and the consequences of each decision. The tree offers the engineers 1,200 different choices.
Persuading health and safety specialists to agree to give the employees the freedom to make mistakes was a challenge, at first.
But when training and occupational safety specialists met to create the training programme, they realised that engineers could learn effectively if they were able to learn from their mistakes.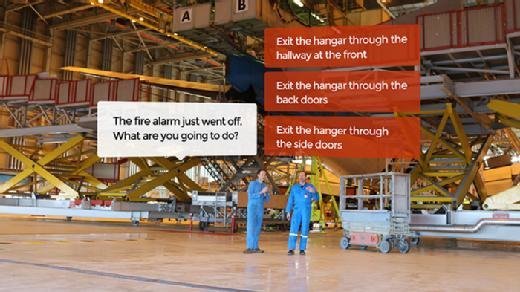 Warp used special cameras, with lenses pointing in 360 degrees to film the hangar, and took footage at 30 strategic points. The company was able to complete the work in one day.
"It's not possible for the director to stand behind the camera, as there is no such thing as behind the camera," says Helmerhorst. "When the film was shot, everybody had to get out."
More cost-effective than computer models
The technique is more cost effective and realistic than creating a computer model of the hangar, which would have taken months of work and would have required powerful computers to run.
Warp was able to transform the 3D film into an interactive mobile app that was compact enough to run on a Samsung mobile phone, and doubles as the screen in a Samsung virtual reality headset.
One concern was that many of KLM's engineering workforce are older workers, who may have found virtual reality difficult to use, or might have experienced nausea, but early trials showed they took to the technology.
KLM has chosen to make four headsets available to its engineers, which they can order from the parts store. However, with future virtual reality projects, it may make sense to allow employees to download the apps on their own phones.
"If you have a smartphone, then potentially you can download the app from an app store and press play," says Helmerhorst.
Learning at warp speed
Early research by Warp, along with Amsterdam University, on a medical VR simulation used to train medical staff in CPR resuscitation, has shown people learn faster using immersive virtual reality training than with 2D video.
"The results were overwhelming; they had the feeling of being there, seeing the man lying on the floor, and a really emotional response. It helps them to be in the best position for CPR," says de Vries.
KLM plans to carry out its own research over the next 12 months to compare the effectiveness of the virtual reality version of its training with a two-dimensional version of the training programme.
Aggressive reality
The airline has plans to develop other virtual reality training programmes. Helmerhorst is working with Warp to create VR leadership training programmes for KLM's managers.
The idea will be to confront leaders with employees who have tricky dilemmas, and to allow leaders to try a variety of responses to the problem and test what the impact is for the employee and for themselves.
If managers know they have a difficult conversation with an employee tomorrow, they will be able to use the virtual reality app to practice the conversation, so they will be more at ease, says Helmerhorst.
Read more about virtual reality
Another idea is to use VR for training sales staff and cabin crew in handling aggressive passengers.
"As cabin crew, we fly all the way around the world. An American who gets angry is very different from a Chinese person who gets angry. That is very hard to train right now," says Helmerhorst.
The same technology could be used to train staff who check-in luggage, to help them take a firmer line on which bags are or are not allowed on board.
Hand luggage can also be a problem. Some people take nothing, while other people attempt to take their entire wardrobe. That can put pressure on check-in staff to accept larger items than they should, causing problems further down the line.
"It's not a nice place to be for check-in staff. They don't understand why it's important, but if I can put them in an aeroplane, where they can see someone with big suitcases, making a lot of noise, trying to get a big suitcase into the luggage rack, they can see how they can help their colleagues gain a better experience," he says.
Cyber security training
Helmerhorst believes virtual reality could have benefits for training staff to spot cyber security risks. In one scenario, for example, employees could be confronted with a visitor who is intent on stealing data from the company.
"The policy is 'don't leave your visitor alone'. But they will say, 'I will see myself out', or 'I will go to the toilet', and they will disappear for a short period of time, insert a USB stick into a computer and start hacking. We know that on paper, but the learning is much greater if you can experience it," he says.
Warp is seeing a growing demand for VR training from other organisations.
One project under development will train executives how to deal with reporters, allowing them to gauge the response of the reporter if they say things their company doesn't want them to say, and teaching them to "stay on message".
The company has also developed a training programme that helps people make sure their house is safe before they go to sleep. That means turning off electric devices, removing phone chargers from plug sockets and closing the bedroom door – which gives an extra 10 minutes of safety in the event of a fire.
---
Guido Helmerhorst is speaking at HR Tech World, London, 21-22 March 2017.