iStock
Software project will save Ford tens of millions a year in car repair bills
Car maker Ford is rolling out sophisticated warranty software to 12,000 dealers worldwide in a project that is expected to bring rapid financial returns
Ford claims it will save tens of millions of dollars a year in repair bills after developing software that will give it an early warning of potential manufacturing and design faults.
The car manufacturer, which also owns the luxury Lincoln car brand, plans to roll out the software to its network of 12,000 dealerships worldwide over the next three years.
Early trials have shown that business process management (BPM) software, dubbed the One Warranty Solution (OWS), will help Ford identify potential manufacturing problems as soon customers bring their cars into dealers for repair.
Mike Roberts, global warranty strategy manager at Ford, tells Computer Weekly that the project will allow the $135bn car maker to correct design and production problems on the assembly line months earlier than is currently possible.
"Every day that you know about something sooner, you can save one day's worth of bad production. Every day has a huge cost saving associated with it," he says in an interview with Computer Weekly.
OWS, which will replace a system written nearly 30 years ago in the Cobol programming language, will also bring significant benefits to Ford's dealer network, says Roberts.
Until now, dealers have had to rely on difficult-to-use, green screen terminals to submit their warranty repair claims to Ford. In future, they will be able to see the progress of each claim on a single screen, and the experience will be more like using Amazon, says Roberts.
They will also be able to liaise directly with Ford engineers on difficult repairs.
Creating a single warranty system
Ford began considering alternatives to its ageing warranty system, known as the Global Automated Claim Entry System (Gaces) in 2005.
At the time, Ford's brands included Land Rover, Jaguar, Mazda, Volvo and Aston Martin, but each used different technology to manage warranty repairs, making it difficult to collate information centrally.
"Every day sooner that you know about a problem, you can save one day's worth of bad production. Every day has a huge cost saving associated with it"

Mike Roberts, Ford
"They all had different systems, so the goal was to get them on to one common system around the world, so that is what we set out to do," says Roberts.
Ford began by comparing notes with rival motor manufacturers on their warranty systems. Other motor manufacturers were happy to co-operate, and to share non-commercially sensitive information, says Roberts.
"We looked at John Deere, we looked at Caterpillar, we talked to GM, we talked to Chrysler, Toyota, basically talked to everybody we could, to find out what their systems were capable of doing," says Roberts.
The group ran a series of focus groups with its dealers in Europe and North America to find out what they thought of Gaces and how they would like to see the system improved.
"One of the common sentiments was, 'Don't change it because I know how to get my claims paid', even though they were working on a green screen," says Roberts.
But other dealers were able to point to features in other motor manufacturers' software that made their jobs easier. They included the ability for dealers to keep track of their repair claims, or to receive up-to-date technical information on vehicles from the manufacturer.
Limitations of existing system
Ford realised that one the biggest problems with Gaces was that it automatically truncated the technical repair reports submitted by the dealers to just 250 characters.
That meant Ford only received a fraction of the technical details for each repair, so valuable comments from technicians and engineers were lost. In one case, a dealer told how his technician had written a 12-page repair report, but had no easy way of sharing that with the motor company.
"All that wealth of data, we never saw. We operated for years like that, with all this wealth of customer and technical data just evaporating. That was a wasted opportunity," says Roberts.
Another drawback was that Ford had no way of knowing how long each vehicle had been in the garage for repairs. Dealers could only send a repair date and the mileage of each vehicle, and that made it difficult to check the validity of repair claims.
Dealers might be over-claiming, they might be over-repairing, claiming additional time, or claiming for unnecessary hire car costs while the vehicle is being repaired, says Roberts. "Not knowing how long the car is in the shop, we are not sure if it's a legitimate claim or not."
Warranty taskforce
Ford put together a working group, which eventually included six business people and over seven IT specialists, to develop a better BPM system.
The group spent two months developing an outline specification for the new software in 2007. The replacement for Gaces needed to flexible enough to handle changes in legislation in every country. It also had to be flexible enough to manage software updates, as vehicles become increasingly reliant on electronics.
"We knew that the vehicles were going to be more complex, repairs were starting to shift from purely mechanical repairs to electrical repairs, where we upgrade the software in the module instead of just replacing the brake," says Roberts.
Funding delays fuel drive for rapid savings
The project team approached Ford's executive board for approval in 2007. But with the motor industry facing tough market conditions, the board chose to keep the project team running, but deferred funding for 12 months.
"They said, 'We are not going to fund it, but we will fund your team for another year. At end of the year you will owe us $10m, so go and figure out how you are going to save us that much money'," Roberts recalls.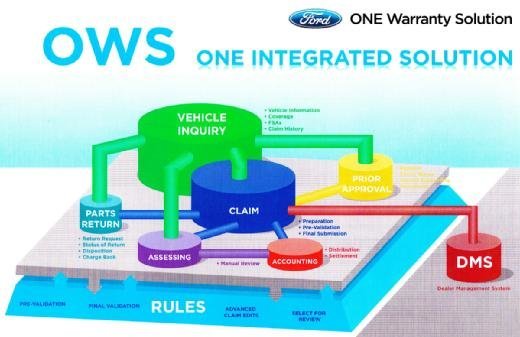 Original system diagram for Ford's One Warranty Solution (Vehicle Inquiry module has been deferred to a later date)
Ford's warranty team decided to move ahead with some "quick hit" projects that would bring rapid savings. The team looked at the feasibility of Ford's IT team building a warranty system in Java. It also evaluated off-the-shelf warranty software from several suppliers. It became clear they were all built around a central business rules engine.
Rather than buy in the commercial software, Ford chose to buy and configure a business rules engine from business process management specialist Pegasystems.
"We did a bake-off, or a proof of concept, with four different business rules engine companies. And Pega was the clear winner," says Roberts
It took Ford four months to integrate its new business rules engine with the Gaces system.
Repair intelligence shared company-wide
The project led to immediate improvements, including a new capability to alert Ford engineers when vehicles arrive at a dealer for servicing with a problem that is of particular interest to the car manufacturer.
Previously, Ford engineers had to ring around dealers they knew to ask them to call when a car arrived with a problem they wanted to investigate, but it was a hit and miss process.
"Using our new system, we were able to connect that engineer to dealership, to a technician, to a vehicle that had that exact concern, the minute it was written up on the service drive. He could intercept the repair process and talk to the technician," says Roberts.
The team wrote up 30 case studies that showed how Ford's engineers were able to use the new platform to intercept repairs and gather crucial technical information two months earlier than was possible with Gaces alone.
"They got information they just never would have gotten, had they just waited for the claim," says Roberts.
Assessing claim legitimacy
The team also designed a way of risk scoring each repair claim, to assess whether claims were legitimate. "We looked at out-of-range claims and claims that were unusually expensive, unusually high on labour and number of parts, or that used parts that no-one else did," says Roberts.
The redesigned system is able to divert unusual claims to administrators for manual assessment, leading to substantial savings. "We don't want to cheat the dealer – we want to make sure we are paying them the right amount, but we don't want to pay a penny more than what we should be paying," he says.
Warranty benchmarking study
To bolster the business case, the team hired consultancy Snap-on Business Solutions to compare the way Ford manages its warranties with other businesses.
It found that the automotive industry lagged behind in warranty management, and that Ford lagged within the automotive industry.
"That little phrase went in all of our governance decks, so we had the results of the benchmarking study and key features other firms' warranty systems had that we did not have," says Roberts.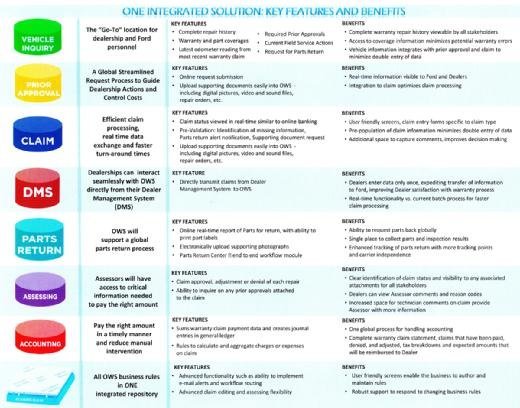 Key features and benefits of Ford's integrated warranty management system
The team presented the benchmarking study, together with a new business case, to Ford's executive board in late 2008. "We did a very thorough business case. We looked at all elements that would help Ford save money," says Roberts.
The presentation included a "traffic light" diagram that compared the key features of other companies' warranty systems with Ford's. That really got the board's attention, says Roberts.
"People said, 'Look how we lag with the competitors, we need to do something'."
Back to Pegasystems after false start
The company carried out a proof of concept development with one supplier in late 2009 and early 2010, but after months of development it became clear the project was not going to fly.
"After six months of development, it did not work. The response time was terrible and it would not scale. So we threw all that work out," says Roberts.
Meanwhile, Pegasystems had begun its own project to develop a warranty framework for insurance companies. Ford saw an opportunity to use the technology as the basis of its own warranty system.
As part of the deal, Pegasystems moved some of its senior staff, led by its chief solutions architect June Dyer, to Ford's factory complex in Michigan to work on the project for eight months.
"In exchange for us being an early customer, Pegasystems made a lot of concessions for us. That includes putting some of these senior people on the ground to help us," says Roberts.
Addressing unexpected complexities
The project team, based in the US, decided to launch a pilot programme in Europe by the end of 2011, and selected Ireland for the work. The aim was to show that the project would benefit Ford around the world, not just in the US, says Roberts.
Testing the One Warranty Solution (OWS)
Ford is working with 35 Ford dealers to test its One Warranty Solution (OWS) before it goes live in North America in August 2015.
The manufacturer's 30-year-old Gaces will be replaced by the modern OWS system, which promises to save Ford $10m a year.
Ford will use the system to pay dealers for work they have carried out on vehicles under warranty, as well as to alert engineers to potential problems on the production line.
As part of its user acceptance testing programme, Ford is taking a day's worth of warranty claims from Gaces and running them through OWS to compare the results.
"You should get the same results – one is a copy of the other. So what we are doing is analysing when we don't get the same results," says Mike Roberts, warranty strategy manager for Ford's customer service division.
Some of the faults that emerge have been caused by difficulties synchronising the live warranty system with the development version.
The testing process has also unearthed genuine problems. "Maybe 1% of the time we are finding things that we were doing wrong all along in this system and now we have corrected them," says Roberts.
The pilot set out to demonstrate a limited number of the functions of the OWS warranty system. In particular, it included a module to provide dealers with more information on vehicles, such as the warranty start date, build information, information on the customers and whether there were any product recalls on the vehicle.
Ford achieved its goal, but the pilot showed that the project was far more complex than the team had anticipated. Some of the overseas car markets had unique warranty requirements. For example, all cars in Norway come with a five-year warranty.
"We realised there were a lot more complexities out there than we had planned for and we needed more money," says Roberts.
Roberts had no choice but to go back to the board in 2012 and ask for more investment. It was, says Roberts, the worst year of his life. A series of meetings with senior executives followed and the request went all the way up to Ford's CEO, Allan Mulally.
"I was in his operating committee, asking for more money, with Lewis Booth, financial officer of the company, sticking his finger in my face saying, 'Why did you let this programme get so far off track?'," he recalls.
Strategic partners speed development
The team decided to halt development for the year, and to re-scope and simplify the project. The company took a strategic decision to outsource the development work to a systems integrator, on a fixed-price contract.
Ford's warranty systems
Dealer management system
All Ford dealers use a dealer management system (DMS) to manage their payroll, accounting, accounts receivable and the parts inventory.
Claims system
Dealers use the claims system to prepare a warranty claim, which is sent to the central 30-year-old Global Automated Claim Entry System (Gaces) for batch processing overnight. Gaces will be replaced by the more sophisticated One Warranty System (OWS), which will allow claims to be processed in real time.
Business rules engine
Claims from the dealers come into the Global Automated Claim Entry System (Gaces) and are sent to the business rules engine, developed in software from Pegasystems, where they are risk assessed. They are sent back to Gaces to pay or reject, or sent to claims assessors for manual assessment.
Indian supplier Tech Mahindra, a partner of Pegasystems, won the contract following a competition with five rival companies, and came on board in 2012.
Ford has also been working with Indian systems integrator Wipro to update the dealer management systems (DMS) used by its dealers worldwide to integrate them with the OWS. The work involved co-ordinating with 170 DMS suppliers to remotely update the dealers' systems.
"All the DMSs will be sending the claims [using the] same data, same format, same interface," says Roberts. "We can track what version of the software the dealer is on, and we have validated that they have all done the necessary updates."
Phased roll-out to complete by 2018
Rather than launch again in Europe, Ford opted to re-launch in North America first to be closer to the project team. The move made sense, as it would allow Ford to roll out the technology more quickly, says Roberts.
"North America was paying for most of the development, so they should see all the benefits first," he says.
Ford plans to roll out OWS gradually, starting with five dealers in North America in August 2015. It will then expand to 20 dealers over three months, followed by a region-by-region roll-out across North America between November 2015 and April 2016.
Europe will follow in the second half of 2016, and is expected to take 12 months. Dealers in South America and Asia-Pacific will follow, with the software fully deployed by 2018.
Integrated system adds efficiency
The OWS will bring together a wide range of information on vehicles, including details of parts, prices and repairs, from separate databases onto a single system. "It makes the system much more efficient, much more effective. It's an integrated system," says Roberts.
It will provide dealers with more accurate information and allow them to process warranty claims more quickly. Today administrators file a claim one day, leave their files on their desks overnight, and have to wait unto the following day to find out if the claim has been approved.
We don't want to cheat the dealer – we want to make sure we are paying them the right amount, but we don't want to pay a penny more than what we should be paying

Mike Roberts, Ford
OWS will allow them to file a claim and receive a status report back the same day. "Now they can get that claim to a final status quickly, and put the file away," says Roberts.
OWS will also allow technicians to file much more detailed information about repairs. They will be able to attach pictures of difficult repairs, and copies of bills for work subcontracted to other garages, to replace a windscreen or a radio, for example.
"We are emailing, faxing or scanning them today. In future, they will be attached to the claim [on the system]," says Roberts.
Future developments
Ford plans to develop OWS further so that, rather than asking technicians to type technical data into the computer system, they will be able to download data directly from the car.
Roberts says he hopes to reach a point where a car's mileage is no longer manually added to the claim, but a tool is simply plugged in which allows Ford to log the mileage from the module. "That is accurate information," he says.
Logistical and technical challenges
One of the biggest challenges in the project has been reaching an agreement on the requirements of the warranty claims system between different parts of Ford worldwide.
"Trying to get global agreement on how the system is going to operate, how it functions, how it makes decisions, and turning a global agreement on just takes forever," says Roberts.
Read more about business process management (BPM)
Pharmaceutical companies have developed a BPM system to secure the supply of medicines they need for clinical studies, saving hundreds of thousands on their drugs bill in the process.
Business processes have changed radically in the past decade, with rapid developments in cloud, social networking, mobile and analytics driving today's businesses to transform into digital companies.
Learn five BPM principles for delivering products and services to customers who want to conduct business in an individualised, intimate and instantaneous way.
Computer Weekly looks at how to facilitate and manage the growing role of workload automation in the enterprise in this buyer's guide to business process automation.
Some things were impossible to agree. For example, the parts numbering systems in North America was completely different from the parts numbering system in Europe and Asia-Pacific. There was no alternative but to have different versions of the software.
The team is wrestling with a number of technical challenges. One is how much capacity to build into the system. "We know how many claims are going to come in, but we don't know in a real-time system whether everyone will be filing claims at the same time of day or throughout the day," says Roberts.
Another problem is how to give dealers the ability to update historic claims held on the previous Cobol system. "That is plaguing us right now," says Roberts.
Finding developers with advanced Pega skills has also proved difficult. Tech Mahindra was able to bring Pega developers into the project, and Ford has trained a lot of the company's staff in Pega skills, but retaining them has not been easy, says Roberts.
"We have lost a lot of good people because they get trained and they get a year of development, then they get sucked up by another company," says Roberts
Lessons learned
Although the project has, ultimately, proved successful, Roberts says if he were to do the work again he would simplify the project at an earlier stage.
"There are areas of incredible complexity. I would have taken them out of scope and done more phasing of the project to get the base system up and out quicker," he says.
"It gets the system out there, and lets us start using it. Then you just prioritise everything else and do your build order from a priority standpoint."
Roberts' advice to other organisations embarking on similar projects is to find a good systems integrator and to get a working version of the software out there as quickly as possible.
"Find a really good integrator, get your scope as small as you can get it, and then get it smaller. Get something out of the door you can start working on," he says.
The project has attracted interest from other motor manufacturers, including Nissan, which is working with Pegasystems on its own warranty system.
Ford's long and winding road to warranty management
Late 1980s: Ford replaces paper forms with the Global Automated Claim Entry System (Gaces) software, written in Cobol, to help its network of dealers manage repairs and claim for repairs to vehicles under warranty.
2005/2006: Ford runs a series of workshops with Ford dealers in North America and Europe to identify the "pain points" in the system used by Ford dealers for managing repairs to cars under warranty.
Late 2007: With the car industry facing difficult economic conditions, Ford's executive board defers funding for the project. It offers to keep the project team in place and challenges them to deliver a series of quick projects that will bring rapid savings to Ford.
2007/2008: Ford selects business process management (BPM) software from Pegasystems, and spends four months integrating it with its Gaces warranty management system.
2008: The project team delivers a short-term project, exceeding its savings targets, and secures full funding from the board.
2009/2010: Ford works on a six-month proof-of-concept project with a technology supplier, but abandons the work when it becomes clear the project will not scale.
Late 2010: Ford adopts Pegasystems' warranty software. In return for becoming Ford's first warranty customer, Pega sends senior technology specialists to Ford's factory complex to work on the OWS project for eight months.
Late 2011: Ford launches a pilot project for dealers in Ireland to a small part of the OWS platform, but the project proves more complex and expensive than anticipated.
2012: Mike Roberts, warranty strategy manager, has a series of difficult meetings with Ford's executive team, including CEO Allan Mulally, to explain why the project is not on track.
2012: Ford puts the brakes on the OWS programme, simplifies it, reduces its scope and redevelops the business case.
2013: The project team presents a new business case and secures new funding for a simplified version of OWS.
2015: OWS goes through user acceptance testing with a panel of 35 dealers.
August 2015: Ford plans a gradual go-live with OWS in North America, starting with five dealers and rolling out to 20 over the course of three months.
November 2015: Ford is due to start a region-by-region roll-out of OWS across North America, to be completed by April 2016.
Summer 2016: Ford plans a 12-month roll-out of OWS across its European dealers.
2017: Roll-out planned across South America and Asia-Pacific.
2018: Ford expects to have rolled out OWS to dealerships worldwide.
Read more on Business intelligence and analytics